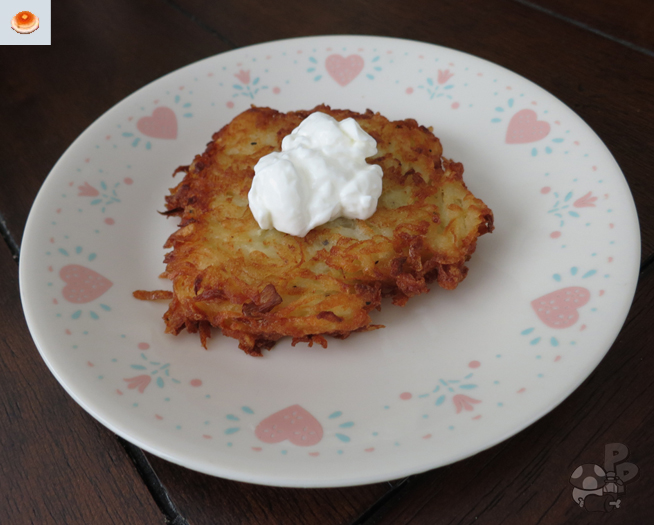 The Harvest Moon series is always one I can go back to and just spend several hours with. Something about developing a farm from start to finish is super enjoyable. In some ways this game is a silly fantasy life I would like to live in – have a farm of my own, making some decent cash and being able to use my own produce to cook. Of course I know in the real world I wouldn't want to deal with all the farm animals and the work required to actually maintain a farm. I'll just keep the crazy farming dream to my play time with Harvest Moon games. I'm really excited because I just placed an order last night for Rune Factory 4 (because I finally picked up a 3DS this weekend)! I can't wait to go off and make a farm, cook crazy recipes and get that little bit of adventuring in.
I guess there is a first for everything and celebrating two holidays at once is a thing that just happened. This last week my husband and I were downing turkey while lighting some Hanukah candles. After all the Thanksgiving leftovers finally passed I decided it was time to do what for me growing up was a Polish treat but is now something I do for every Hanukah: potato pancakes (My husband insists I also refer to them as latkes). I love these because you can serve them by themselves or use them as a replacement for hash browns with your breakfast. These are also pretty easy to make and super delicious!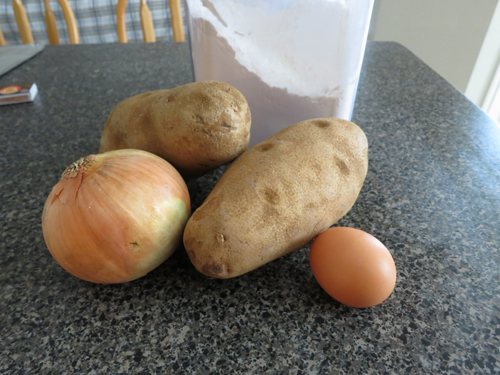 Required Equipment: bowl, peeler, grater, pan
Servings: 10 small pancakes
Ingredients:
– 2 large baking potatoes
– 1 ½ onions
– Salt
– Pepper
– 1 ½ tbsp flour
– 1 egg
– Peanut Oil
– Applesauce
– Sour Cream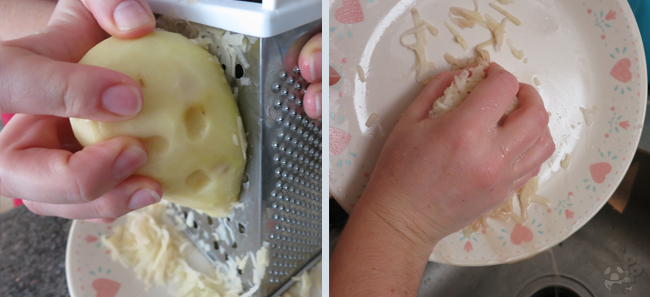 Begin by peeling and grating the potatoes. I highly recommend doing the potato in batches of about half a potato at a time. Once grated, try to squeeze out as much liquid from the potatoes as you can. This will help avoid having runny pancakes. After all the potatoes have been grated repeat the steps with the onion.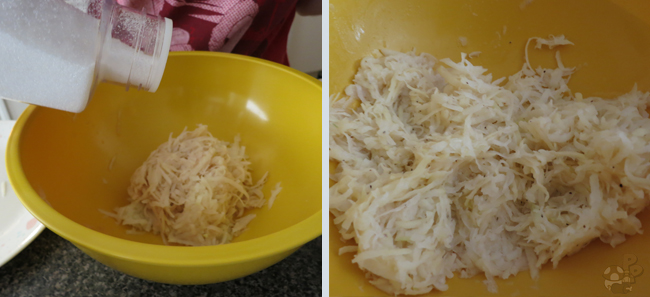 As you finish squeezing the batches of potato and onion place it in a bowl and mix. Add some salt and pepper to taste. Allow this to sit for about 15 minutes. This sitting will help pull some more of the liquid out. After the 15 minutes has passed, go ahead and once again squeeze the potato and onion mixture.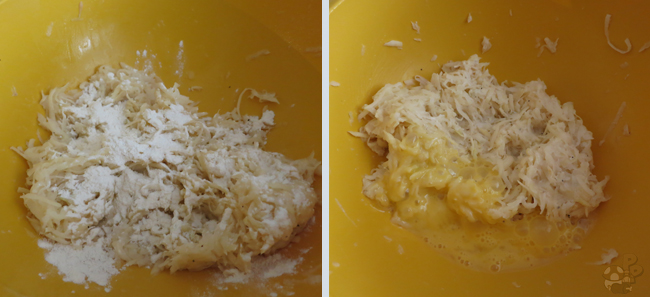 Add the flour and mix. Finally add one beaten egg to the mixture.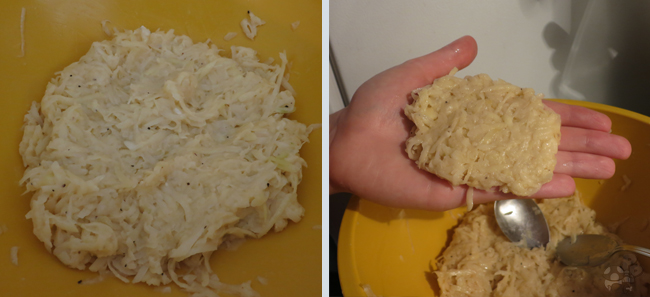 Your batter is now ready. In a frying pan, place about a 1/8-1/4 inch of peanut oil. Allow this to heat up over medium-high heat. Take a small hand full of batter and form a tiny pancake, make sure it is about ¼ inch thick. To test if the oil is hot enough for the pancakes, simply toss a small piece of potato in and if it sizzles it is ready to cook.
Carefully place each of the pancakes in the heated frying pan. Cook each side for about 4-5 minutes or until each side is a nice golden brown. After both sides are fried place on a paper towel covered plate to remove any excess oil. Serve immediately with applesauce or sour cream.