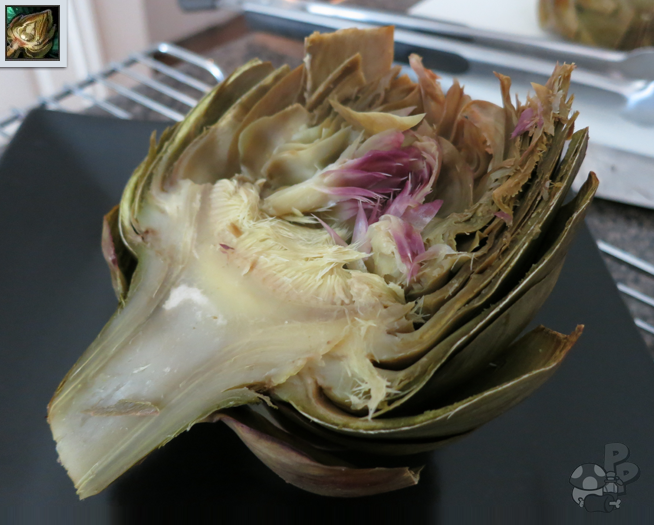 It seems the start of the next living world season two has kicked off with some memorable events from the past year. We see the return of the festival of the four winds and the crown pavilion. It is nice to see some of the old content make an appearance back in the game. This is really great for those who didn't get to check it out last year. The Labyrinthine Cliffs were one of the coolest looking locations they added to the game. Moving around with the different elemental abilities made this area very unique from all other locations. The last time around they introduced Sanctum Sprint, my favorite activity they brought to the game, so I'm excited to play this whenever I want. I was pretty bummed the first time knowing this area would be gone so to see this again is a treat.
I love vegetables and I especially love roasted vegetables. Roasted vegetables are my not-so-guilty treat in the real world! My husband requested several times that I learn how to make roast artichokes. After a bit of researching how to deal with a whole artichoke I took a few stabs at it. This is one of the slower roasted vegetables but when it is done right, it is delightful. Roasted artichokes make a great healthy snack! Currently artichokes are in season and I'd highly recommend giving this a try. There is a decent amount of prep work but the oven will be doing most of the work this time. Let jump right into this one.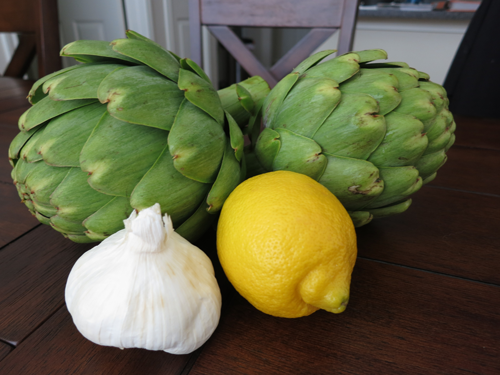 Required Equipment: cutting board, knife, peeler, kitchen knife, aluminum foil, baking sheet
Ingredients:
– 1 artichoke
– 1 lemon
– 5 cloves garlic, cut into large chunks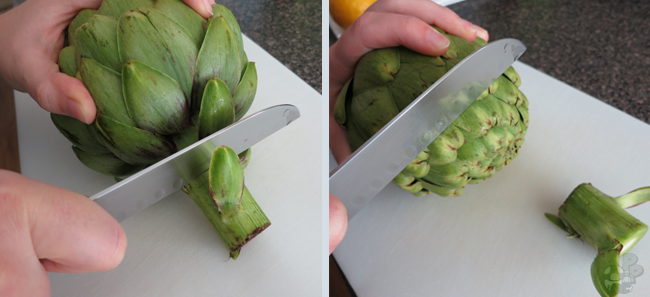 Pre-heat your oven to 425°F. Begin by cutting off the bottom half of the stem (leave some of it on – ½ to 1 inch). Peel the remaining part of the stem as this will make that piece edible (the outside is super tough). Cut off the top third of the artichoke. All of this is really inedible so don't feel like you are wasting!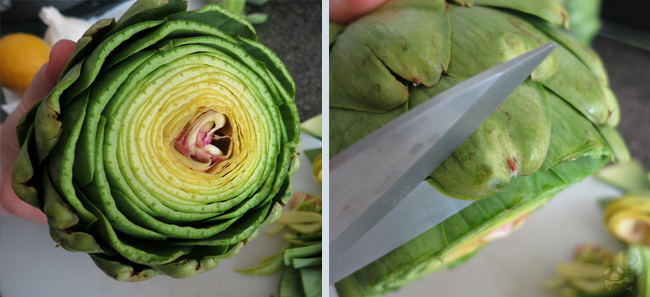 Next you are going to want to remove the thorns on each of the leaves. Go around the artichoke and cut those off.
Take the garlic and place it in the artichoke as shown in the picture above. Just push pieces in wherever they will fit. Finally, rub the entire artichoke with the lemon.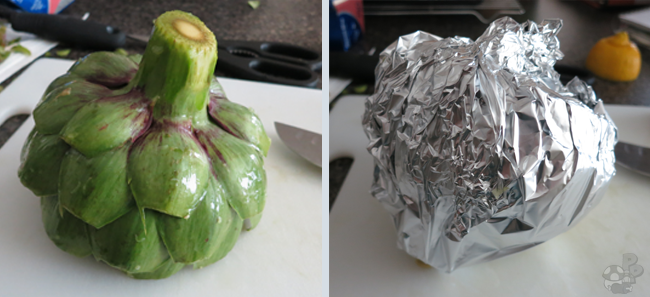 Once the artichoke is fully rubbed down with lemon, wrap the artichoke in aluminum foil. Make sure the artichoke is wrapped really tightly! Place on a baking sheet and bake for an hour and fifteen minutes.