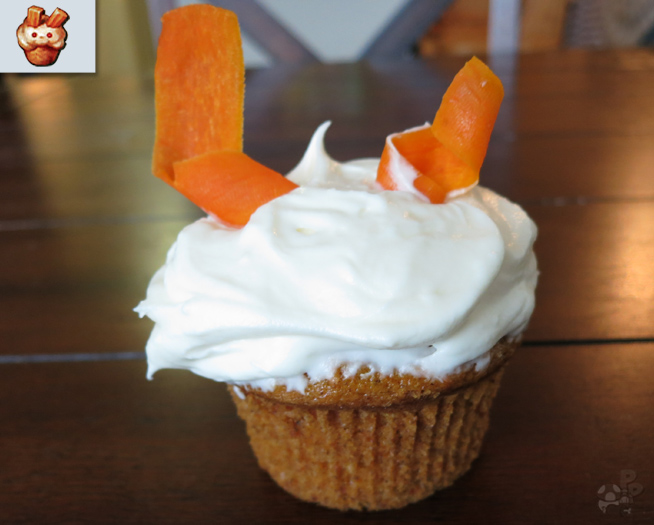 Ni no Kuni is the game I have been playing very slowly but thoroughly enjoying each time I sit down and play it. I will admit I have not finished the game but I am about 75% of the way through. I just need to make that final push. The main reason I've probably not just sat down and finished the game is because there is just so much extra stuff to do in the game. I have made it my goal to make sure all of the side missions are done. This has caused the game to take much longer then it should but honestly it has always been enjoyable. Last time I wrote about the game I highly recommended it and that opinion still stands. If you want to play a good modern Japanese RPG check out Ni no Kuni.
In Ni no Kuni, you collect familiars and use them for combat. To help improve their stats you can feed them treats which will increase an attribute and the familiarity between you and that familiar. One of my main familiars in the game loves eating cakes which increase the magical attack attribute. Every time I feed him one, he jumps in joy and hearts fly from above his head. After feeding this familiar several hundred cakes I had to get one for myself. I decided it was time to make some carrot cake. A carrot cake is always, in my opinion, accompanied by an amazing cream cheese frosting (or you are doing it wrong). Today's recipe comes with three different elements, the cake, the frosting and some candied carrots. Feel free to cut out the pieces you don't want to make. It would be silly if you cut out the cake but hey sometimes you just feel like candied carrots coated in cream cheese frosting.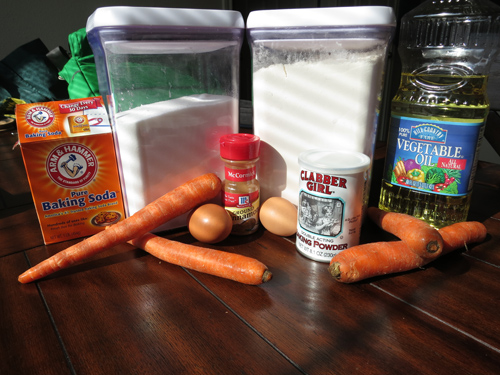 Required Equipment: stand mixer (or hand mixer), bowl, cupcake baking tray, sauce pan, strainer, baking sheet
Servings: 18 cupcakes
Ingredients:
For Cupcake:
– 4 eggs
– 1 ¼ cup vegetable oil
– 2 cups all purpose flour
– 1 ½ cups sugar
– 2 tsp baking powder
– 1 tsp baking soda
– 2 tsp ground cinnamon
– ¼ tsp salt
– 2 ½ cup shredded carrots
For Cream Cheese Frosting:
– 8 ounces of cream cheese
– 8 tbsp unsalted butter
– 2-3 cups confectioners' sugar
– 1 tsp vanilla extract
For Candied Carrots:
– 2 large carrots
– 2 cups water
– 2 cups sugar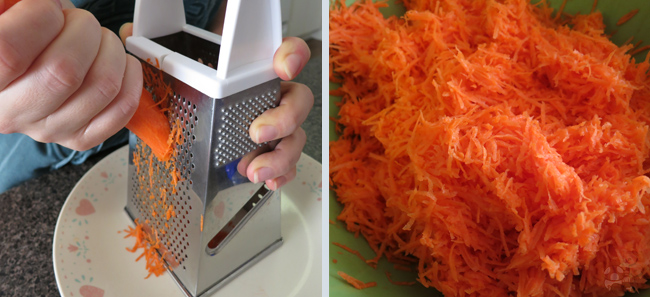 Preheat your oven to 350°F. Begin by shredding the carrots for the cupcakes.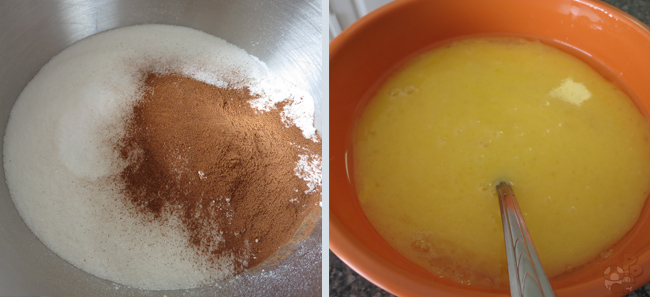 In the bowl of a stand mixer combine flour, sugar, baking powder, baking soda, ground cinnamon, and salt. In another bowl combine the eggs and vegetable oil.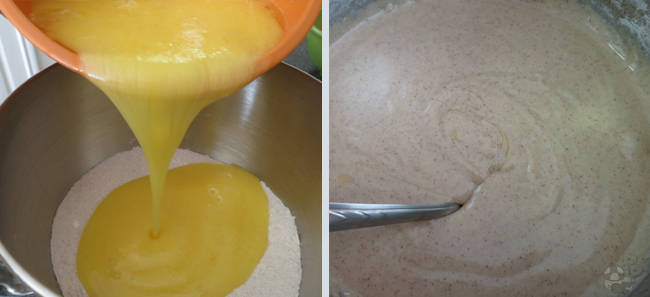 Add the egg mixture to the flour mixture.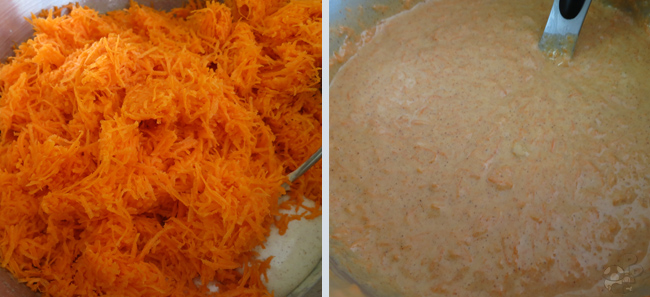 Add the carrots and mix in using a spoon. Line your cupcake tray with cupcake liners and fill each of them to about 3/4ths full with batter. Place in the oven and bake for 15-20 minutes or until it a toothpick comes out clean when testing it. Once baked, place the cupcakes on a cooling rack to cool.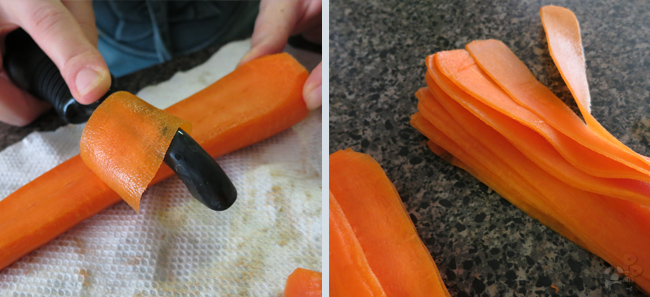 For the candied carrots, lower the oven temperature to 250°F. Take your 2 large carrots and place them on a flat surface. You want to peel layers of the carrots by using a peeler across the carrot lengthwise. The first few you do will be relatively thin and you may or may not want to use those.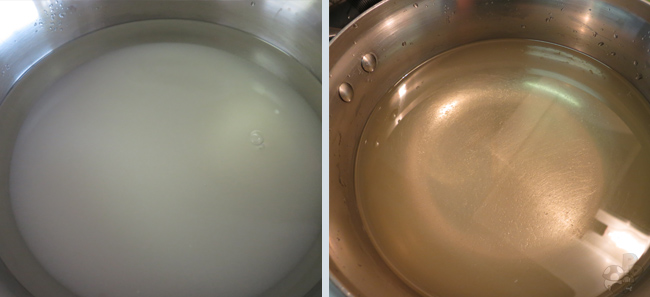 Place a saucepan over medium-high heat. Combine the water and sugar in the saucepan. Bring it to a boil.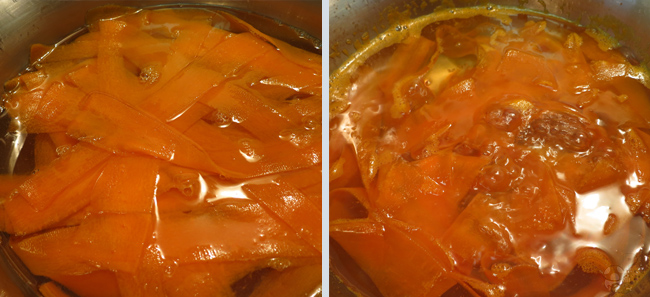 Once boiling, place the carrot strips into the water and let it simmer, uncovered, for about 20 minutes.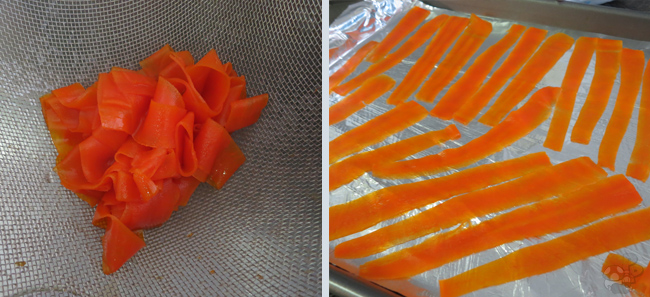 Strain the carrots and place them on a baking sheet. Bake for 30 minutes.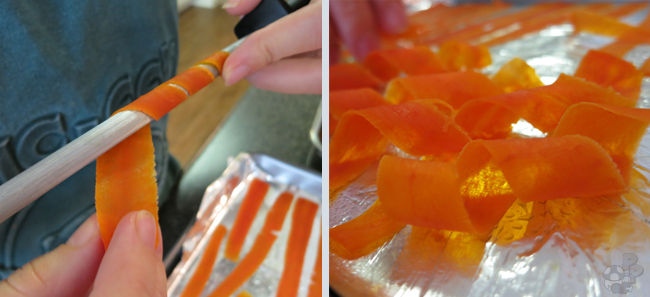 Take the carrots out but leave the oven on. Take each of the carrot strips and spin them on a long stick (I used my knife sharpener). Place them back on the baking sheet and bake for another 40 minutes. Once cooked place the candied carrots on a wire rack to cool.
For some reason I forgot to take pictures making the frosting so expect an update eventually. For now here is what you need to do to make that. In a stand mixer, cream the cream cheese and butter. Once the two have blended together, add the tsp of vanilla extract. Begin to add the confectioners' sugar, one cup at a time. Depending on how sugary of a mood I'm in will determine how much I put in. I recommend trying the frosting each time you add an additional cup and be your own judge. The last thing you need to do with these cup cakes is assemble them. Take each of the cupcakes and add as much frosting as you would like and place a candied carrot on top of each of them. You will probably have some extra so don't skimp out on them.