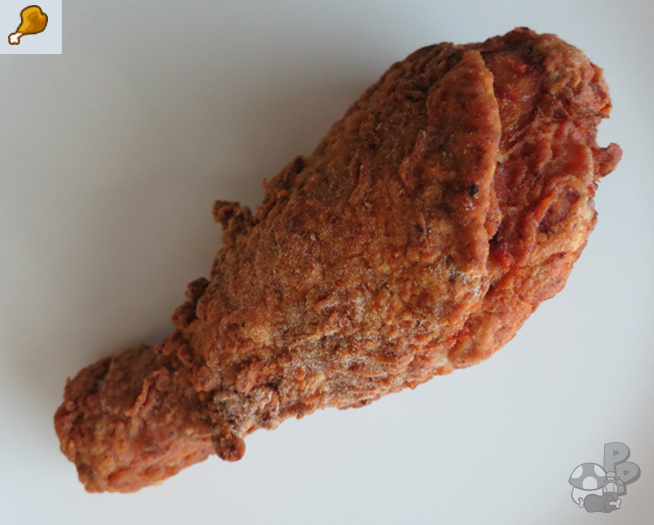 Hopping around. Spitting up bubbles. Trapping your enemies in suds. That last one was all too displeased to see his comrades fall to your sinister (yet adorable) tactics, but the rebellion is nothing you can't handle. After the last enemy is vanquished, a bounty of apples, cakes, and delicious fried chicken lines the battlefield. You would take the time to sit and relax, but you snatch up the spoils of victory knowing the next level is just a few seconds away. This arena has enemies clearly out of your reach, but that's nothing when faced with some good old fashioned bubble hopping. The last enemy evades your best attempts at imprisonment and the music takes a frenetic pace. Out of the corner of your eye, a horrific ghost whale appears and moves towards you. Better hurry!
This was one of my husband's suggestions, so he's got this one: I spent quite a few afternoons with my brother trying our best to bubble our way through Bubble Bobble. I don't remember if we ever actually beat the whole thing, but beating the game wasn't really the goal for us. There were always those levels that needed some quick thinking, some crafty footwork, and some serious bubble hopping to defeat. I seem to recall being stranded on quite a few of them, knowing we were at our end, waiting for the ghost whale to make his return and end our run. The cooperative play was a lot of fun and the need to eat all the food for points and get the highest score was our number one goal. I'm not entirely sure why toaster monsters would turn into fried chicken when encased in bubbles and kicked through the air, but that's no reason not to enjoy it!
This week's delicious recipe will be some classic fried chicken. My sister constantly requests this recipe when I'm around and I'll be honest. I have yet to officially make these for her. I'm sure she will be upset to see I've made it again without her visiting. Now that she'll have access to this recipe maybe the next time one of us visits each other we'll get down to it and cook these together. There are several reasons I cook this maybe once a year. First, it is pretty greasy and I try to avoid having too many of these at a time and this fried chicken recipe is probably the worst in terms of greasiness. Secondly, this recipe requires a lot of work. When I make these, I go all out and make my French fries as well, doing double the work. Finally, on top of all the work, these take a good amount of time to cook. Each batch is probably going to take between 10-20 minutes. I highly recommend saving this recipe for a weekend!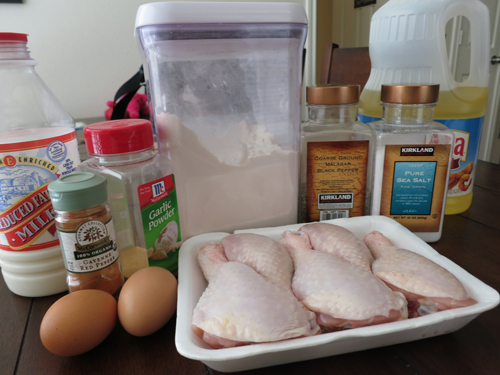 Required Equipment: bowl, large ziplock bag, deep pot, tongs, oil thermometer
Ingredients:
– 3-4 pounds of chicken (whatever pieces you would like, just keep in mind the cooking time is different for each)
– salt and pepper
– 2 eggs
– ½ cup milk
– 1 ½ cups all-purpose flour
– cayenne pepper
– 3 tbsp garlic powder
– peanut oil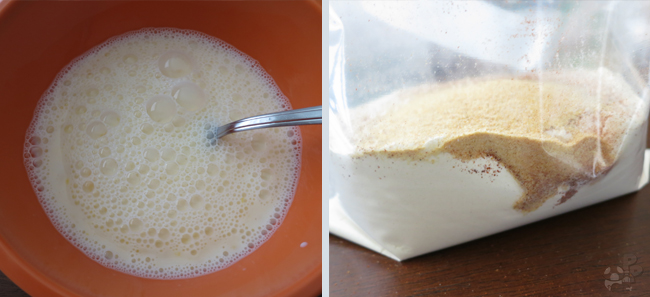 In a bowl, combine eggs and milk. In a large ziplock bag combine flour, cayenne pepper (as much as you would like, depends on how much heat you would like) and garlic powder. While you are setting this all up, prepare your deep frying station. You'll want the oil to be at least three inches high in the pot. Begin heating the oil, you'll want it to be at 360°F when you are ready to deep-fry.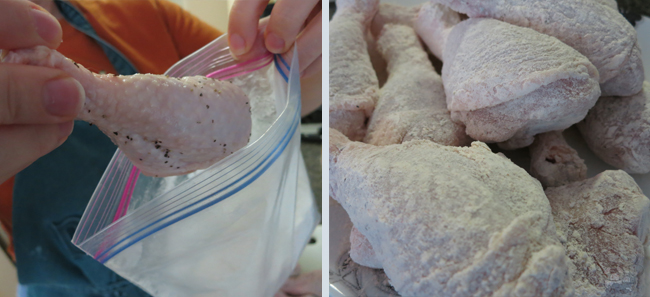 Salt and pepper the pieces of chicken. Place the chicken in the ziplock bag. You will have to do this in batches and shake it until each is fully covered in flour.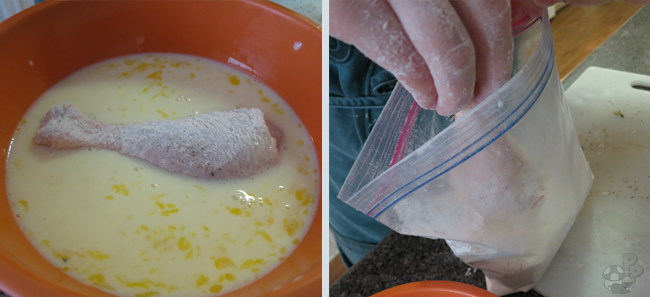 Place the floured pieces of chicken in the egg mixture. Cover it completely. When you pull it out, make sure to let any excess liquid drip off the chicken and then place it back in the flour ziplock bag. Toss and coat again.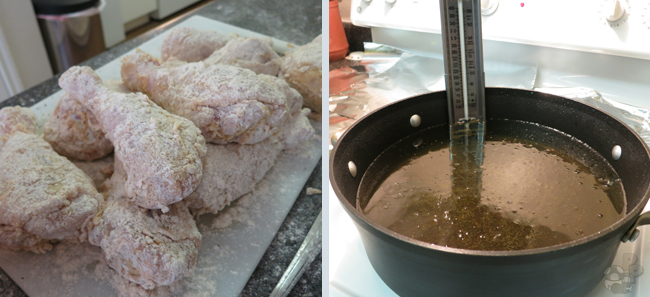 At this point your oil should be ready for deep-frying!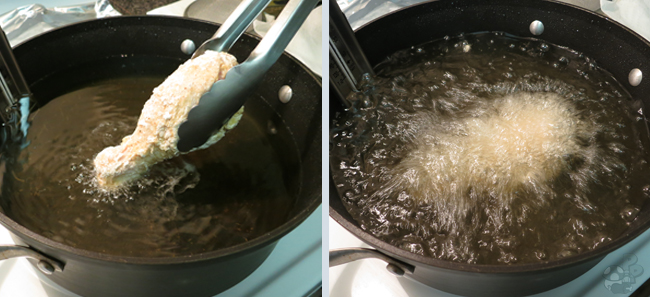 Slowly place the pieces of chicken into the oil. With my pot I was able to comfortable fit three legs. Boneless pieces take about 10-12 minutes to fry, while pieces with bones in take about 15-20 minutes to fry. Be sure to cut open a test piece and make sure the inside isn't pink or bloody. If it is, drop the chicken back in and let it cook a bit longer.