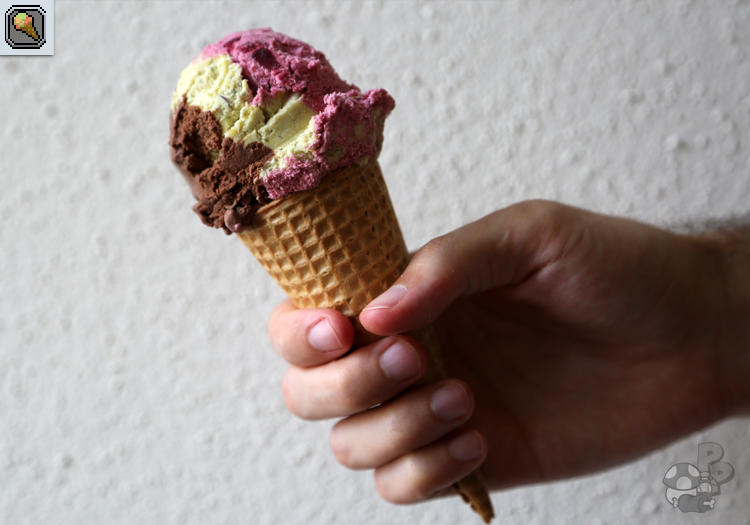 Ice cream and Starbound go so well together on my blog. When I first saw the image of avesmingo ice cream, spumoni was the first thing that came to mind. Spumoni is my favorite ice cream flavor. I'm sure many of you are wondering what exactly is spumoni (it seems to be not well known). Spumoni is an Italian ice cream made with a layer of chocolate, pistachio and cherry. The flavors all combine so nicely and cause an adventure of flavor in your mouth. While making this ice cream I honestly wished I had several ice cream makers. The total process took me about a week to finish but the end result was extremely delicious. If you don't feel like making all three layers, each layer works really well by itself. My husband took the extra cherry ice cream and ate that by itself.
Required Equipment: bowls, sauce pan, food processor, whisk, blender, immersion blender, ice cream maker, deep container
Ingredients:
Chocolate Layer: Recipe can be found here.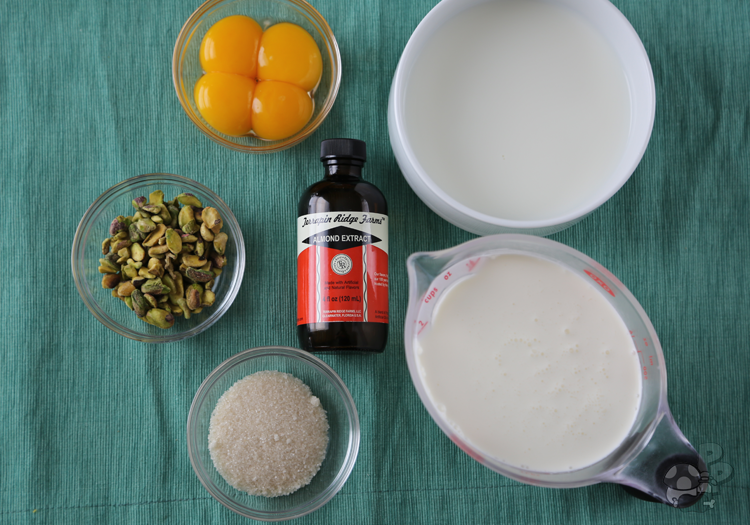 Pistachio Layer:
– 2 cups heavy cream
– 1 cup milk
– 4 egg yolks
– 1 ¼ cup de-shelled pistachio + ½ cup crushed
– 1/3 cup sugar + ½ cup
– 3 tbsp water
– ¼ tsp almond extract
– 1 tsp salt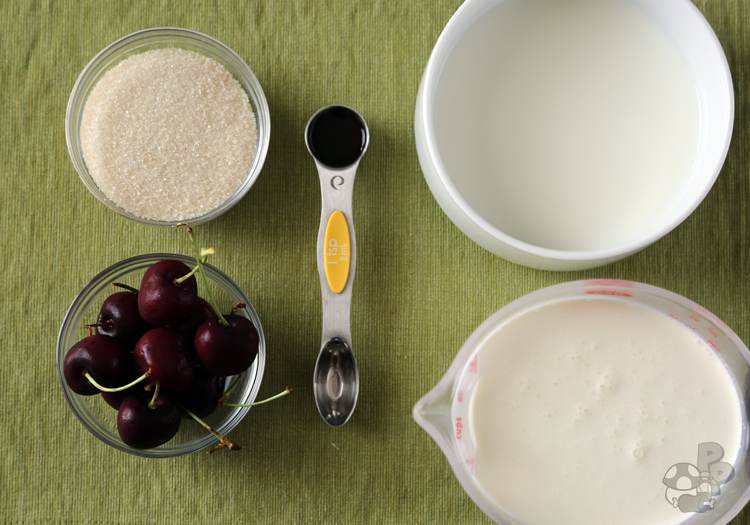 Cherry Layer:
– 2 cups cherries + ½ cup, all pits removed
– ¾ cup milk
– 2 cup heavy cream
– ½ cup sugar
– pinch salt
– 1 tsp vanilla

First make the chocolate layer by following the recipe I linked at the top. Next we will begin making the pistachio layer. In a food processor place 1 ¼ cup of de-shelled pistachios, sugar and water and blend until it forms a paste.

In a sauce pan over medium-high heat warm the milk, one cup of heavy cream, sugar, and paste. I used an immersion blender to blend the paste to get it nice and smooth. Bring the mixture to a low boil.

In a small bowl whisk the four egg yolks together. Slowly whisk in ½ cup ladles of warmed up milk into the eggs. Do this about three times and then add it back to the saucepan.

Turn off the heat and add the remaining heavy cream and almond extract. Cool overnight. The next day place the mixture in an ice cream maker and follow its instruction. When the mixture is about half frozen add a ½ cup of crushed pistachio. Pour this layer on top of the chocolate layer and put the container back in the freezer.

Next the cherry layer: place the milk, one cup of heavy cream, sugar and two cups of pitted cherries in a sauce pan over medium heat. Let it come to a low boil and cook for ten minutes.

Place the mixture in a blender and blend until all the cherries are smooth. Add the remaining cream, heavy cream and salt. Refrigerate overnight. Place the mixture in an ice cream maker and follow its instructions. If you would like, add a ½ cup of cut cherries.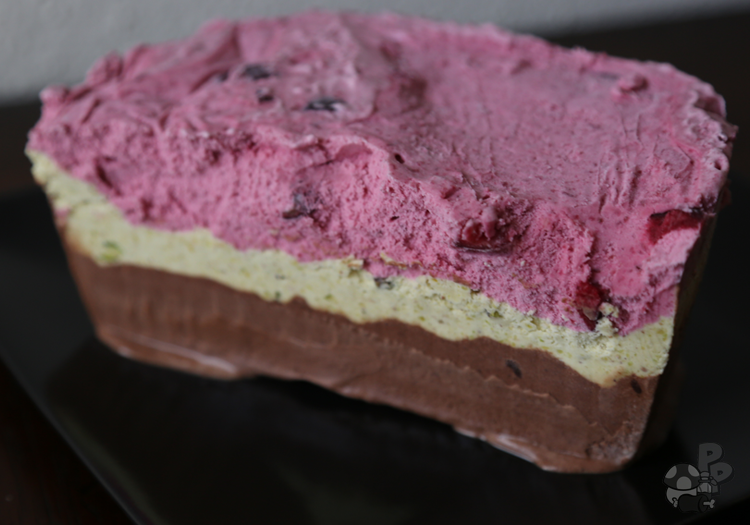 The end result of the layered ice cream will look like the picture above. You can store the ice cream for about two weeks.