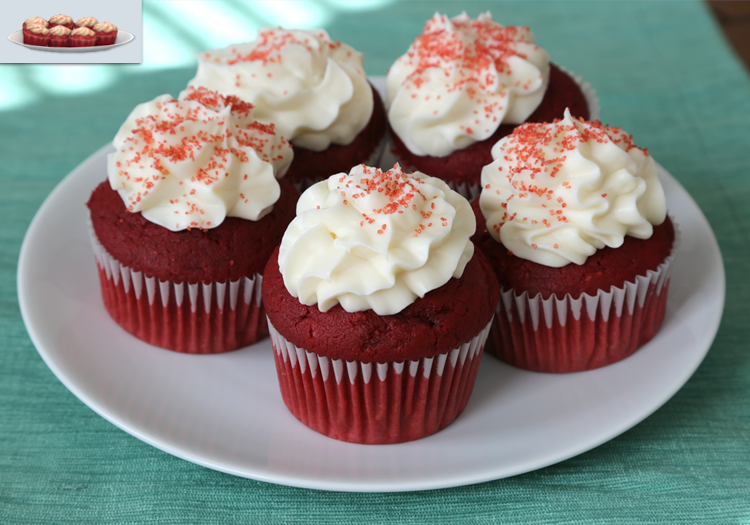 Last week The Sims 4 was released and the urge to play The Sims has risen. The week before the game came out I was back home in Chicago. My brother has been playing a lot of Sims 2 and 3 this past month. We decided it would be fun to make the family and see how we would behave as Sims. We sat down with my sister and planned out what our Sims traits and personalities should be. I haven't heard about the progress he has made but I'm sure our Sims have been on some crazy adventures if they are based off of us.
While looking at screenshots for The Sims 4, I noticed one with a character holding a tray of cupcakes. Upon closer inspection I realized they were red velvet cupcakes. I got super excited and immediately went to my trusty red velvet recipe! This is a recipe that I make several times throughout the year. It is always a hit at parties and I will get at least one person asking, "How do you get them to be so red?" The answer is pretty obvious – red food dye. For a baking recipe this one is actually pretty simple and not too time consuming.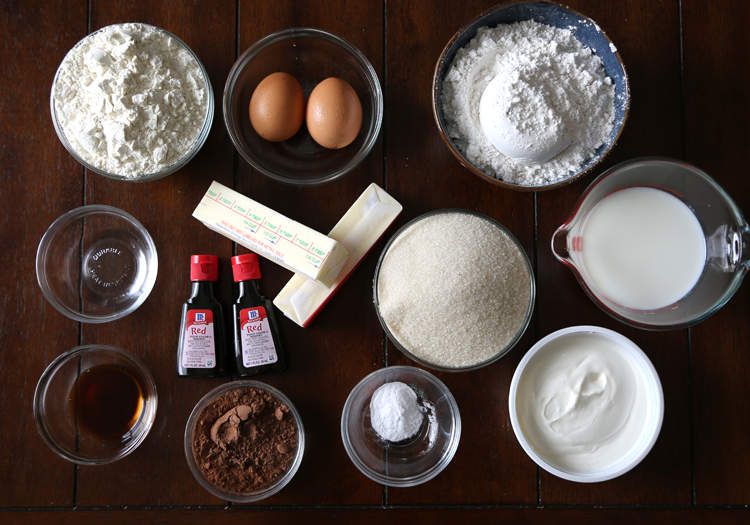 Required Equipment: stand mixer (or hand mixer), bowls, cup cake tray
Serving: 24-30 cupcakes
Ingredients:
Cake:
– ¼ cup (2 oz) red food coloring
– 4 tbsp (26 g) cocoa powder
– 1 cup (226 g) butter
– 1 ¾ (377 g) cup sugar
– 2 large eggs
– 2 cups (287 g) cake flour
– 1 ½ (246 g) cups all-purpose flour
– 1 tsp (6 g) salt
– 1 tsp (6 g) baking soda
– 2 tsp (10 g) vanilla extract
– 1 cup (8 oz) buttermilk
– 1 cup (8 oz) sour cream
– 1 tbsp distilled white vinegar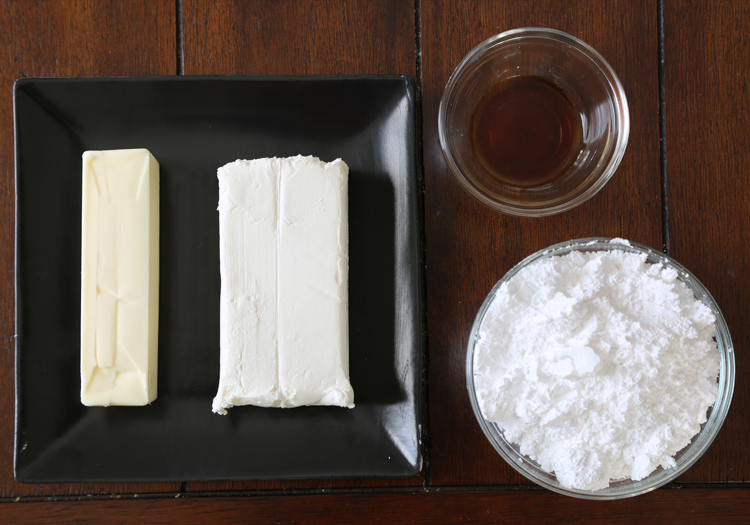 Frosting:
– 8 ounces cream cheese
– ½ cup butter
– 1 tsp vanilla
-2-3 cups powdered sugar

Preheat your oven to 350°F. In a small bowl, combine the red food coloring and cocoa powder together until it makes a thick paste. In another bowl combine the cake flour, all-purpose flour, salt and baking soda.

Place the butter and sugar in a bowl and cream together. Add the eggs one at a time. Once well combined, add the vanilla extract and the cocoa paste.

Add the flour mixture and buttermilk in increments, beginning and ending with the flour. I'll typically split the flour into 1/3 portions and add half of the buttermilk in between each of those. Finally add the sour cream and vinegar.

Divide the cupcakes into a cupcake tin (about ¾ full). Bake in the oven for 15-18 minutes. Remove them from the tins and allow them to cool fully.

To make the cream cheese frosting, place the cream cheese and butter in a large bowl and mix together. Add the vanilla extract. Once the cream cheese and butter are well mixed begin to slowly add the powdered sugar. Add until the cream cheese frosting tastes the way you would like it. Finally, frost the cupcakes (make sure the cupcakes are completely cooled, you don't want to melt the frosting).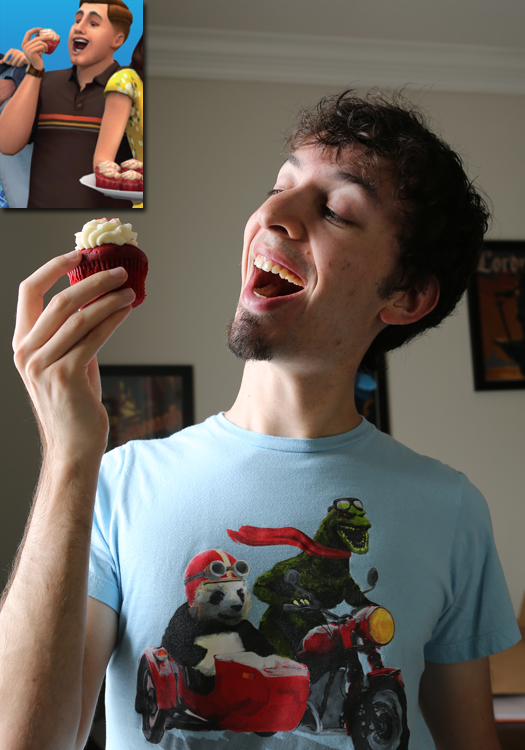 I think my husband enjoys these cupcakes as much as that Sim.