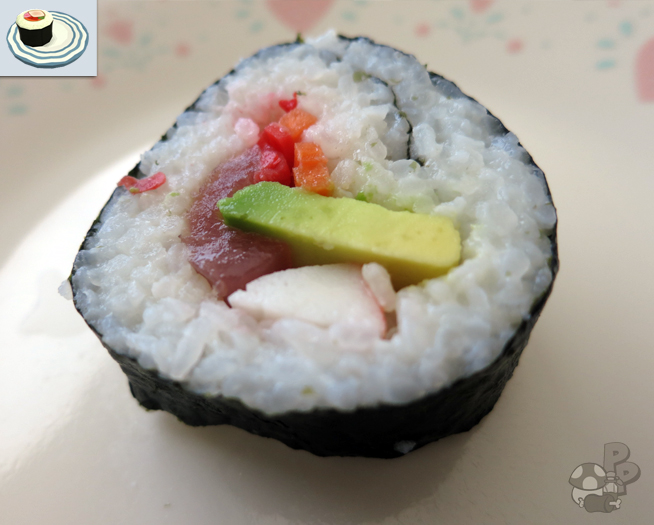 Taking kids to school. Cleaning the house. Working on the next big thing. Grilling up some burgers. Escaping from a crazy chef. Doing the groceries. Mowing the yard. Making some coffee. Spraying ink all over the walls. Wearing a suit and tie. Getting your gameface on. A regular day is always full of surprises and challenges, especially for a father. And especially for you, a father with the biggest secret of all. Well, perhaps not the biggest secret, but being an octopus in a man's world is certainly on the top 10 list of biggest secrets somewhere. You'd start coming up with a list of other secrets, but you've got a tie to fold and a family to deceive!
I am so proud of the Young Horses and the release of Octodad: Dadliest Catch. I know a lot of the team personally and have to say these guys are some of the most dedicated people around. For the last two years they worked countless hours on producing a truly unique gaming experience. My husband played a small role with the group and helped with several art assets in the game. This game has a pretty dear place in my heart and I'm so excited that it was finally released. I'm also very excited to see what this group of talented guys has next up their sleeve! The game is currently out and I highly recommend that you go check it out. Congratulations to the team and here is hoping you all keep producing awesome games in the future.
Any chef would know a clever trap to catch your prey would be food. What better food to lure someone with than luxurious sushi. Octodad nearly falls for such a trap in the grocery store and what I've now called the "trap" sushi. I will admit sushi is something I've wanted to make (actually my husband wanted more than I did) but I've been afraid. Something about getting the rice perfect and figuring out the rolling just always seemed so intimidating. Sushi is still a beast that I'm learning to tango with but I think I got the flavor of the rice down. The rolling still needs a lot of practice but I got to start somewhere, right? I still have a bit of work to do but nonetheless I present to you the Octodad "Trap" Sushi!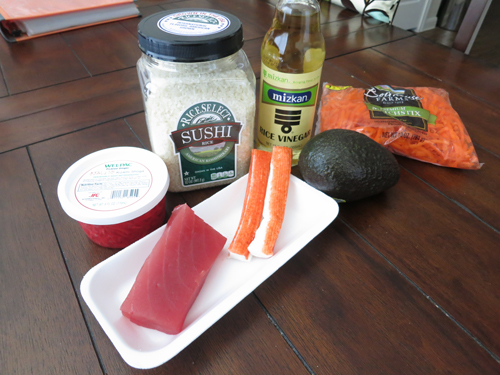 Required Equipment: rice cooker, rice paddle, sushi rollers, non-metallic bowl, sharp knife
Ingredients:
Sushi Rice:
– 2 cups sushi rice
– water (your rice cooker will tell you how much you need to fill)
– 3 tbsp rice vinegar
– 2 tbsp sugar
– ½ tsp salt
For the roll:
– nori
– tuna
– imitation crab
– avocado
– shredded carrots
– red pickled ginger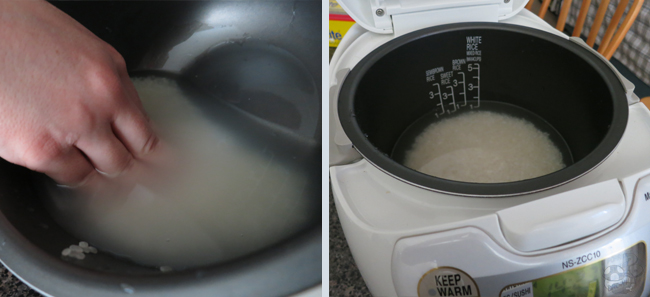 One of the most important steps to making sushi rice is to clean the rice. Put the rice in a bowl and fill it up with cold water. With your hands, rub in a circular motion. You'll notice the water is opaque which means it still needs to be cleaned. Strain the water out and repeat until the water is clear. Place the cleaned rice and amount of water required into a rice cooker and allow the rice to cook.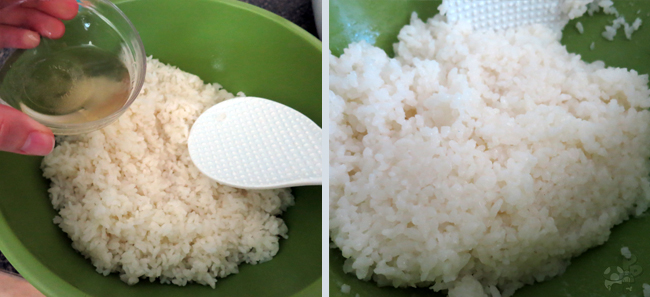 When the rice is done cooking, remove the rice from the rice cooker and place inside a non-metallic bowl. In another bowl, combine rice vinegar, sugar, and salt. Add the vinegar mixture to the rice – you want to do this while the rice is still hot. Take the rice paddle and fold in the rice vinegar. Continue to fold the rice until it has cooled down. If you aren't going to use it immediately cover with a wet towel to keep the rice nice and moist.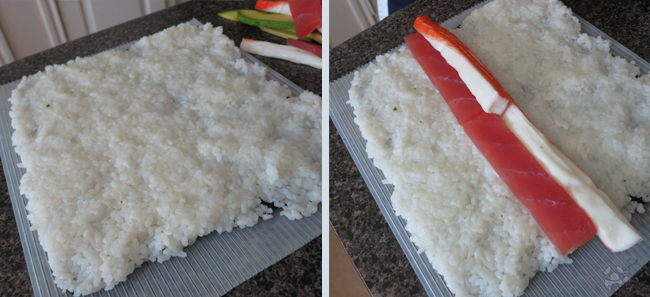 A big thing to do when working with the rice and placing it on a sheet of nori is to keep your hands nice and wet, either work near a sink or have a bowl with water nearby. Place a sheet of nori on a sushi roller mat. On top of the nori place the sushi rice. Next add the tuna and imitation crab.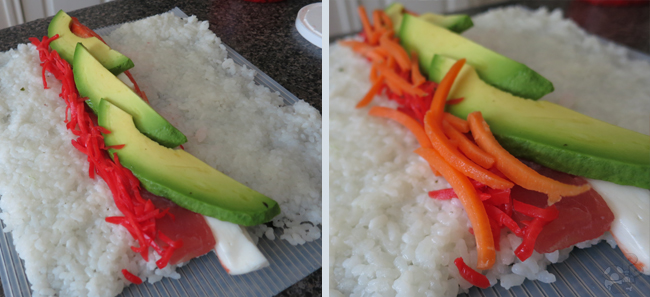 Place the avocado, pickled ginger and carrots.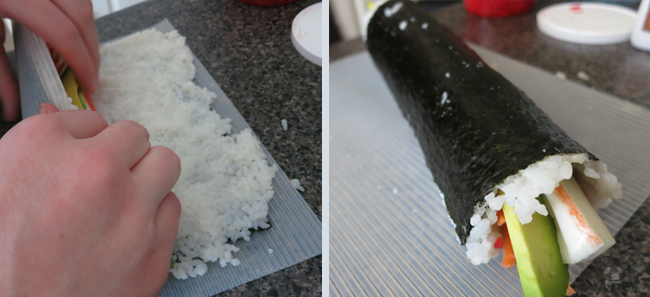 Finally roll the sushi until it is closed. Wet a sharp knife and cut the sushi. I recommend either have a moist towel that you can wipe your knife on or to be near some running water. This makes cutting the sushi much easier.