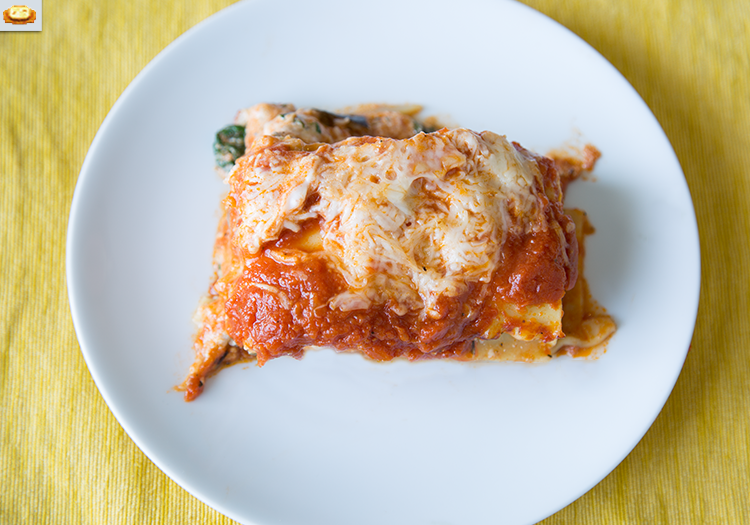 It is all about farming when it comes to Harvest Moon. With all the fresh produce your character is growing, it is no surprise they pick up cooking as a hobby. You have to keep yourself filled with delicious food if you are going to be working on your farm daily. A nice hearty meal like lasagna is the perfect dish to prepare you for a hard day of work. Lasagna was probably one of my least favorite Italian dishes growing up. I realized over time it was because of the ricotta cheese. I found it very bland and boring to eat. After a few years of testing and number fixing I finally found a lasagna that I really enjoy making. Two warnings about this dish before you dive head first into the recipe. First, it is time consuming to make. And second, this makes A LOT of food and is very dense. If those two things are not a worry for you we can jump into the recipe.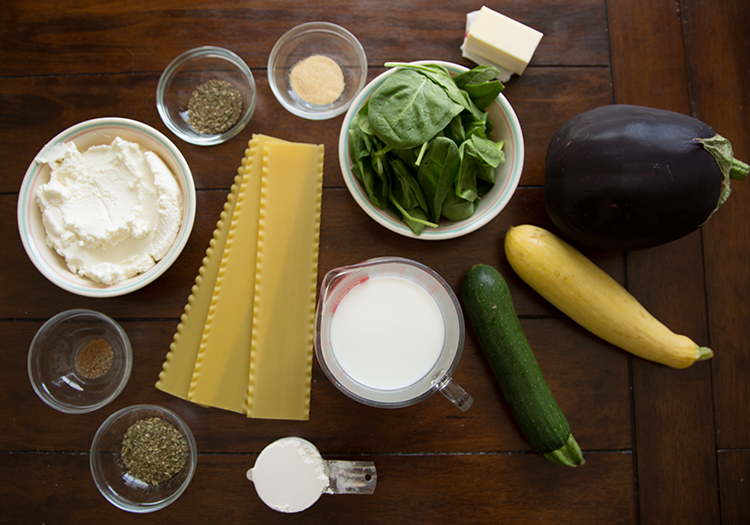 Required Equipment: square baking dish, sauce pan, bowls, baking sheet
Ingredients:
Roasted Vegetables
– 1 squash, sliced in 1/2 inch thick pieces
– 1 zucchini, sliced in 1/2 inch thick pieces
– 1 eggplant, sliced in 1/2 inch thick pieces
– olive oil
– salt
– pepper
Béchamel Sauce
– 4 tbsp butter
– 4 tbsp flour
– 1 1/4 cup milk
– pinch of nutmeg
– salt
– pepper
Ricotta Filling
– 15 oz ricotta
– 8 oz spinach, sauteed and drained
– 1 tbsp basil
– 1 tbsp oregano
– 1/2 tbsp garlic powder
– 1 tsp onion powder
– pinch of pepper
– 24 oz marinara sauce
– lasagna noodles
– mozzarella
Preheat your oven to 400°F. Take the sliced vegetables and place them on a greased baking sheet. Brush each piece with olive oil and season with salt and pepper. Place in the oven and bake for at least 25 minutes or until the edges of the vegetables crisp up.

In a bowl, combine the ricotta cheese, basil, oregano, garlic powder, onion powder and pepper.

Mix in the spinach until fully combined.

It is time to make the béchamel sauce. Place a sauce pan over medium high heat and begin to melt the butter. Add the flour and cook until it is nice and thick. Add the pinch of nutmeg.

Slowly add the milk while constantly stirring the mixture. You want this sauce to remain decently thick and creamy. Finally, season the sauce with salt and pepper to your liking.

Increase the temperature of the oven to 450°F. Now that all the pieces are made, we are going to begin constructing the lasagna. In your baking dish, start with a layer of marinara sauce followed by a layer of noodles.

Next add half of the ricotta mixture followed by a layer of roasted eggplant.

Cover the eggplant layer with béchamel and then some marinara sauce.

Next layers are as follow: mozzarella cheese, noodles and the remaining ricotta mixture.

We are almost done layering! Place the zucchini and squash in a layer followed up with some more béchamel.

Another layer of noodles and then top it with marinara sauce.

Final layer is some mozzarella cheese. Wrap the dish in a layer of plastic wrap and then some aluminum foil on top of that. The plastic wrap will help keep the cheese from sticking on the aluminum foil as it bakes. Place it in the oven and bake for 40 minutes. After it is done baking, remove the foil and bake for a few more minutes to crisp up the cheese. Let it rest for 10 minutes and then serve.