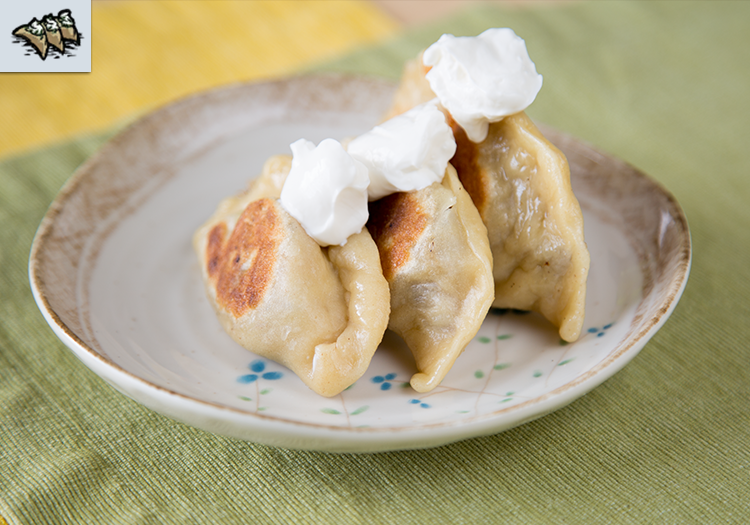 Being stuck in a wilderness overflowing with mystical creatures and terrors can make a person hungry. The only way to eat is to figure out what combinations are going to work and hope you don't end up with something that'll make you ill. Hopefully all that monster meat you keep collecting will be useful. Just toss it in the crock pot, something good is bound to come out of it, right? Let's hope you don't end up with nothing but monster lasagna again!
When cooking recipes in Don't Starve, I was really surprised to see one of the results was pierogies. These were a childhood staple for me. Every holiday we would make a pile of different flavored pierogies to enjoy. After years of buying pierogies from the local stores in Chicago, I found it a bit harder here in Houston to get good pierogies. I made it my mission to figure out how to make these delicious dumplings at home. After several attempts I have finally found my go-to pierogi recipe. This recipe does require a good amount of work but some of it could be done beforehand. You can make each of your fillings the morning or night before. The dough should be the made the day you plan on making them. Making these from scratch allows you to fill your pierogies with anything. I have included two of my personal favorite fillings for pierogies.
Results: 15-20 Pierogies
Ingredients:
Dough
3 cups all purpose flour (plus more for kneading)
½ tsp salt
2 large eggs
¼ cup sour cream
½ -1 cup water
Cheese/Potato/Bacon Filling
1 potato, cubed and boiled until soft
2 tbsp butter
2 tbsp milk
½ – 1 cup cheddar cheese, shredded
100 g turkey bacon, cooked and chopped
salt and pepper

Sauerkraut/Mushroom/Bacon Filling
200 g sauerkraut
100 g mushroom, sliced
40 g turkey bacon, chopped
Extra
1 tbsp butter
½ onion, slice and sauteed
sour cream

To make the dough, start by combining flour and salt in a bowl. Add one egg at a time and mix.

Mix in the sour cream and ½ cup of water. Add additional water only if the dough has not come fully together. Once together, place the dough on a floured countertop and knead for about 5 minutes. Wrap in plastic wrap and let the dough rest for at least 20 minutes but no longer than 2 hours.

While the dough is resting, start making our first filling, sauerkraut. Saute the bacon in a pan over medium-high heat for about 2 minutes. Add the mushrooms and cook until both the bacon and mushrooms have crisped up, about 5-8 minutes.

Add the sauerkraut and cook until it has warmed and blended with the mushroom and bacon. Place in a bowl and allow to cool completely.

For the potato filling, take the cooked potato and place it in a bowl with butter. Mash until smooth. As you are mashing, add the milk to give the potatoes an even smoother texture.

Add the bacon and cheddar cheese to the bowl and mix until well combined. Season with salt and pepper to your liking. Allow this to completely cool.
Before assembling the pierogies, place a pot with water over medium heat. You will need boiling water when cooking these.

Once your fillings have cooled and the dough has rested, it is time to assemble the pierogies. Roll the dough out to ¼ inch thickness. Take a 3-4 inch cookie cutter and begin cutting the dough.

Place 1 tablespoon of the filling at the center of the cut dough piece. Wet your finger and then wet the edges of the dough. Fold one edge over and press the edges together. Repeat this until you have used all the dough and most of the filling.

Place the assembled pierogies into the pot of boiling water. Allow them to cook until they rise, 1-2 minutes. Remove them from the water. When all of them have been cooked, place a pan with butter over medium-high heat.

After the butter has melted place the boiled pierogies in the pan. Cook until they brown, flip and cook until the other side has browned. Serve with sauteed onions and sour cream.