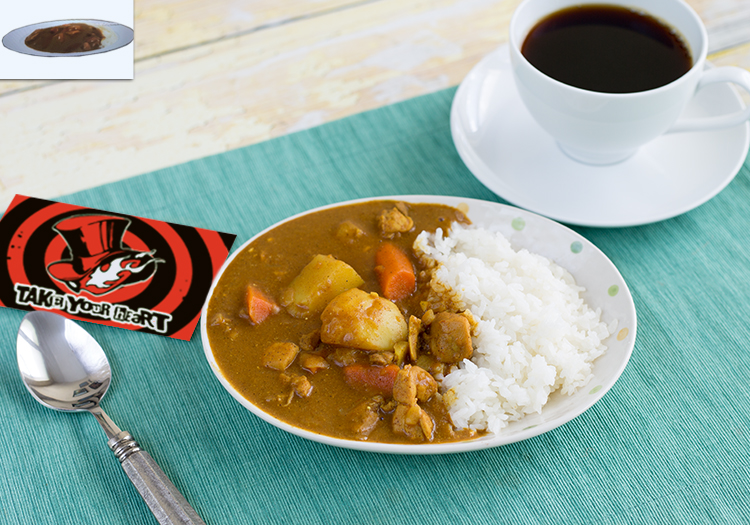 During my trip to Japan, we made a few stops at different coffee shops. Clamp Coffee Sarasa in Kyoto was the most unique of these stops. It was a small place with a very cozy feel. They served coffee and a small selection of breakfast snacks like eggs on toast and oatmeal. The menu was small but everything they made was skillful crafted. Cafe Leblanc in Persona 5 immediately reminded me of that cafe. A small cafe, found on a random backstreet, and an owner with a true passion for his product. Sojiro Sakura focuses his time on perfecting his cup of coffee and his secret curry recipe. His love for food motivated me to making my own Japanese style curry that I would be proud of.
Japanese curry and I have an odd relationship. I've always avoided spicy food so I was always wary of any curry. I had my first real curry while in Japan. One taste and I was in love with the complex flavor profile of the spices. My first attempt at making a curry at home was by using some prepackaged roux cubes. The end result was lackluster, bland, and very disappointing. Years later, lots of research, and some extra patience has lead me to a curry that I am truly proud of. This recipe makes roughly eight large servings. My husband and I were eating this curry for a full week and we had no complaints. Not only does it contain several of the secret ingredients that Persona 5 hints are in Sojiro's curry, it also pairs nicely with a cup of freshly made coffee. My husband really enjoyed the curry with a cup made from fresh tanzanian peaberry beans.

Ingredients:
Roux
5 tbsp butter
½ cup (75 g) flour
3 tbsp (45 mL) garam masala, ground
1 tbsp (15 mL) turmeric, ground
1 tsp (5 mL) coriander, ground
½ tsp (2.5 mL) cumin, ground
½ tsp (2.5 mL) fennel, ground
½ tsp (2.5 mL) fenugreek seeds, ground
¼ tsp (1.25 mL) cinnamon, ground
¼ tsp (1.25 mL) allspice, ground
1 tsp (5 mL) cayenne pepper, ground
2 tbsp tomato paste
3 tbsp tonkatsu sauce
2 tbsp honey

Curry
2 tsp oil
4 lbs chicken thighs, cut into bite sized pieces
2 tsp garam masala
1 (375 g) onion, diced
½ (120 g) red onion, diced
2 (10 g) garlic cloves
5 (300 g) carrots, peeled and cut into bite sized pieces
3 (900 g) potatoes, peeled and cubed
1 (50 g) apple, finely grated
1 tsp (5 mL) salt
1 tsp (5 mL) pepper
4 cups (1000 mL) chicken stock
1 cup (250 mL) water
2 bay leaves
15g dark chocolate
½ cup (125 mL) greek yogurt
½-¾ cup of cooked rice per serving

Place a deep pot over medium-high heat. Saute the onions and garlic with 1 tablespoon of vegetable oil until softened, about 5 minutes.

Season chicken with salt, pepper, and 2 tsp of garam masala. Add the chicken to the pot and cook until browned, about 10 minutes.

Add the carrots, chicken stock, water, and bay leaves. Bring to a boil, then reduce to a simmer.

Add the potatoes and grated apples. Place the lid slightly ajar and simmer for 30 minutes. Occasionally skim any foam that appears.

While the chicken and vegetables are simmering, take the time to make the roux base. In a small bowl, combine the flour and spices. In a pan, over medium-high heat, melt the butter. Add the flour and spices to the melted butter.

Mix together until the flour has absorbed all the butter. Add the tomato paste, tonkatsu, and honey. Once everything is together, turn off the heat and set aside until the simmering is done.

Take a small portion of the roux and place it in a ladle. Place the ladle in the liquid of the pot and slowly mix in the roux. This will have to be down in several batches. Take your time with this to make sure it mixes well together.

Finally, add the chocolate and yogurt. Keep in mind that chocolate and yogurt will dull some of the kick of the curry, so taste as you do this to reach the spiciness you are going for. Serve with rice.