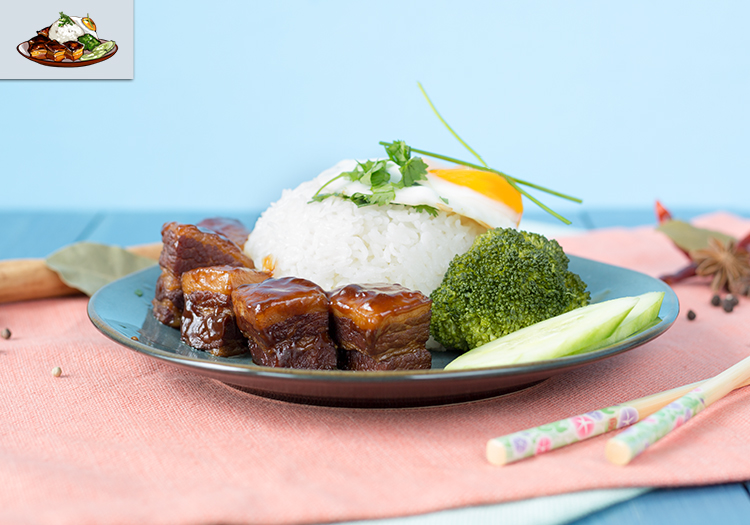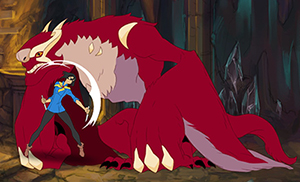 I get extremely excited any time I see new information about Battle Chef Brigade. It is the game I'm looking forward to the most. I was able to play the kickstarter demo a few times now and I loved it. Fighting enemies to find the perfect ingredients to make the perfect dishes for the judges. What more could I ask for?
Every time I look at the food art in Battle Chef Brigade, I start drooling. The art in this game is just amazing and it motivates me to make beautiful plates of food. While browsing through a few of the food items, Mina's BBQ Dragon Shank caught my attention. I unfortunately couldn't get my hands on dragon meat to recreate this dish. Even Whole Foods told me they didn't sell dragon meat! In order to make due, the best match I found visually was pork belly. The pork belly is layered in the same way that the Dragon Shank meat. To match the image I decided to go with an Asian inspired braised pork belly. The end result is juicy meat with a flavorful sauce that'll keep you coming back for more. Enough talk, time to battle it out with our pork belly.

Ingredients:
1 – 2 lbs pork belly
2 tbsp sugar
1 tbsp brown sugar
⅓ cup water
1 cup sake
1 cup soy sauce
1 ½ cups chicken broth
1 ginger, sliced
6 garlic cloves, crushed
1 cinnamon stick
2 star anise
2 bay leaves
2 dried chiles de arbol
1 tbsp (15mL) black peppercorn
4 scallions

Preheat an oven to 325°F. Place the pork belly in a pot and cover with cold water. Bring to a boil. Reduce the heat and simmer for 15 minutes. Make sure to skim the foam.

Remove the pork belly from the water and cut into 16 equal square pieces.

In a dutch oven, mix the sugar and water over medium-high heat. Whisk until the sugar has dissolved. Add the pork belly and coat.

Add the sake, soy sauce, chicken broth, ginger, cinnamon stick, star anise, bay leaves, chiles de arbol, and black peppercorns. Bring to a boil. Cover and transfer to the oven.

Bake for 30 minutes . Add the scallions. Cover again and bake for another 30 minutes.
Increase the heat of the oven to 375°F. Remove the cover and bake for 40 minutes. Stir the contents every 10-15 minutes to help brown all sides of the pork.
After the pork has cooked, take a cup of the sauce the pork cooked in and placing it in a saucepan. In a bowl, combine 2 tsp cornstarch with 1 tsp water. Add that to the saucepan and whisk until the sauce thickens.
Serve the pork on top of rice and drizzle with the thickened sauce.