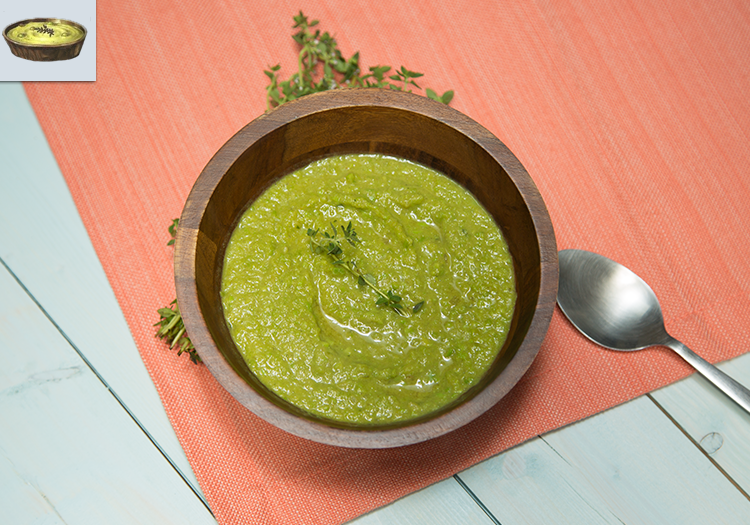 As I drool over the food art in Dragon's Crown, I'm reminded just how gorgeous Vanillaware makes its food art. It also reminded me of my love for pea soup. My mom would make it every so often with chunks of ham and polish sausage. If she was making this soup, I would be the first in the kitchen when she would call out that dinner was ready. After moving out on my own, I never recreated her recipe. My husband doesn't eat pork so I knew I couldn't make it the way my mom used to make it. I decided to take the challenge and make a vegetarian version of the soup. This soup is very different from what I grew up eating but it is still very delicious. You can make the soup vegan by replace the butter with additional olive oil. Nobody likes bland soup, so make sure to season this soup generously!

Results: 4-5 servings
Ingredients:
2 tbsp butter
1 tbsp olive oil
2 leeks, white and light green part chopped
4 shallot, chopped
1 celery stick, chopped
3 cups vegetable stock
24 oz frozen or fresh peas
2 bay leaves
2 tbsp fresh thyme
salt
pepper
pinch cayenne
goat cheese (optional)

Place a pot over medium-high heat with butter and olive oil. Add the leeks, shallot and celery. Cook until they soften, about 8-10 minutes.

Once softened, add the vegetable stock, bay leaves and thyme. Bring to a boil.

Once boiling, add the peas.

Cook until the peas have softened slightly, 5-8 minutes. Use an immersion blender or a stand blender to mix. Flavor with salt, pepper and cayenne pepper until you are satisfied with the result. This step is the most important to prevent your soup getting too bland. Add goat cheese if you'd like and enjoy!