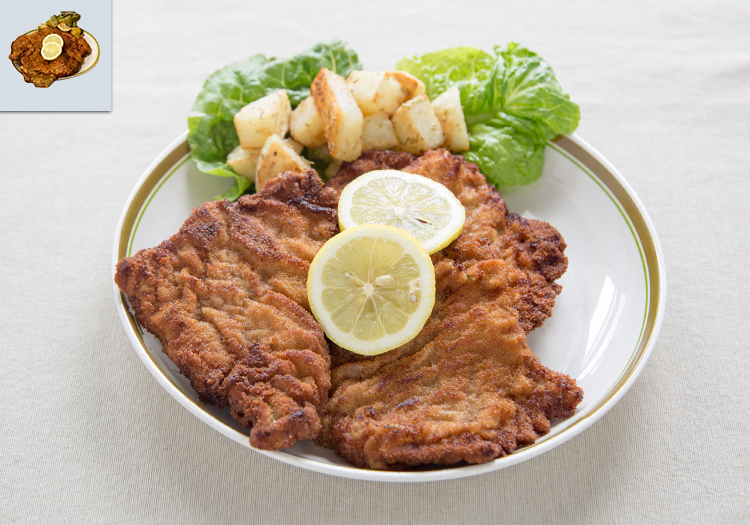 We could not be celebrating Final FantaFeast at a more perfect time. Today is Ignis' birthday! I know food is one of the most important pieces to any birthday party. Who better to learn a few recipes from than the birthday boy himself.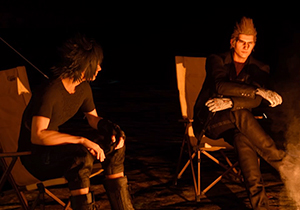 There are many inspirations for Ignis's recipes. Sometimes he will find a poster hung up around an outpost and pull out his notebook to scribble down a new recipe. One of those moments is when he comes up with the Ace Hunter's Schnitzel. This recipe is a very simple fried veal served with a side of roasted red potatoes. Preparing the potatoes and flattening the veal is going to be the most consuming part. As long as you get everything prepared before you need to start cooking, this recipe is easy.

Ingredients:
2 lbs. red potatoes, peeled and cut
2 tbsp olive oil
salt
pepper
1 tsp rosemary
1 ½ tsp garlic powder
¾ lb veal, flattened thin to ¼ inch thick
salt
pepper
½ cup flour
¼ tsp garlic powder
2 eggs
¾ cup bread crumb
peanut oil
Preheat your oven to 425°F. Bring a pot of water to a boil and add the red potatoes. Cook for 8 minutes. In a bowl combine the olive oil, rosemary, and garlic powder.

Add the potatoes in the bowl and toss with the seasoned oil. Place the oiled potatoes on a baking sheet and sprinkle with salt and pepper. Bake for 20 minutes, toss the potatoes around, and bake for another 15 minutes.

Prepare the veal by flattening it and then seasoning both sides with salt and pepper. Set three stations up to bread the veal.
On the first plate, combine flour and garlic powder. In a bowl, scramble 2 eggs. On another plate, place the bread crumbs. Take the veal and cover it in the flour mixture first.

Next cover with the eggs. Finally, coat with the bread crumbs.

To deep fry it, place a half inch of peanut oil in a frying pan and heat it up. Bring the oil to about 325°F. Carefully fry the veal for 2 minutes on each side. Serve with a slice of lemon.