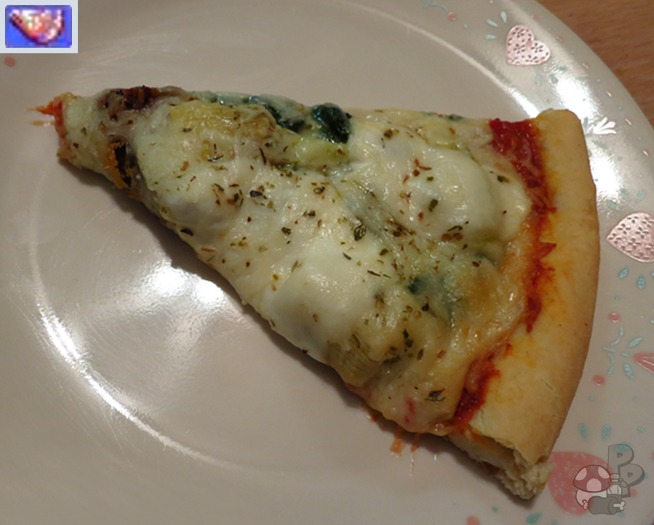 In a city where crime never rest, its' citizens can only dream about peace. Thugs do as they please because they can easily overpower the police force. Luckily, justice lurks beneath the city streets within the sewers. A band of brothers work secretly in the night to keep the city safe. They work together in order to insure the evil mastermind, Shredder, does not gain full control of the city. These heroes are of course the Teenage Mutant Ninja Turtles.
I loved the Teenage Mutant Ninja Turtles growing up! When asked what I would want to watch, I would pull out one of my VHS of the show. Any time we would have pizza in the house I would get super excited, "YES! We are eating like Michelangelo!" Of course with my love for the TV series I remember spending a lot of time playing the older NES games. The first game was super difficulty and I can honestly say I do not remember finishing that one. I do remember the water level being the worst thing ever and that is probably where I stopped every time. Now the second one (or the arcade game) holds a very dear place in my heart. I would play that game A LOT, not only at home but whenever we would go to an arcade. The last time I went to an arcade with a large group of friends I'm pretty sure we spent a good amount of time playing the arcade game. As you can see I loved the Teenage Mutant Ninja Turtles growing up.
So with that love I knew I had to attach it to a recipe. Of course the only recipe that can represent this series so well would have to be pizza! I love making homemade pizza for two reasons, you can customize your pizza however you want and the amount of leftovers this makes (so many!). This recipe isn't that difficult but you are going to need to give the dough some time to rise. I tend to make it during my lunch break from work (this gives the dough about 4-6 hours of resting time).

Servings: 2 large pizzas
Ingredients:
– 3 1/2 cups of white bread flour
– 1 tsp salt
– 1 packet (2 1/4 tsp) of active dried yeast
– 2 tbsp olive oil
– 1 ¼ cup of lukewarm water
– 2 tsp sugar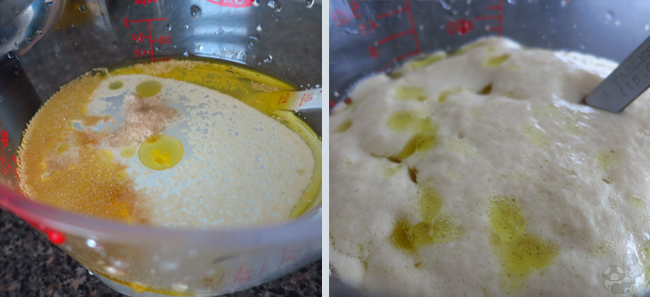 First, start by getting 1 ¼ cup of water (make sure this water is warm, yeast likes warmth!), olive oil, sugar, and yeast mixed together to allow for the yeast to come alive. Allow this to sit for about 5 minutes and you'll begin to see and smell the yeast. If nothing happens the pack of yeast might have been old and was no good, dump it out and try again.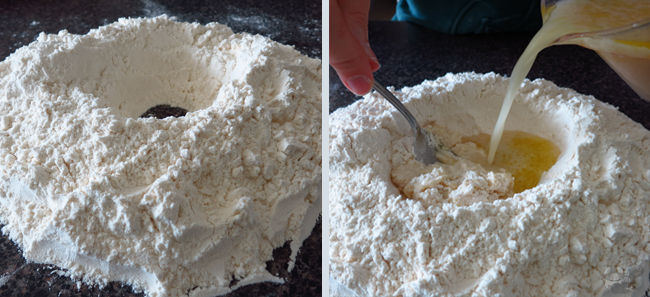 Place the flour and salt with a small well in the middle on a counter top (just like the above image). This well will be the area we begin to add the water/ yeast. Begin by pouring some of the yeast and water mixture in the well. Use a fork to slowly combine the flour with the water. Be careful how much water you pour in because too much at once will cause some to go past the flour and just make a mess (patience is key here).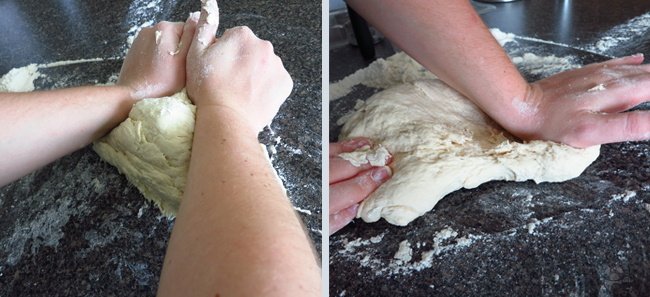 Once all of the water/yeast mixture has been added you will begin to knead the dough with your hands. Knead for about 10-15 minutes.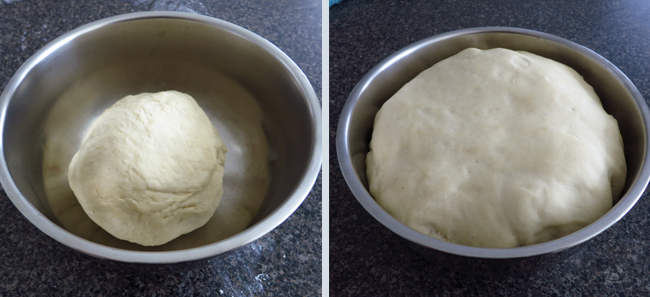 Place the dough into a bowl, cover with a towel and place in a warm location. Let the dough rest for a few hours. The dough will be completely ready when it has doubled in size. When you are ready to start making your pizza take the dough out of the bowl and knead it once again. Try to get as much air out of the dough as you can. Otherwise, when you bake the dough, it will form air pockets.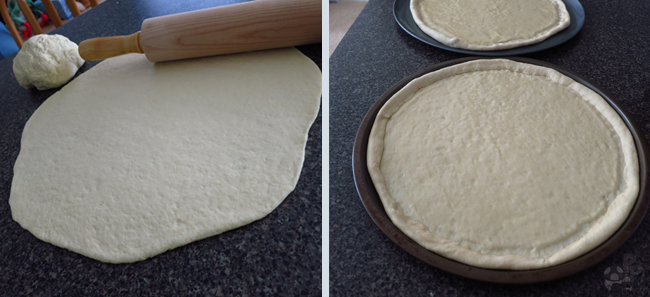 Something I like to do is give the dough a little extra time in the oven. I roll out my dough, place it on a pan and bake it for about 10 minutes (@ 400°) to start cooking it before placing any ingredients. This gives it a little extra crunch when it is all done.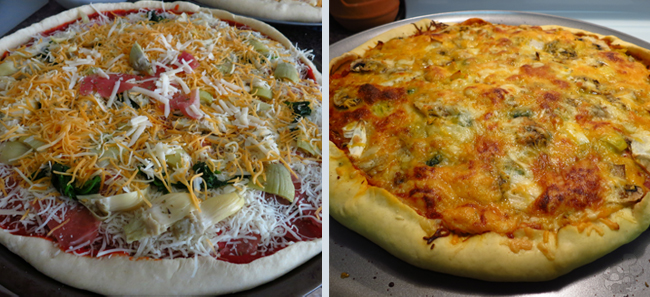 After giving it a little time in the oven, remove it from the oven and add any ingredients you want for your pizza and then bake for 20-25 minutes (@ 400°).
Your pizza is ready when the crust has turned golden brown.