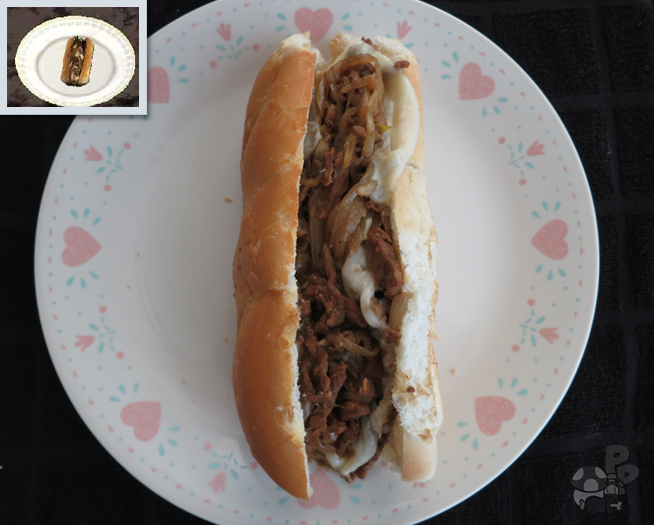 You begin to stir from your sleep as an alarm begins to blare. As you reach for the alarm you realize it is no longer the weekend, time to start the routine once again. Quickly, you remember last week you got a promotion at work. You are making progress towards your end goal of becoming a Five-Star Chef. Today you start your career as a Spice Runner! It is time to learn the basics of flavor combinations. In the world of cooking you know that practice makes perfect, so it is time for some experimenting!
The Sims 3 is definitely a game that encourages your character to make delicious meals. As I look at the culinary career levels in the game, I find it very telling about what a cook (at home or professional) has to learn in order to understand food. You start as a lowly kitchen scullion, listening to the orders of a head-chef. As your career grows you learn the benefits of spices, the elegancy of dish presentation, and what tastes work well together. Of course throughout this whole process you have a head chef teaching you their tricks in hopes that one day you will be capable of holding your own.
This week, we are going to make a very simple recipe: cheese steak. Not only is this recipe easy but requires a small handful of ingredients. I have never been to Philadelphia so I can't say these are authentic but I can say that they are truly delicious. One thing I really enjoy with this recipe is, in the end, each person can dress up their sandwich differently. For example on my sandwich I will typically add some horseradish because I love that stuff! Without further ado, I present the simple yet delicious steak sandwich.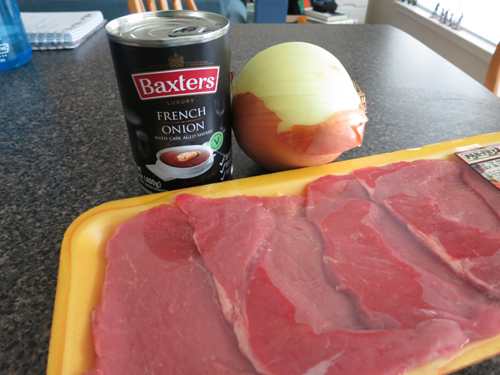 Required Equipment: Cutting Board, Knife, Frying Pan
Servings: 4
Ingredients:
– 1 lb. Steak
– 1 Onion
– 16 oz of French Onion Soup
– Olive Oil
– Salt and Pepper
– Bread
– Cheese
Place the steak in the freezer at least 2-3 hours before you want to cook it. This will make cutting it into thin slices much easier. Begin by cutting the onion into thin slices.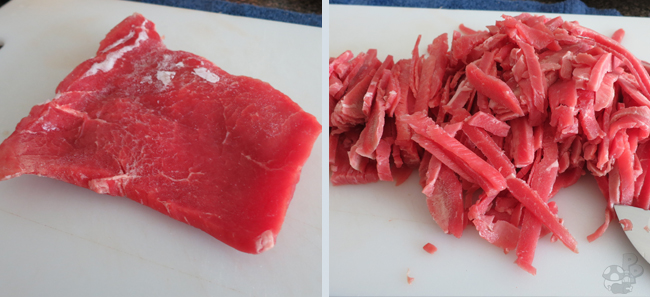 After cutting the onion, cut the steak as thin as possible (doesn't have to be perfect but avoid overly large slices).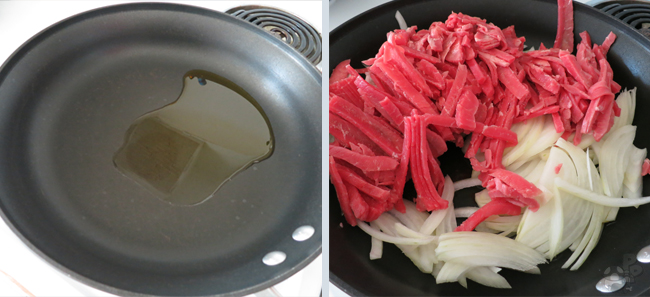 Heat the frying pan with some olive oil over high heat. Add both the onion and steak into the frying pan.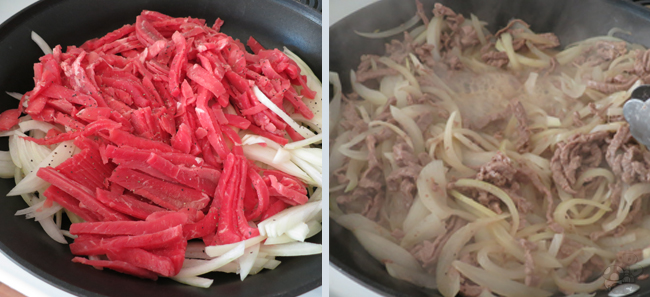 Sprinkle on some salt and pepper to flavor. As you cook the steak you will notice some liquid from the onions. Continue to cook the onion and steak until most of that liquid has disappeared.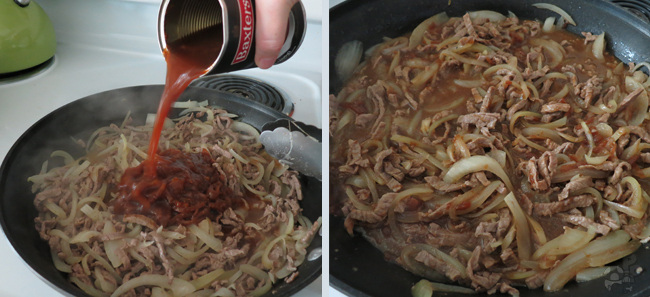 Add the French Onion soup to the pan. Lower the heat to medium, cover and allow the meat to simmer for 10 minutes.
After 10 minutes, take the lid off and allow the meat to cook until the liquid becomes thick. This will allow the steak to absorb the flavor of the French onion soup.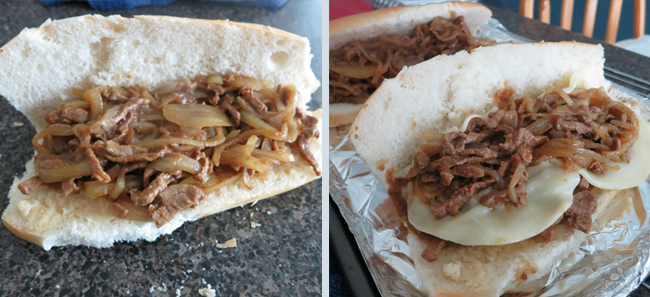 Once the liquid has thickened, place the steak on a roll and add any cheese you would like (go for a white cheese to keep it similar to the steak sandwich in-game). To give the bread that extra crunch, place the built sandwich in a pre-heated oven (at 375°F). Let the sandwich bake for about 5 minutes or until the edges begin to brown a little. It's time to enjoy a delicious steak sandwich.