For some reason your best friend has recently been a jerk to you. You wonder what could be wrong. Did you do something to upset them? Are they stressed out? Nothing really has changed around you but something is really causing your friend to be a completely different person. One evening, while hugging your favorite stuffed animal, you realize he is trying to talk to you. You jump in confusion and look at it oddly. It seems your stuffed animal is alive, dancing in joy and excitement. You ask the creature what he is and he begins to give you this long explanation. He tells you that there are two worlds and that everyone has a connected heart to a person in the other world. You realize that must be why your friend has changed so much. Something in this other world must be affecting them. You are out of options and it's possible that you've gone crazy so following this little creature must be a great idea, right?!
Ni no Kuni: Wrath of the White Witch is the most delightful game I have played in a while. I wanted to avoid putting too much detail from the intro here because I really think the storytelling is great and should be experienced firsthand. I was originally interested in this game because I heard that the art was being developed by Studio Ghibli. This studio has produced some of my all time favorite films (Grave of the Fireflies, Howl's Moving Castle – just to name a few), so of course I was super excited when Ni no Kuni was announced. I have not finished the game yet but it is really great and I'll probably get through it in the near future. This game is a great J-RPG (Japanese Role-Playing Game) and I have been enjoying every moment I have played of it. Ni no Kuni has all the elements I expect to see in this type of game, from a ton of sidequest to a very enjoyable story. I'm probably about half way through the game and I'll blame that on all the side quests that I have to make sure I do!
Since Ni No Kuni hits all the tropes of a good JRPG, there has to be food. The game does a great job of this. I was really excited when I got my first food item because I could show this game on my food blog! Today we are going to focus on a treat that will give you a small refill of health, the fishburger. This recipe does require some deep frying and if you afraid of it, don't be. Just make sure to have a pot deep enough and to keep an eye on it. Also make sure to not drop any water in the hot oil. This will cause it to splash everywhere.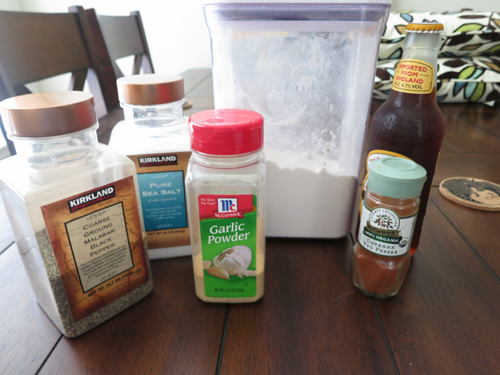 Required Equipment: 1 bowls, deep pot, frying thermometer, meshed spoon
Servings: 5-6 sandwiches (depends on how many fillets of fish you get)
Ingredients:
– peanut oil (this will be for frying, you will need enough to fill up 1 ½ inches high)
– 5-6 pieces of (cod/snapper/halibut – any of these fish will work great)
– salt
-pepper
– 2 cups of all-purpose flour
– ½ tsp garlic powder
– ¼ tsp cayenne pepper
– 12 ounces beer (I went with New Castle, but use whatever beer you enjoy)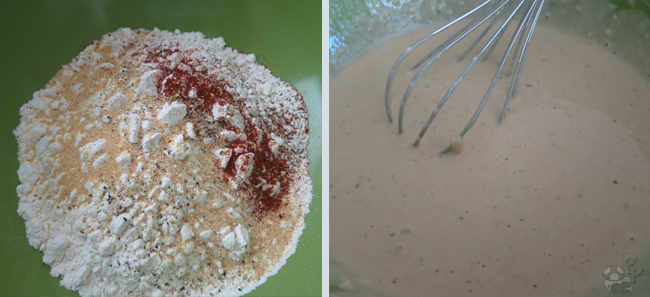 In a bowl, mix 1 ¾ cups of all-purpose flour (set the rest aside on a plate), garlic powder, cayenne pepper, 1 tsp salt and ¾ tsp pepper. Slowly whisk in the beer. Make sure to do this slowly or your batter will be clumpy.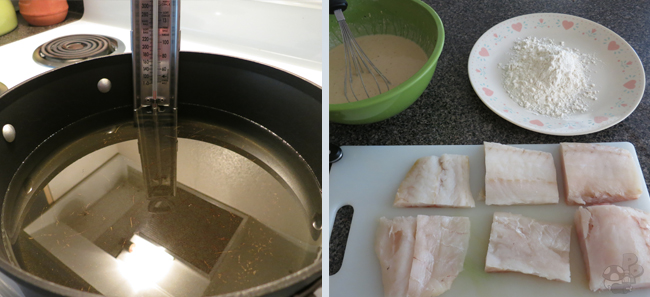 Fill a pot with about 1 ½ inches high of oil. This will allow for the fish to be mostly covered while frying. You want the oil to reach 375°F which will take a little bit. Go ahead and prepare the fish. If you have a full piece of fish, take the time to cut it into square pieces and make sure there are no bones.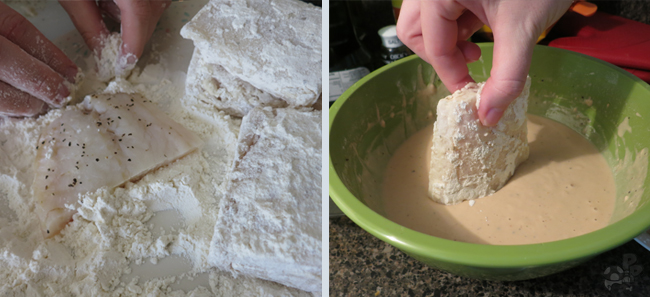 Salt and pepper each of the fish pieces. Cover the fillet in flour (this can get messy). Place them on the side until you are ready to start deep frying. I noticed if you leave them sitting around with the batter on, the batter doesn't really stay on the fish and you'll just have to re-batter them.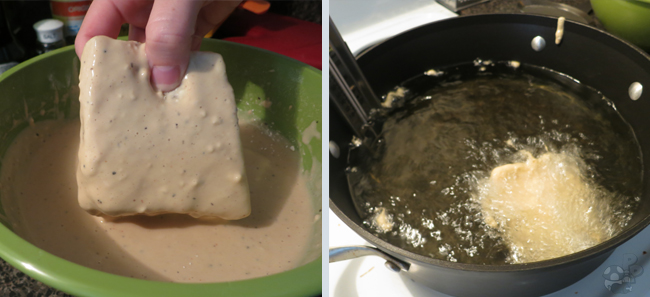 Once the oil is at the right temperature, dunk each of the fillets in the batter coating them completely. Place the fillet in the oil and cook for 4-6 minutes or until the batter is golden brown. I recommend flipping the fish about half way through the cooking process to get both sides nice and golden.