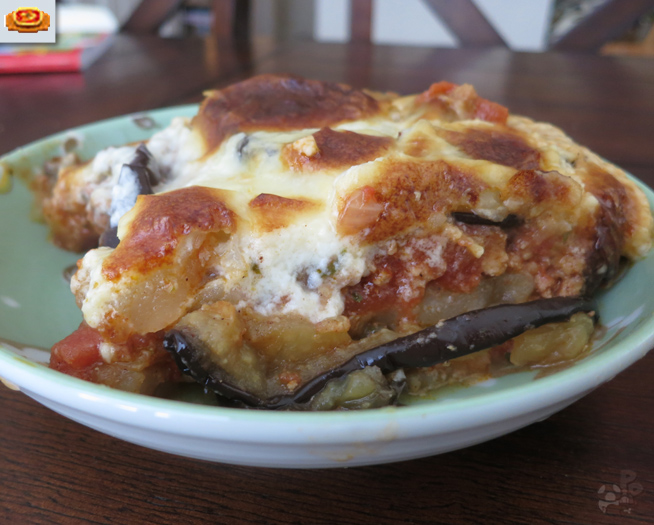 The sound of a rooster wakes you up and you know it is time to begin your work for the day. You hop out of bed and eat a hardy breakfast. It doesn't sound like rain today, so at least you'll stay dry while you work. Looking at the time you realize it is time to feed the animals. Rushing out the door you are stopped by the nearby village's mayor waiting outside. He greets you and reminds you this weekend is the cooking competition and cannot wait to taste some delicious treats. You nod in excitement and say farewell as he leaves. Now back to feeding these animals! After feeding both the cows and chickens, you look at your field and notice several of the vegetables are ready to be harvested. This is just in time so you have fresh ingredients to cook with.
Now I'm sure a lot of you think the paragraph above doesn't describe a video game. Well, I guess you have never played a Harvest Moon game. Those games have been such a joy to play and are pretty relaxing compared to other games. I played a few different one but haven't been able to play any of the latest (since I don't own a DS or Wii). Sometimes I just want to play a game where I walk around, feed some farm animals, and grow some vegetables. One thing I forgot the game had was the intense cooking system and the amount of culinary options. After looking though the list of options I knew I had to do a recipe here (and you'll probably see more in the future)!
A few of my friends have really taken a liking to this blog and have actually started cooking a few of the recipes. One of my friends this last month requested I make moussaka from Harvest Moon: The Tale of Two Towns. I was a bit surprised by the request and made it my goal to figure out how to make moussaka. After one attempt and a few adjustments I figured out how to make a delicious moussaka! This recipe requires a good chunk of prep work and a good amount of cooking time. I highly recommend you give yourself about 3-4 hours to make this recipe. A lot of the stuff can be done at the same time but if you don't multitask well I recommend you take your time. For me, this is a recipe I make on the weekends only because of the required time.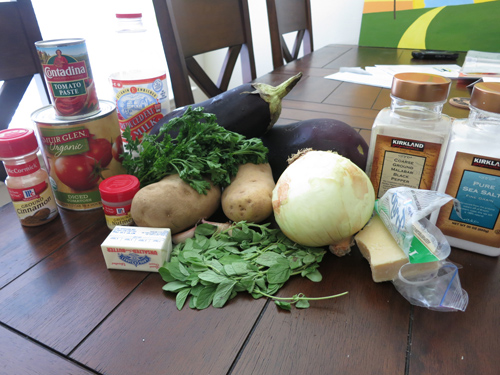 Required Equipment: Cutting Board, Knife, Pot, Pan, Saucepan, Deep Baking Pan, 2 Baking Sheets
Servings: 8
Ingredients:
– 1.25 lb ground turkey
– ¾ of an onion, chopped
– 3 cloves garlic, chopped
– 1 tsp cinnamon
– 1 tsp salt
– ¼ tsp nutmeg
– ½ tsp pepper
– ¼ cup fresh oregano, chopped
– 28 ounce diced tomatoes
– ¼ cup tomato paste
– ½ cup parsley, chopped
– 2 lbs eggplant
– 1-2 potatoes
Béchamel:
– 3 tbsp butter
– 4 tbsp flour
– 2 cups milk
– ¼ tsp nutmeg
– ¼ cup parmesan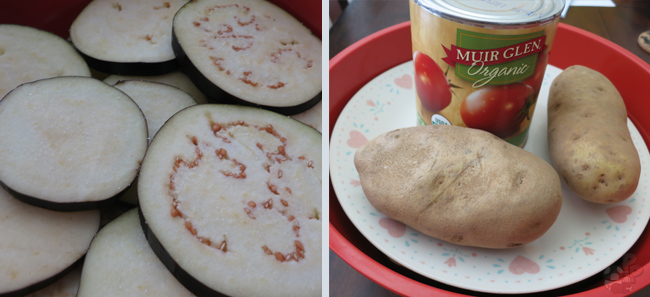 Begin by cutting the eggplant into ¼ inch thick slices. Place the cut eggplant into a bowl and salt generously. This is going to help reduce the amount of liquid in the eggplant. Place a plate and some weight on top of the eggplant and let it sit like that for at least an hour.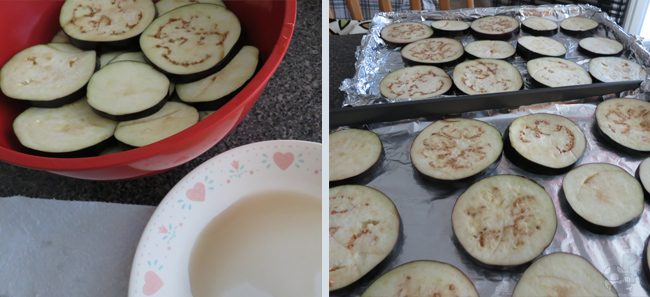 Pre-heat your oven to 400°F. After the hour has passed, remove the plate and you should notice some water from the eggplant. Pour out any from the bowl. Place the eggplant pieces on some baking sheets (I needed 2) but do not stack them! Place them in the heated oven and roast them for 15 minutes. Flip them and roast for another 15 minutes.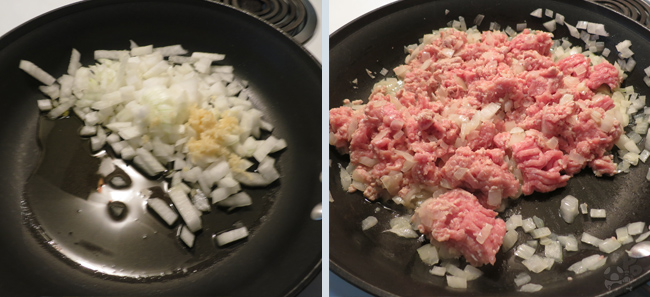 While the eggplant is roasting (or even while the eggplant is in the bowl) you can begin work on the meat filling. In a pan over medium-high heat, sauté the onion and garlic until translucent (about 5 minutes). Add the turkey and brown the turkey.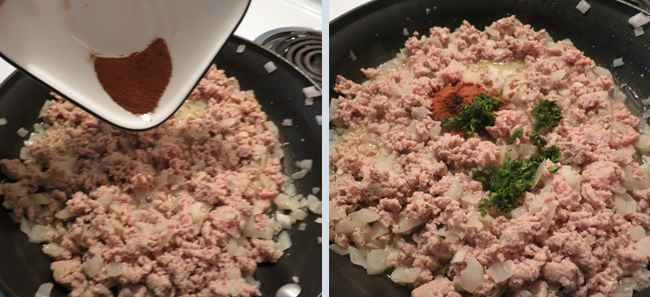 After the turkey has started to cook (about half way) add the cinnamon, salt, nutmeg, pepper and oregano. Mix together and let the turkey cook for about 5 minutes.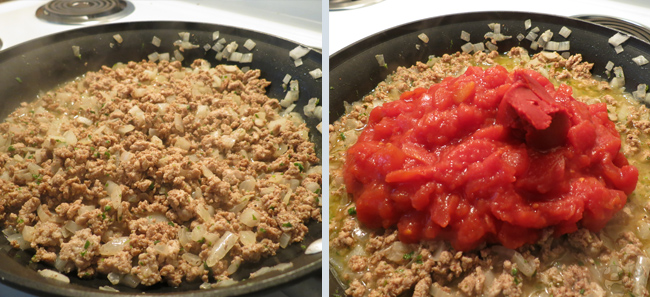 Once the turkey has cooked add the diced tomato and tomato paste. Mix together.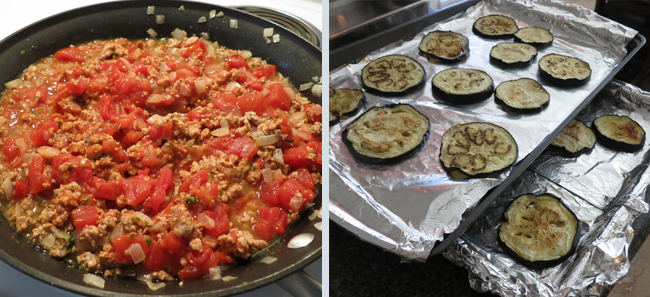 Lower the heat and cover the turkey. Allow it to simmer for 30-45 minutes. As this is cooking begin to bring a pot filled with water to a boil (this will be for the potatoes). If the eggplant has finished roasting place it to the side. Leave the oven on but lower the hit to 350°F.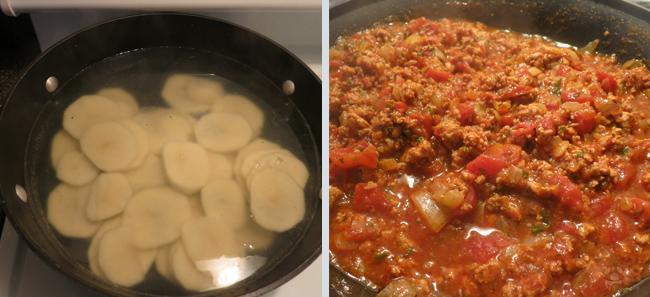 Take your potatoes and peel them and cut them into ¼ inch thick slices. When the water is boiling cook the potatoes for 6 minutes. You want them to be barely soft; cooking them any longer will cause them to become mush. After the turkey sauce has cooked for its 30-45 minutes add the parsley and mix together.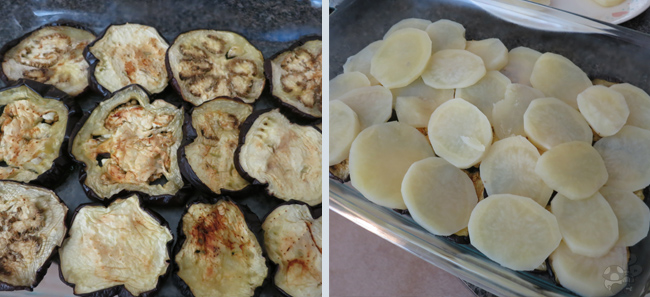 Now with everything done we can start making the moussaka. In a deep baking pan place a layer of eggplant, followed by a layer of potatoes.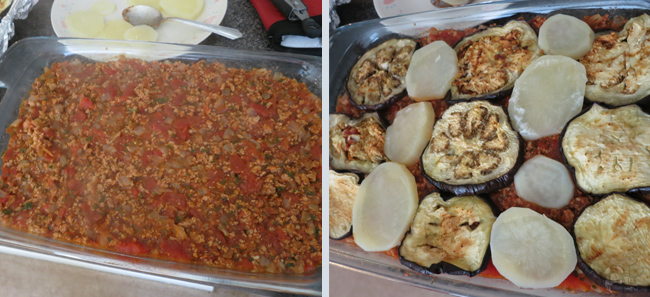 Spread all of your turkey sauce on top of the potatoes. Place the remaining eggplant and potatoes you have in a layer above the turkey sauce. Place in the oven and cook for 20 minutes (we have one more thing to add to it).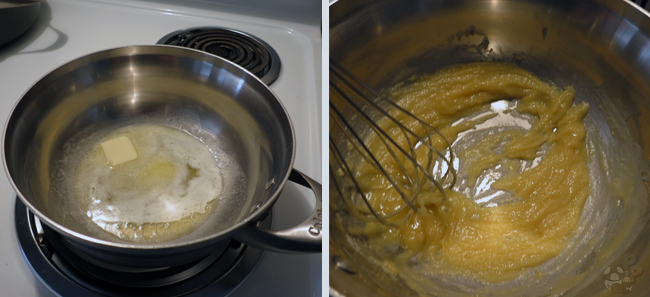 Last part is creating the béchamel for the top of the moussaka. In a saucepan over medium heat melt the butter. Add the flour and stir together thoroughly to create a roux.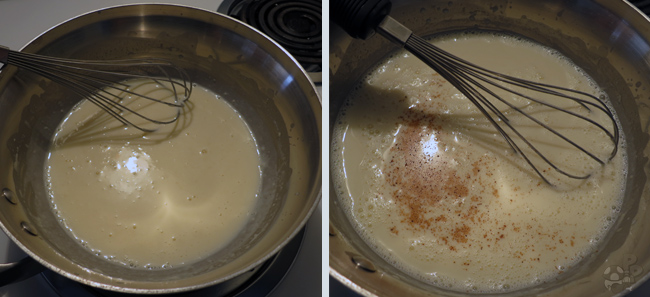 Slowly add the milk while stir continuously. Once incorporated add the nutmeg and mix together.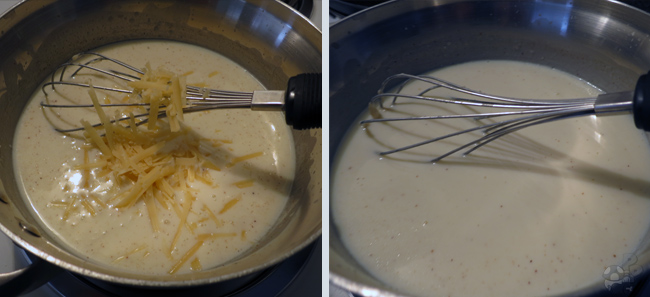 Finally add the parmesan cheese and once it melted take off of the heat.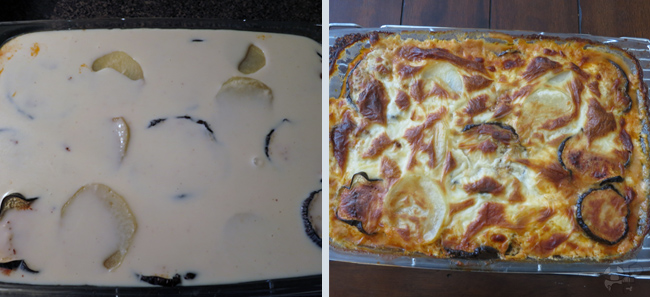 After the moussaka has been in the oven for 20 minutes remove it and place the béchamel on top. Return it to the oven for 30-40 more minutes. Once cooked remove it from the oven and let it sit for about 10 minutes (so it doesn't fall apart when you serve it).