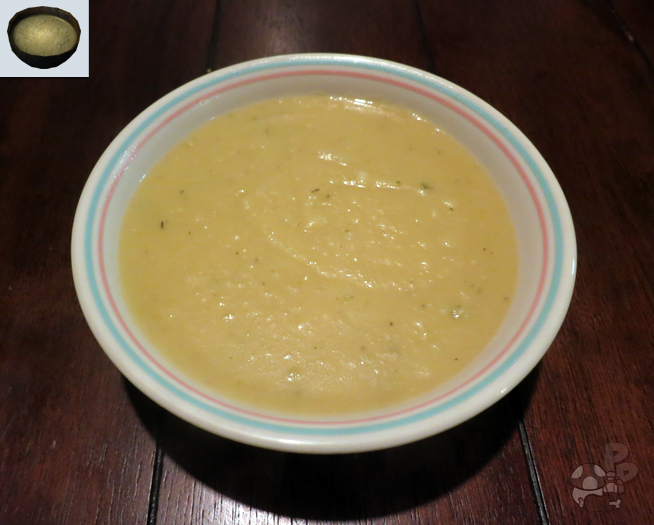 DID IT! I finally completed the main story of Skyrim. Every time I've picked up the game I got up to meeting the Greybreads and would quickly get distracted by every other cave I ran across. This last month I decided to start fresh and focus on the main story. My new character was a shield and mace wielder with some practice in restoration magic. This kind of character has slowly become one of my favorites to play in a lot of games. In the process of playing I picked up a number of the DLC packs that have been released for the game. My favorite one has to be Hearthfire but who isn't surprised by that one? It adds new food and the ability to build a sweet house. Of course I would love that expansion.
Again we visit the world of Skyrim and another soup recipe. Honestly, if I lived in a cold, harsh climate like Skyrim I would probably have soup every other day just to keep warm. The beginning of last week was definitely a soup kind of week. Potato soup is something I had to try several times until I found a recipe I was truly happy with. This recipe has probably gone through at least five different renditions before finally finding my perfect potato soup. Overall this recipe is pretty simple and doesn't require too much work. Let's get cracking so you too can stay nice and warm with a bowl of potato soup.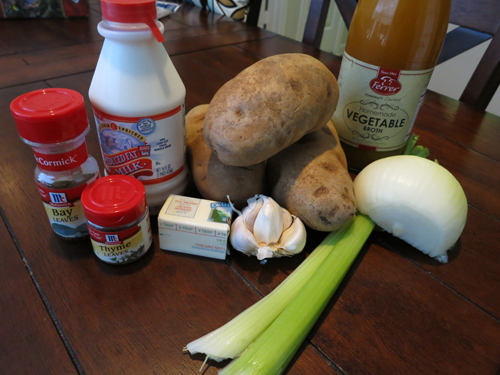 Required Equipment: cutting board, knife, deep pot, spoon, immersion blender (or stand blender)
Servings: 4 bowls
Ingredients:
– 1 tbsp butter
– 1 tbsp olive oil
– 6 garlic cloves, minced
– 1 ½ onions, diced
– 2 stalks of celery, diced
– ½ tsp thyme
-1 tsp salt
– 1 tsp pepper
– 1 ½ pounds of potatoes, peeled and diced
– 3 cups vegetable stock
– 1 cup milk
– 2 bay leaves
– cheddar cheese, scallions, bacon for toppings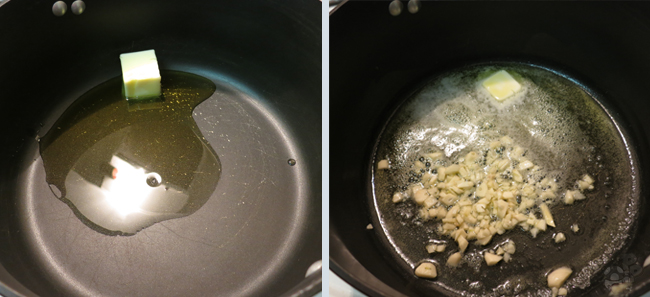 Place a pot over medium heat. Add butter and olive oil to the pot and allow the butter to melt. Once it is mostly melted, swirl it around the pot with the olive oil. Add the garlic and allow it to cook for about 1 minute.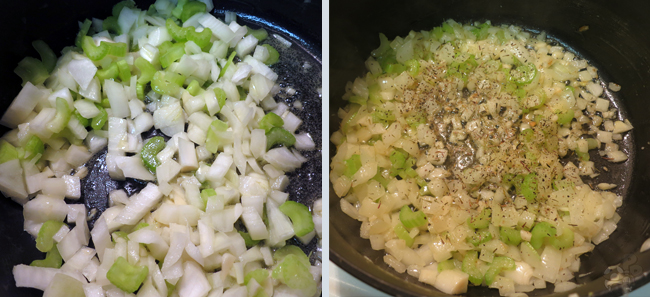 Add the onion and celery and cook until it becomes translucent. Add the thyme, salt and pepper and mix until it is combined with the vegetables.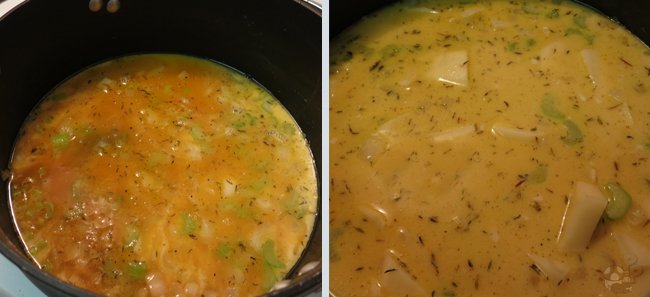 Next add the vegetable stock, milk, potatoes and bay leaves. Increase the heat and bring the soup to a boil. Once it has begun to boil, cover and reduce heat to medium-low. Allow the soup to simmer for about 30 minutes or until the potatoes are tender. If you are using an immersion blender you can blend the ingredients together to the consistency you'd like. I like my soup creamy so I blend it until everything is well combined. If you are using a stand blender you will have to transfer the soup into it and blend. This will probably have to be done in batches. Serve immediately. I'd recommending topping it with cheddar cheese, scallions and turkey bacon.