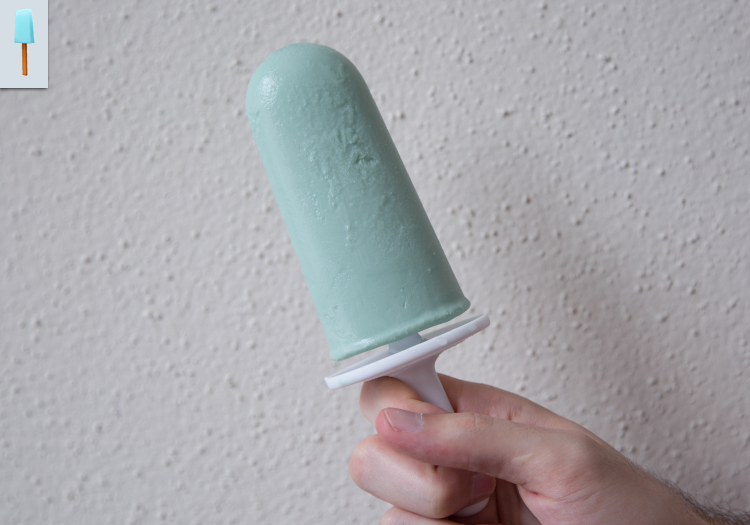 I remember sitting in high school and being excited for the school day to end so I could continue my adventures in Kingdom Hearts. When the second game came out, I had just started college. I remember playing through it and joking with a friend how if I have a son, I will have to name him Roxas. That won't happen; younger me was a much more fanatical about things. These games have been a part of my life and I've really enjoyed playing these two games and I'm excited for the eventual release of the third one. I have not played any of the other side games, only the two main entries. I wish they would have just focused on the main entries so we could have had the third one already. The things that attracted me to this series were the bizarre take on Disney universes and the combat system. Being able to walk around and have Goofy fight alongside me was awesome!
The sea salt popsicle recipe is probably one of the more requested food items to be recreated. I decided it was finally time for me to attempt this. I typically prefer my frozen desserts in ice cream form over popsicle but I had to make an exception for this game. One thing I wanted to capture with this recipe was a delicious balance of salty and sweet. When my husband first took a bite, he said it reminded him of salted caramel, which was about what I wanted. The work required for this recipe is pretty minimal but does need to be prepped beforehand (unless you have one of those quick pop makers). A note about this recipe; I did not include an amount of salt because I believe you have to taste this until you are happy with the level of saltiness.
Required Equipment: Saucepan, popsicle mold, whisk
Ingredients:
– 2 cups heavy cream
– 1 cup milk
– ½ cup honey
– 1 tsp vanilla extract
– sea salt
– 13 drops blue food coloring
– 3 drops green food coloring

In a saucepan, over medium-high heat, combine the heavy cream, milk and honey. Once combined remove the saucepan from the heat and add the vanilla extract.

Pour the mixture in a bowl and slowly add the sea salt. Taste until you are happy with the level of saltiness. It is easy to overdo it so be careful. Finally, add the food coloring. I kept the coloring to a minimum but feel free to double it if you would like a stronger color.
Place in the refrigerator and allow it to chill for 2 hours. After it has cooled, place the cream mixture in the molds and allow to chill in the freezer overnight. Enjoy!