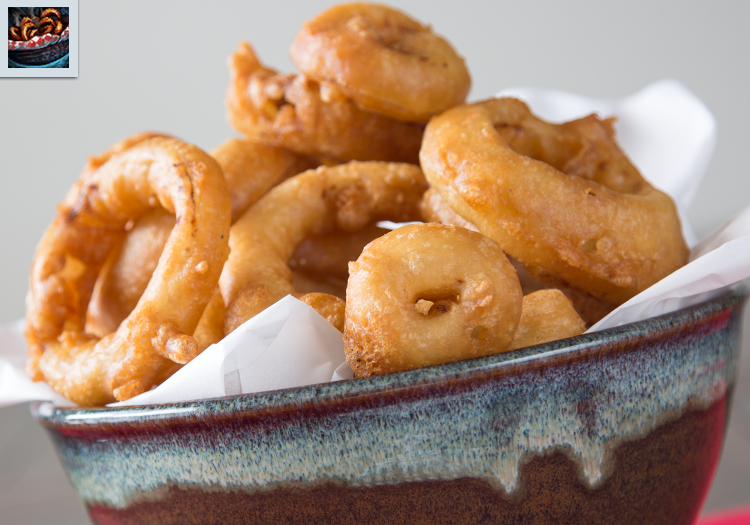 It's that time of year when all the cities of Tyria dress up in celebration of Wintersday. Toymaker Tixx has returned to Divinity's Reach bringing merriment to all the people. Holiday activities both in-game and in the real world can make one extra joyful. What better way to celebrate the season than with some fried goodness? For me the holidays mean time to get fat and enjoy foods I would typically avoid throughout the year. One of my personal favorites is a large bowl of onion rings! Compared to a lot of other fried dishes, this one isn't too time consuming because they fry so quickly. When preparing these little guys you are going to want to make sure to have all your items prepared before your oil has reached the frying temperature. Time to get frying!
Required Equipment: bowls, deep pot, plate, meshed spoon
Ingredients:
1 cup flour, plus ½ cup
½ tsp garlic powder
½ tsp salt
½ tsp pepper
¼ tsp onion powder
1 tsp baking powder
1 cup beer
1 large onion, cut into ½-1 inch slices and separated into individual rings
peanut oil

In a deep pot add about an inch and a half of peanut oil. Begin preheating your oil to 375°F. In a small bowl combine the one cup of flour, garlic powder, salt, pepper, onion powder and baking powder. Whisk in the beer until you have a smooth batter.

Take your onion rings and cover them in flour.

Once your oil has reached 375°F, dip the flour-covered onion rings into the batter. Make sure to let any excess batter drip off the onion ring before placing it in the oil.

Place the battered onion ring into the hot oil and fry each side for about two minutes, or until golden brown.