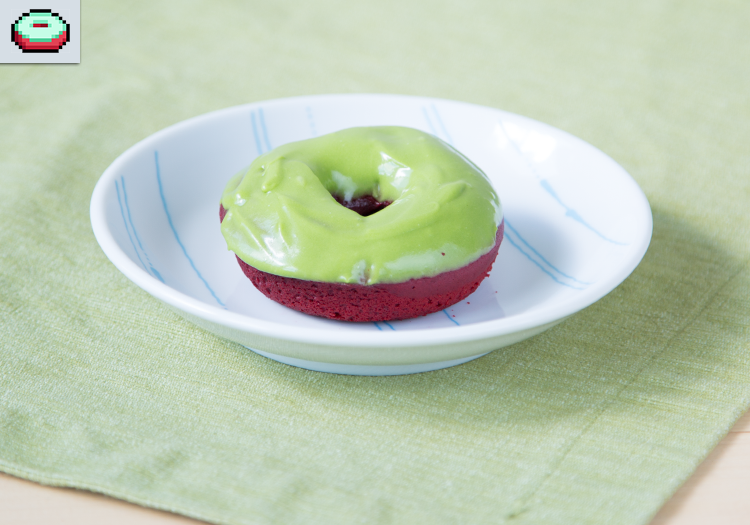 The spooky donuts caught my attention while playing Starbound. The basic required ingredients to make them are an egg, boneboo, wheat, sugar and milk. Most of those ingredients seem pretty normal except for that boneboo. Boneboo is a crop found on dry, arid planets in Starbound. The item description is simply, "Spooky." While pondering what boneboo would do to a recipe, I came up with two requirements. First, whatever it makes is dyed into a deep red color. Second, it would probably add a bit of bitterness to a recipe. A red velvet baked donut was an easy answer for something to be dyed deep red. For the bitterness, I went with a matcha flavored cream cheese frosting. These two pieces work very well together. Time to make the spookiest donuts in the universe!
Ingredients:
¼ cup (27g) cocoa powder
1 fl oz red food coloring
2 cups (300 g) flour
2 tsp baking powder
½ tsp salt
4 tbsp butter, room temperature
½ cup (130 g) sugar
¼ cup (50 g) brown sugar
1 egg
1 tsp vanilla extract
1 cup milk
½ tsp vinegar
Frosting
¼ cup butter, melted
4 tbsp cream cheese
½ tsp salt
½ tsp vanilla extract
½ tbsp matcha powder
1 ½ – 2 ½ cups powdered sugar

Preheat oven to 350°F. In a small bowl, combine the food coloring and cocoa powder. Mix well – it'll be very thick. In another bowl combine the flour, baking powder and salt.

In a bowl of a stand mixer, combine the butter, sugar and brown sugar. Once mixed, add the cocoa powder mix and vanilla extract. Add the egg and mix well.

Add half of the flour mixture. Next mix in the milk and vinegar. Finally, add the remainder of the flour.

Place the donut batter in a plastic ziplock bag. Cut a small hole on one of the corners. Carefully fill a donut pan with the batter. Place the pans in the oven and bake for 10 minutes. Let them cool completely before frosting the donuts.

To make the frosting, combine the melted butter, salt and cream cheese. Add the vanilla extract and matcha powder.

Add the powdered sugar in half cup intervals. Taste the frosting and add more until you are happy with the flavor.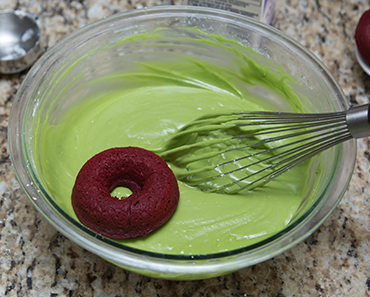 Carefully dip each donut into the frosting. If you want the frosting to harden a little bit, place the frosted donuts in the refrigerator before serving.