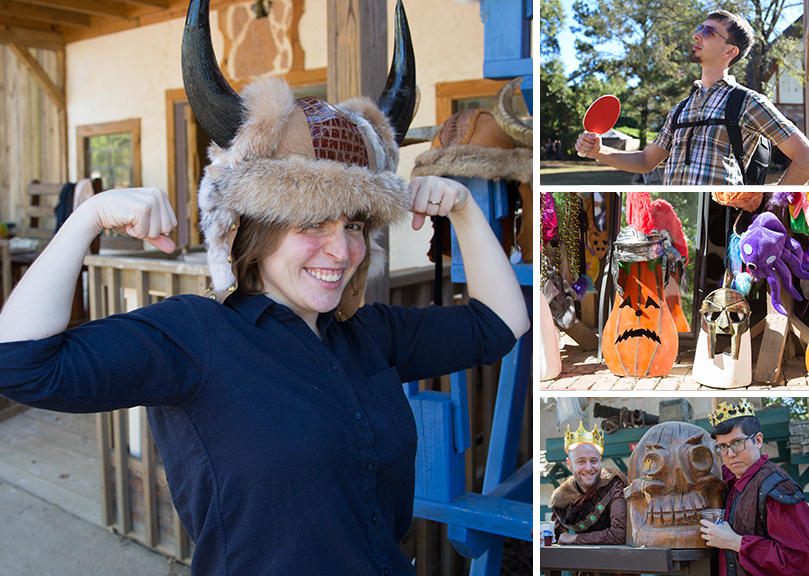 Welcome to a completely new kind of blog post from Pixelated Provisions. I have decided to start including a few bonus post from time to time, covering things like nerdy events I attended, interesting food experiences, deeper looks into games I am playing and a general look into my life besides recipes. Do not fear, these posts will be on top of the weekly recipe post and not a replacement; that is why they are a bonus!
Last weekend, a group of friends and I went to the Texas Renaissance Festival in Magnolia, Texas. My husband and I have attended the festival a few times over the past years since moving to Houston. Six years ago, the Texas Renaissance Festival was my first excursion to a renaissance festival. I love the shops, the community and all their amazing costumes, the shows and of course the food. When planning our trip this year, I decided to make it my mission to go around and try as many of the food stands at the festival during our day there. There are many food options at the festival. I hope that my little look back at all the food will help someone not feel overwhelmed with all the options at the Texas Renaissance Festival.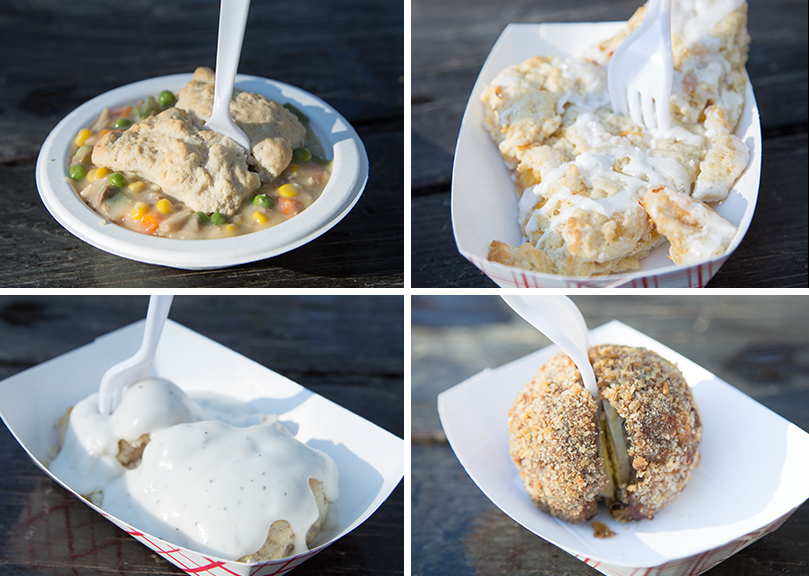 After the long drive and surprisingly light traffic, we made our way through the main gate and back to the time of the Renaissance. Our group began our food quest at The Queen's Pantry, just right after entering. We ordered Scotch eggs, biscuit and gravy, peach and ginger scone, and a chicken biscuit potpie. The scone and the chicken biscuit potpie were quite delicious. The stand out for me was the biscuit and gravy. With a low price of $3.50, (you can add a sausage for $1.50) I called this the best-valued meal of the day. The two biscuits on the plate were large and generously covered in gravy. The biscuits were fluffy and very filling. The gravy complimented the biscuits perfectly. Since traffic can get a bit bad through the day, I'd suggest skipping breakfast and stopping here first for those biscuits.
The Scotch eggs on the other hand I personally found a little disappointing. The sausage that wrapped the egg reminded me of a sausage patty and was not anything to special. The egg was hard-boiled, maybe a little overdone. I know they are making them in mass quantities but I do wish the yolk were a little runny. I found them to be expensive for the quality and amount of food.

With our first meal consumed, we roamed the grounds a bit to figure out what other foods to try throughout the day. We slowly made our way past the Pirate area and made a stop at the stalls. Usually it is very crowded but early in the morning it was empty. We ordered some chips. They were crispy on the outside, tender inside and flavorful.
After a bit we made our way to Brigadoon Brewery & Brew School. Most of the stands with alcohol sell your usual variety of things with some special things like Polish Mead, but the Brigadoon Brewery has a big variety of craft brews that you won't find elsewhere at the festival. I didn't have anything, but my group all ended up with a Scottish Ale that they all agreed was "quite splacious." They told me that splacious was very good, so I'll have to take their word for it. I'd suggest swinging by if you were looking for something beyond the usual alcoholic faire.

The Greek area of the festival is my favorite when it comes to food. Since I have been attending the Texas Renaissance Festival, it is a necessary stop for me. If you do go to this area, I recommend walking further back to avoid the long lines. The first food stall is always super busy, while the ones further in the Greek area serve most of the same food and have less people waiting. We tried a few things include a chicken gyro, Greek pizza and pork souvlaki. First, the greek pizza is essential a pita with tzatziki sauce and pieces of gyro meat. It was tasty but compared to the other options in this area I did not think it was worth it. My personal favorite is the gyro (lamb or chicken variety). It goes for 9 dollars but the amount of food they jam into that pita is both delicious and impressive. Finally, the souvlaki is pork on a stick with a pita. The cook on the pork was perfect. Each piece was juicy and flavorful. You cannot go wrong with either the gyro or the souvlaki!

Afterwards, we did a bit of walking and I wanted to stop at the Black Forest Inn. Last year they had these delicious sauerkraut deep fried balls. I loved them! When I went to the stall, I noticed they were no longer on the menu. I asked the woman working the counter and she informed me they did not include them this year. We both talked about how sad it was and how delicious it was. If anyone who heads that booth reads this, please bring them back next year! Since there were no fried balls, we just ordered a plate of sauerkraut. It was delicious. A little pricy but tasty if you just want some sauerkraut in your life. Another option is the bratwurst in a bun. I did not get any this year but they have not failed me in the past.
Instead of getting a bratwurst, I got the sausage plate from the Polonia. The plate comes with a very large Polish sausage, sauerkraut, a pickle and a small bun. I was surprised by the difference in flavor of the sauerkraut from the Polonia and the Black Forest Inn. If I had to choose, I would say I preferred the sauerkraut here at the Polish pub. Both are good so you cannot go wrong with either. The Polish sausage was nicely prepared and I enjoyed the meal.

While sitting in the area, a friend purchased a large bag of kettle popcorn. The flavor is on point and enjoyable, but you'll be hard pressed to finish it if you are eating it all by yourself. Share with a group and you can't go wrong!
We headed towards my favorite show group, Sound and Fury. If you have not been to one of their performances, I highly recommend them. Just be aware that their shows are not kid friendly at all, so keep the little ones away if you don't want them repeating what they hear! As we walked, friends purchased some alligator on a stick, fried mushrooms on a stick and a whole pickle. They are all quality snacks to eat while walking around. The pickles are sold in carts and not at any specific location, but don't worry. You'll certainly hear the pickle sellers barking their wares at some point during the day.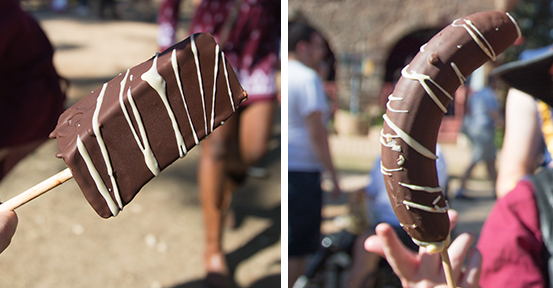 After the show, we grabbed dessert at Don Felipe's Casa del Sol, which included a chocolate dipped cheesecake and a chocolate dipped banana. I would suggest the banana over the cheesecake. I found the cheesecake to be a bit heavier than I wanted it to be. Tasty but might have been a bit too much sugar at once for me.
Our last stop was at the Italian Village area. During all my years of attendance, I've never picked up food at any of these stalls. This year, we made an effort because a few websites suggested the food over here. I was disappointed. We had pizza, deep-fried mac and cheese and garlic parmesan fries. The only thing worth trying were the fries. Everything else was mediocre at best. Compared to all the food we had throughout the day, this was probably the low point which was unfortunate because it was our last stop.
That covers everything we tried this year at the festival. Let me know if you've been to a renaissance festival before what you thought of it! I hope that this little write up will help you make some food decisions if you ever find yourself at the Texas Renaissance Festival.