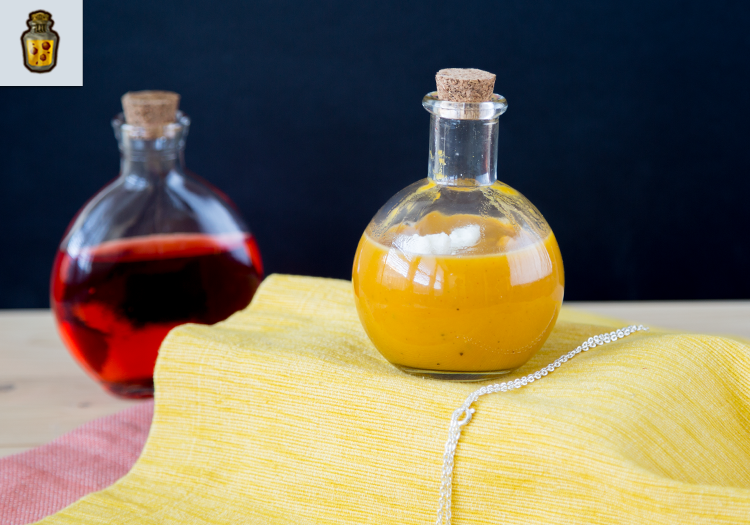 Far in the Snowpeak Ruins reside two yetis, Yeto and Yeta. These two enjoy quiet walks around the mountains, watching sunsets together and cooking delicious meals. They did everything together. That all changed the day they found a peculiar mirror fragment. Yeta fell extremely ill and could not join Yeto on any of their daily activities. Yeto began working on ways to help his dear wife. He eventually discovered that soup helped ease the pain. He recently picked up a recipe from the Zoras in the nearby village. Yeto isn't a fool; he knows the soup is only keeping his wife in high spirits. He believes the mirror is the true cause of her illness. A young man recently meet up with Yeto while he was out catching a reekfish for the soup. Maybe this gentleman can help him complete the soup and get this mirror out of his home.
Since starting this blog, a friend requested a while ago that I recreate Yeto's Superb Soup from The Legend of Zelda: Twilight Princess. I appreciate their patience and I am happy to say I've finally developed a recipe for this interesting soup. The game ingredients needed to make this soup include a reekfish, Ordon pumpkin and Ordon goat cheese. I used a kabocha (Japanese pumpkin) as the Ordon pumpkin and the goat cheese as a garnish to the soup. For the reekfish, I decided to go a little different than what I originally intended. At first, I considered using smoked salmon but eventually decided on using a dashi stock. I found the flavor from the dashi gives that fishy taste Yeto was going for with the reekfish. Once everything is combined and ready you will have a wonderful bowl of Yeto's Superb Soup. I highly recommend serving this soup with some sourdough bread; it compliments it really well.

Ingredients:
1 kabocha (Japanese pumpkin)
1 sweet potato
1 tbsp olive oil
½ onion
4 cloves garlic
½ tbsp thyme
½ tsp garam masala
½ tsp cayenne
pinch of cinnamon
salt
pepper
1 can of coconut milk
Dashi Stock
3 cups water
2 tbsp bonito flakes
1 piece of kombu
Serve with
goat cheese
Sliced bread

Preheat oven to 400°F. Cut the kabocha and sweet potato into large cubes. In a bowl, mix the kabocha, sweet potato and olive oil. Place on a oiled baking sheet and bake until tender, about 35-40 minutes.

While the kabocha and sweet potato roast, prepare the dashi stock. Place the water, bonito flakes and kombu in a pot. Bring to a boil, reduce the heat and allow it to simmer for at least 15 minutes. The longer you let the stock cook, the stronger the dashi will be. When the broth is ready, place a mesh strainer over a bowl and strain the broth. Set aside.

After the kabocha and sweet potato have finished roasting and the stock has been prepared, it is time to put everything together. Place a deep pot over medium-high heat. Add the onion and garlic. Cook until translucent, about 5 minutes. Add the thyme, garam masala, cayenne, cinnamon, salt and pepper.

Add the kabocha and sweet potato and mix well. Pour in the dashi stock. Using an immersion blender, blend until smooth.

Add the coconut milk and mix.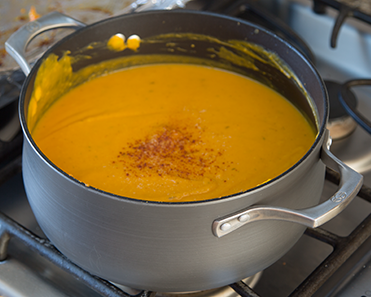 This next step is the most important and probably most free formed part of this recipe. Taste the soup. If you feel like it is missing something, I would recommend adding a bit more garam masala, cayenne, salt or pepper. Add a small amount of each until you are happy with the result.
Pour some soup into a bowl and top with goat cheese. This soup goes extremely well with sourdough bread.
November is Zelda Month. Check out all the delicious recipes being made in celebration here.