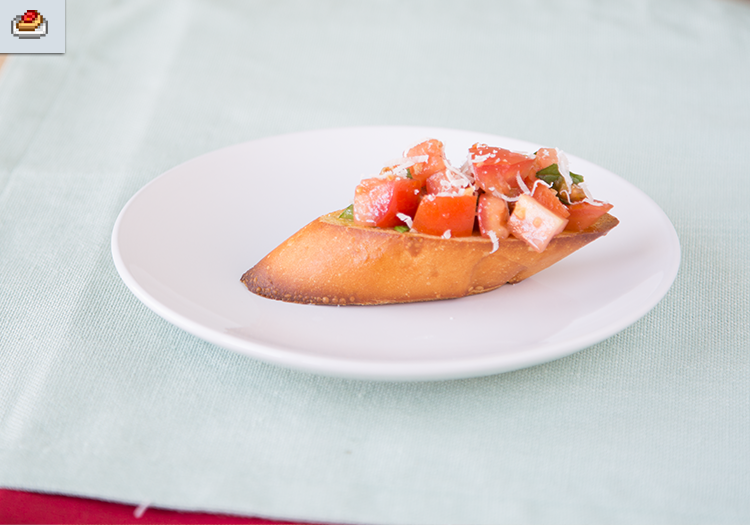 Managing a farm means you have first hand access to the freshest ingredients. Unfortunately for me in the real world, I don't have the patience or knowledge to do much gardening work. When my husband and I got our house, our friends asked when I would start my own garden. I responded with a quick laugh and said that wasn't happening anytime soon. If anyone has some tips, let me know. Maybe I'll try something out next year. Luckily for me, I can live the dream of growing fresh ingredients with games like Stardew Valley.
Bruschetta is an appetizer where fresh ingredients truly shine. You can't go wrong with fresh tomatoes seasoned with olive oil and garlic on top of crunchy bread. A younger me would look at a plate of bruschetta and be sad. Tomatoes were a fruit that I wasn't too thrilled with seeing. As years passed I slowly began developed a love for raw tomatoes. Now, when I end up at an Italian restaurant, bruschetta is one of my go-to appetizer orders. Thanks to Stardew Valley, it was time for me to finally learn how to make these at home. Surprisingly, bruschetta is very easy and quick to make.

Ingredients:
330g tomato, chopped
4 cloves of garlic, minced
5g fresh basil, sliced thinly
baguette, cut in thick slices
1 tbsp olive oil
1 tsp balsamic vinegar
salt
pepper
parmesan

Place a pan over medium-high heat. Add the olive oil and garlic. Cook until the garlic is golden brown.

Once cooked, place the cooked garlic in a bowl. Add the tomato,basil and balsamic vinegar. Season with salt and pepper.

Preheat oven to 400°F. Place the baguettes on a baking sheet and bake for 4 minutes. Flip and bake for another 2 minutes.
Once baked, take each of the baked slices and brush olive oil over them.

Scoop some of the tomato mix on top of the baguette slice and sprinkle with parmesan.