Another day of driving in the Regalia. We've been on the road for a few days now and haven't had time to make a stop at an outpost in quite a while. Noctus has demanded that we finish this pick up job for Cindy. I understand wanting to keep the car in top condition, but if we are caught by the daemons that appear at night, our journey will most certainly come to an end. We REALLY need to get to Lestallum and rendez-vous with…
"Hey Ignis, let's pull over real quick."
Finally, maybe his highness wishes to set up camp and eat one of my delicious cooked meals for the evening. Excellent, we've arrived at the camping spot. Oh- oh my, Noctus is just running past it. Hmm… there seems to be a gentleman near that river, that might be the reason for this sudden stop. It is that nice fisherman we met a few days ago.
"Guys, I'm gonna try catching this fish. You all can wait a bit, right?"
Guess it is time to play a round of King's Knight as he fishes. Hopefully, he will catch a few extras for this evening's meal. Hmmm… seems he has been at it for some time now. The sun is starting to set. Hope he catches this…
"The prize catch!"
Good, now he can show this gentleman the catch and we can turn back to the campsite. That Trevally gave me an idea for a meal! He just finished speaking to the gentleman and we are now walking towards… now past the camp. Noctus must have one more stop planned. I should remind him that he is close to crossing that line between bravery and stupidity.
"Iggy, let's get moving. We have to get this hunt while it is dark out."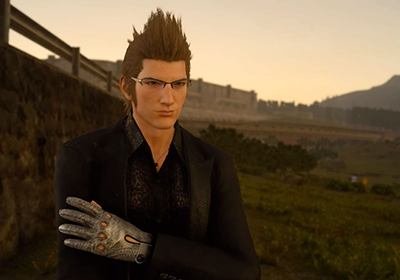 These past weeks I have been playing a decent amount of Final Fantasy XV. I remember back in 2006 when Square Enix first announced Final Fantasy Versus XIII. I was a much more interested in this title than Final Fantasy XIII thanks to the promise of a decent story and combat similar to Kingdom Hearts. Well, 10 years later we ended up with Final Fantasy XV and it has been enjoyable so far. I love roaming the world with this group of characters. Each of them are delightful in their own way. To no one's surprise, Ignis is my favorite of the bunch. He makes sure the party is in good health and loves learning new recipes. I love finding a new recipe and hearing Ignis get all excited to try it out. I am not too far in the story because I been very distracted with side quests and trying to find all the recipes in game. I might have gone too heavy on the side stuff because I just got to Lestallum and the party is level 32. The suggested level for the main quest is 10. Oopsies!
Final Fantasy XV has a lot of recipes. Food is the main reason I decided to pick this game up. Ignis can learn one hundred and three unique recipe and several of the eaters in game have unique recipes that you can't make in camp. All the food looks really delicious and it was difficult to pick which one to start with. I decided to start my Final Fantasy XV culinary adventure with one of Ignis' first known recipes, the croque madame. This sandwich is traditionally a grilled ham and cheese sandwich, covered in bechamel and additional cheese, baked, and finally topped with a fried egg. I know, ridiculous sounding right? The version Ignis makes seems to be an open faced version of the sandwich, so one slice of bread rather than two. We will be staying true to Ignis' version while still creating the elements needed for a traditional croque madame.

Ingredients:
Bechamel Sauce
3 tbsp butter
3 tbsp (45 g) flour
1 cup milk
Nutmeg
Pepper
Pinch of salt
Per Sandwich
1 slice of sourdough bread
1 tbsp melted butter
3 slices of ham
handful of emmental cheese (gruyere works also)
1 fried egg
1 piece of lettuce

Preheat your oven to 375°. Start by making the bechamel sauce. In a pan over medium heat melt the butter. Add the flour and whisk together.

Cook until the flour and butter begin to smell a bit like bread. Slowly add the milk into the saucepan while constantly whisking.

The end result should still be fairly thick. Season with nutmeg, salt and pepper. Set to the side.

On a baking sheet place the slices of bread for your sandwiches. Brush the top side with the melted butter. Place in the oven and bake for 3 minutes. Remove the bread from the oven and turn on the broiler. Flip the slices of bread over. Spread a layer of bechamel on each slice of bread.

Top with 2 pieces of ham and a handful of the cheese.

Place under the broiler and cook until the cheese melts and slightly browns. This shouldn't take more than a couple of minutes, so keep an eye on it. Top with a piece of lettuce, one piece of pan fried ham and a fried egg.