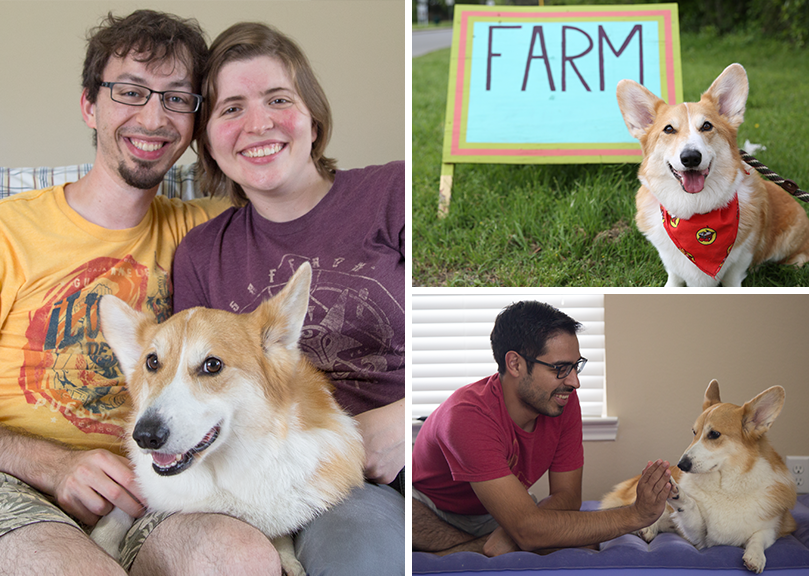 What a year 2016 has been! I am done and ready to say hello to the upcoming year. There have been plenty of downs in the world this past year but I would like to take some time to look at the positives from the last twelve months.
First, let me take a moment to thank you, the readers. I am extremely appreciative for each and every one of you that checks this blog out. Without people reading it, I would have probably stopped this crazy hobby a few years back. Thank you for keeping me motivated and helping this blog grow. This year, I celebrated Pixelated Provisions' four year anniversary. It is wild to think that I've been doing this for that long. I continue to learn and grow as a food blogger and photographer. I finally took the plunge two months ago and moved my site to be self-hosted. I am hoping with the move, more public outreach, working with the Fandom Foodies group and with the help of my current readers to get this blog more known to the world in the coming year.
Outside of the blog, I've had a very busy year. After years of apartment living, my husband and I decided it was time we got a more permanent place to call home. It took months of searching and decision making but we found a place to call ours. I love our home. The yard work has been the most difficult thing to get used to doing, but Kanji loves having his own space to play in so all that work is worth it. We have both learned so much about home ownership and are excited to make improvements throughout the coming years.
2015 was a rough year for Kanji. He luckily made a full recovery and has been able to return to a normal schedule this past year. He recovered so well that we started doing agility with him again this past June and finally took the plunge to run him at a few official AKC trials. In his first trial, he managed to get first place during one of his runs. We weren't so lucky at the second venue. He was very distracted and overwhelmed by the new location but he did have a very fun time. That is the important part. I can't wait to continue making progress with him all next year. Here's hoping we can move up past the novice level by the end of 2017!
Now, let's take a look of my food and video game highlights of 2016.

Most Visually Appealing Video Game Food: Final Fantasy XV
The number one reason I purchased Final Fantasy XV was for the beautiful game food. When pictures started coming out showing off the food I knew I had to play this game. There have been a few articles written up about the way Square developed the food for the game. They had the digital art team cook the meals using actual camping gear. They would then take several photos of the end result for reference. Cooking the meals helped the artist understand how each of the elements of a dish would need to be rendered.
In game, after Ignis prepares a meal I find myself getting hungry and wishing I could be there. Even the most basic meal, flame roasted toast, makes my mouth water. The food in this game is the best I've seen to date. Ignis learns over one hundred recipes and several of the pit stops have unique recipes. There is so much food in this game and I am very excited to make many of them in the future.
Unique Food Experience: Chopped Challenge at Work
A few friends and I decided to create a "Chopped" style cooking challenge throughout the year. Each month we did the challenge, we picked four random ingredients and we had to use them in one dish. We did four rounds of this challenge before many of us became too busy to participate. I'm hoping next year we will be able to do this again because I loved the thought process of getting one of these dishes done.
For the first challenge our required ingredients were chicken thighs, jicama, pickles and chocolate milk. Jicama was the ingredient I had never worked with. I began researching what jicama was typically used in and eventually bought one to see what it tasted like. It reminded me of a pear crossed with an apple. The end result was a deep fried, pickle-brined chicken thigh sandwich. I made the buns from scratch and used the chocolate milk as my liquid for the buns. The jicama was used in a red cabbage and jicama mayo slaw. It was really good and I was very happy with my results.
In the second challenge, the required ingredients were salmon, apple cider, avocado and cherries. I went a little overboard with too many ideas in one. I made an eggs benedict with apple cider glazed salmon and cherry guacamole. I think if I had not included the hollandaise sauce. I thought it competed too much with the other flavors.
The third challenge required skirt steak, artichoke, coconut milk and coffee (any form). This was probably the easiest of combinations. I ended up with a coffee rubbed skirt steak sandwich. I used the coconut milk in a bechamel sauce, which was great for my husband since he could experience a cheese steak-like sandwich with no dairy. I sauteed the artichokes with bell peppers and onions. This is a recipe I absolutely should make again. It was very tasty.
The last challenge we did this year required hot dogs, ketchup, M&M's and zucchini. I groaned when I saw this list. It wasn't until the very end that I decided to make a pretzel wrapped hot dog. I took the hot dogs and wrapped thinly sliced zucchini around them. I used crushed M&M's in the pretzel dough to give it a slightly sweeter taste and wrapped that around the hot dog. I then made a ketchup dipping sauce. I managed something but I was pretty meh about it.

Favorite Recipe of the Year: Dumplings from Blade and Soul
At the start of this year, I played a lot of Blade and Soul. I enjoyed my time playing the game and find myself thinking about it from time to time. Unfortunately, with it being an MMO and none of my friends wanting to play it, it is difficult to convince myself to get too far into the gear grind. I did manage to do all the dungeons that were in the game while I was playing. Blade and Soul included this neat feature called the cross-server dungeon finder. It would find other people looking to do a dungeon and group you together. Since the game did not have any tanks or healers, groups were easy to put together. This dungeon finder was perfect for someone like me who was playing the game alone.
While playing the game there was one food item that my character could be seen eating very often: a dumpling. I knew right away this was something I was going to recreate. The end result was a steamed beef-filled bun. I love this recipe and have made it several times this year. The only negative might be that it takes several hours to cook but the end result is always worth it.
Runner ups: D.Va's Chips from Overwatch, Shinada's Chicken Wings from Yakuza 5, Tuna Burger from Yakuza 4 and Lemongrass Poultry Soup from Guild Wars 2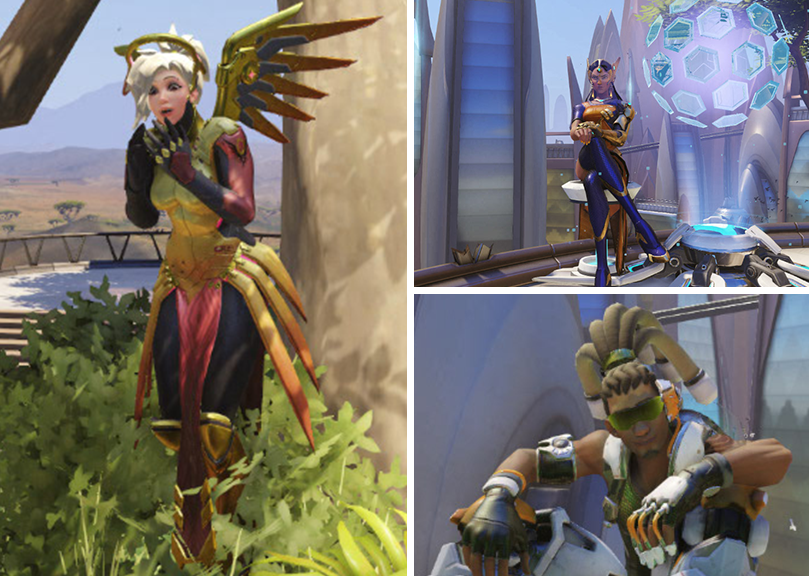 Game I Played Too Much: Overwatch
When my husband first mentioned Overwatch, I was not too interested in the game. A competitive first-person shooter was not something I wanted to dive into. I kept myself occupied with other game while he played the beta. Once the game came out, I was still not interested in picking up the game. Many of my friends were playing it but I resisted. My husband was nice enough to point out the food he found in the game as he played. I made a few of them including the Funday Fudge Sundae and Peanut Butter Nachos without touching the game once.
Eventually July comes around and I notice my friends are still playing the game. After a month of internal struggles I decided to pick the game up with the notion that I was only going to be playing support roles. I started playing mostly Mercy. Her role made the most sense to me since I played a lot of Medic in Team Fortress 2. I mainly followed people around trying to keep them alive while occasionally increasing their damage output. As I played more I got better with hiding, staying alive and even swapping my weapon to take out a sneaky Genji from attacking me. But as I played more, Mercy has slowly become the support I pick less and less.
Lucio is my favorite character. I love wall riding, booping people off ledges and being a healing jukebox for my team. One of the main skills I've developed over time is not rushing in as Lucio. My first priority is to make sure my team doesn't collapse under me. I've watched many people play Lucio a bit more aggressively than they should which leads to them and the entire team dying. It is all about patience and making sure the team is healthy.
Lucio was my most played character during season 2 of competitive (with only Mercy and Zenyatta as the other ones I touched). I also really enjoyed playing Zenyatta, goofing around with D.Va, occasionally attempting to be a sneaky Reaper, loving the newly updated Symmetra, and trying to understand how to keep people alive by shooting them in the butt as Ana.
During season 2 of competitive, I managed to reach my personal goal of hitting platinum. For just picking up the game a few months prior, I'd say that was pretty good. Season 3 kicked off at the beginning of this month and I am happy to say things are starting off better than season two. Here is a little clip of my sweet Mercy play in my first placement match:
After finishing up my placement match I placed in mid-gold (2279). Right away the climb to platinum began. However, it surprisingly did not take too long. I haven't had too much time to play competitive games these past few weeks. Currently, I am sitting right at the bare minimum of platinum with a score of 2507. I'm hoping to make big progress this January and possibly getting into diamond but we shall see.
I'm so happy I gave this game a chance. It is my most played game this year and favorite for 2016. I don't see myself stopping anytime soon. Blizzard has done a wonderful job of updating the game regularly and keeping my interest. Thank you Blizzard for the amazing game!
Runner ups: Blade and Soul, Yakuza 5, Shin Megami Tensei IV: Apocalypse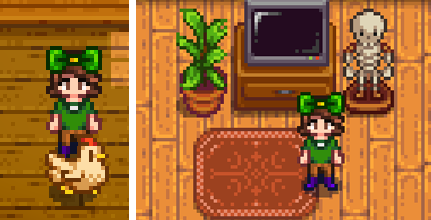 Game I Should Have Played More Of: Stardew Valley
During the summer Steam sale I picked up Stardew Valley. I love farming style games. Gardening in the real world is something I do not have the patience for. So, I live that life in games like Stardew Valley. Unfortunately for Stardew Valley, two weeks after I purchased the game I picked up Overwatch. I barely played Stardew Valley after that. During my time playing I did make it to my first winter and was preparing to venture deeper into the caverns. I'm hoping to play this game a bit more in the coming weeks.
Runner up: Civilization VI
Most Anticipated Games of 2017: Persona 5, Yakuza 0, Battle Chef Brigade
Persona 5 is on this list for the third year in a row, but it finally has a release date! It did hit the 2016 release date in Japan but my Japanese is not good enough to get me through any non-translated game (not even a children's book at this point). I can not wait to go on a wonderful adventure with the phantom thief!
Yakuza is a series I have come to adore. Next year we are not only getting Yakuza 0 but also Yakuza Kiwami. 2017 is going to be a very Yakuza kind of year and I can not wait for it!
Finally, Battle Chef Brigade is one of the tastiest looking games coming out. I've played the demo and loved every moment of it. All the food in the game is just DELICIOUSLY drawn and I can not wait to see the final product.