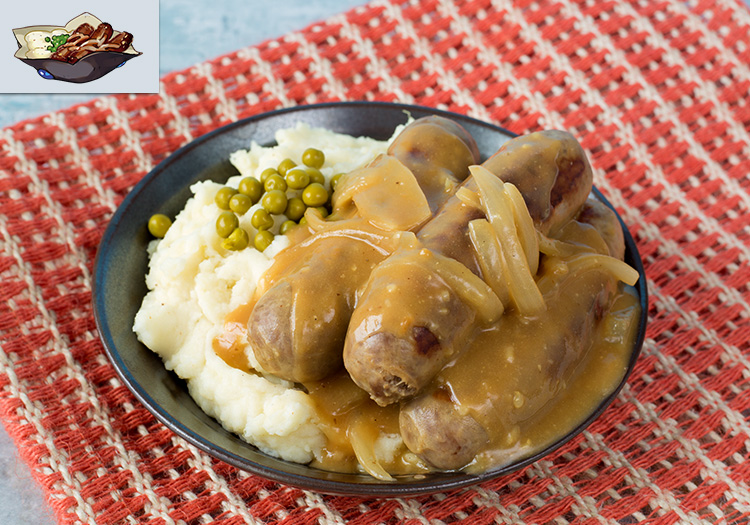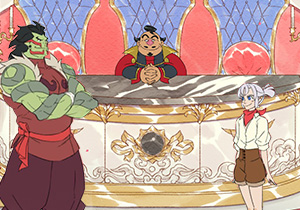 With Battle Chef Buffet happening this month, I will be cooking up several recipes from the game. I have been very excited for this event to kick off and I cannot wait to share all the recipes I have been working on. I have recipes from several of the chefs in Battle Chef Brigade which means we will be seeing several different cooking styles throughout the month.
To start us off, we are going to be taking a look at the chefs of the Scowl Heart Bandits. This group is lead by the overly dramatic Thane Paz. His dialogue is one of my favorites in the game. These ruffians cause quite a headache for Thrash. He must face three of their chefs in order to obtain the hearts they stole from him. The first two bandit chefs focus their recipes off England-style cuisine, deep-fried and topped with a heavy amount of gravy.
The first battle to reclaim the stolen hearts is against Riv. Riv's speciality item is a delicious plate of armarock bangers and mash. Bangers and mash are a great idea any time of the day. Who wouldn't be excited to slurp up a plate of potatoes, onions, and sausage. But don't forget the side of peas! You need to eat your vegetables. This recipe is very easy and will not take you too much time. It also warms up nicely as leftovers!

Ingredients:
Mashed Potatoes
600 g russet potatoes, peeled and quartered
1 bay leaf
1 tsp (2.5 g) salt
1 tsp (3.5 g) garlic powder
¼ cup (56 g) unsalted butter
¼ cup whole milk
salt and pepper to taste
Sausage and Gravy
5 sausages (I used bratwursts)
1 large onion, sliced
2 tbsp butter
¼ cup flour
1 tbsp dijon mustard
1 tsp worcestershire sauce
½ cup amber beer
1 ½ cup beef broth
1 can of green peas

Heat a pot with water, potatoes, bay leaf, and salt over high heat. Bring to a boil and then reduce the heat and simmer for 15-20 minutes, or until the potatoes are tender. Drain and remove the bay leaf.

Place the pot back on the stove and add the butter and sour cream. Add the boiled potatoes and mash until smooth.

Cook the sausages in a frying pan over medium-high heat until they register at 160°F. Remove and set aside.

In the same frying pan, add the onions and cook for 2 minutes. Add the butter and cook until the onions just begin to brown, about 8 minutes. Add the flour and stir together. It will be clumpy.

Add the mustard, worcestershire sauce, beer, and beef broth.

Bring to a boil and the reduce the heat. Simmer for 10 minutes. Add the sausage and simmer until the sausage is warmed again. When serving, place a portion of the mashed potatoes in a bowl, top with sausage and gravy, and add a small scoop of warm peas.