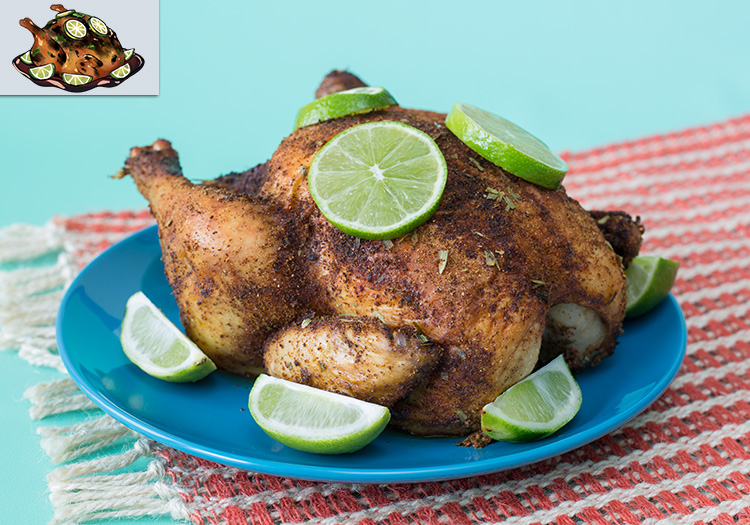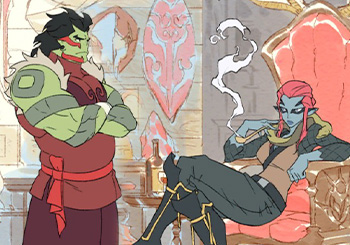 Battle Chef Brigade is one of the few games that approaches orc characters in a soft and friendly tone. Thrash is a loving husband and father and one of the first characters that Mina meets during her quest to become part of the Battle Chef Brigade. He is always so kind and will do anything to protect his friends and family. He will go as far as quitting his dream to join the brigade and risking his life to save his wife when she becomes deathly ill by venturing into the dark realm.
Continuing the Battle Chef Buffet theme for the month, we are cooking up Thrash's whole roasted verkit. Thrash specializes in Latin American style recipes. The whole roasted verkit is covered in lime, so I knew I wanted to get a strong lime flavor throughout the dish. I decided to go with a lime brine. One thing to be careful of when brining with lime is to not let the meat remain in the brine for too long. If left for too long, the citrus from the lime will start to over tenderize the meat and change the texture. This recipe is very easy and delicious. I believe it is the best recipe for a fan of Battle Chef Brigade to start their own adventures in the kitchen.

Ingredients:
2 – 5 lb or less whole chickens
Brine
6 cups water
⅓ cup lime juice
⅓ cup soy sauce
1 tbsp (7 g) ground cumin
1 tbsp (7 g) ground coriander
1 tbsp (9 g) chili powder
1 tsp (3 g) garlic powder
Spice Rub
2 tbsp (14 g) cumin
2 tbsp (18 g) chili powder
2 tbsp (14 g) coriander
1 tbsp (9 g) garlic powder
2 tbsp (3 g) tarragon
2 lime, cut in half
Small handful of cilantro

In a bowl, combine all of the brine ingredients. Place each whole chicken in a large ziplock bag. Each of my chickens fit in a gallon freezer bag. Split the brine between the two and seal shut. Place the ziplock bags on a dip baking tray to avoid any messes if the ziplock bags break. Put the tray in the refrigerator and let rest for 2 hours to a maximum of 5 hours.

After the chicken has completed its brine, remove it from the refrigerator and the ziplock bag. Pat the chickens dry and place in a tall baking dish. Preheat the oven to 375°. Combine the ingredients of the spice rub in a small bowl. Rub each of the chickens thoroughly, inside and out, with the spice rub.

Insert the lime and cilantro in the cavity of the chicken. Bake, breast side up, for 1 ½ – 2 hours. Remove from the oven and cover with aluminum foil. Let it rest for 10 minutes. Squeeze fresh lime juice on the chicken and carve to serve.