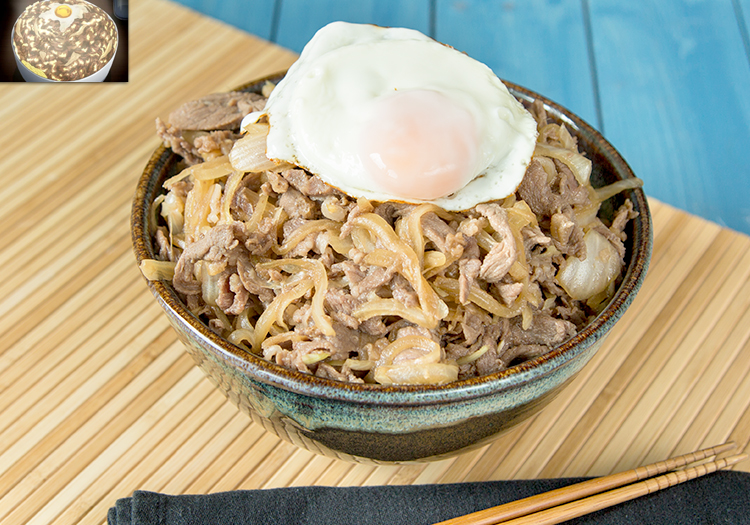 After a long day of classes, all you want is some comfort food. You grab your umbrella and begin to head to your favorite local restaurant. You wonder to yourself, 'How long has it been raining? The weather report this morning said today would be the last of it but heavy fog would be rolling in tomorrow.' As you enter the restaurant a young waitress greets you and offers you their rainy day special. You decide that it's been a long week, so why not. As you wait you wonder why the weather in Inaba has been so weird recently with several days of rain followed by heavy fog. You question if the recent string of murders and kidnappings are related. In the middle of your day dreaming the waitress returns with what seems to be a meal for a family, no an army. You look around and realize you are the only one in the restaurant. With a large thud the waitress places the bowl of meat at your table. You look up helpless at her. She smiles saying, "enjoy."
Persona 4 is one of my all time favorite Japanese RPGs. I love everything about this series. I have played through the entire game, watched my husband's playthrough and even watched the anime (I really like this game). When they announced Persona 4: Golden for the PSVita I knew two things: one I want it and two I guess I'm buying a Vita. With the game being released tomorrow I figured it would be a great time to explore a recipe from the game. What better recipe other than Aiya's Beef Bowl! Careful now, we are going on an adventure to the meat dimension.
Every time I saw this large bowl in game I always imagined it was gyudon. Gyudon is a very popular dish in Japan which translates to beef bowl. Traditionally, gyudon is served in a bowl with rice on the bottom and beef with onions in a sweet sauce on top. The portion size of this recipe is relatively large and will make between five to eight servings. When cooking this I had to make this bowl large and as intimidating as in the game. Hopefully you have enough courage, understanding, diligence, academics and expression to make it through this recipe!

Ingredients:
2 onions
6 ribeye steaks
4 ounces beef (something cheap here, this meat is only being used to add flavor to the sauce and will become tough during the cooking process).
3 tbsp ginger
3 tsp garlic
3 tbsp sugar
9 tbsp soy sauce
3 tbsp sake
9 tbsp mirin (rice wine)
2 tsp dried hondashi (this is a cooking stock made from dried bonito flakes, you can find this at an Asian market near you)
4 cups of cooked rice
1 egg per bowl


Begin by placing all the beef in the freezer for at least an hour before you begin to make the beef bowls. This will make it much easier to cut the beef thinly. Once you are ready to start cooking, take out the 4 ounces of beef and cut it as thinly as possible. Grate both the garlic and ginger.


In a pot, over low heat, place the soy sauce, sake, mirin, sugar, hondashi, garlic and ginger. Add the beef, cover and simmer for 30 minutes.


While the sauce is simmering begin to cut the rest of the beef and onion. At this point I would start making your rice so it will be done with everything else. You want to get the beef as thin as possible as shown above.


After the sauce has simmered for 30 minutes, remove the meat you used. Turn the heat up to medium-high and add the onions to the point.


Cook the onions for about 10-15 minutes or until they are translucent. Add the sliced ribeye to the pot.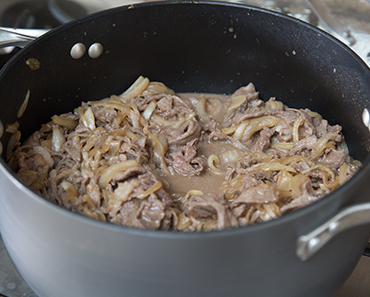 You don't want to overcook the beef, so about 5-10 minutes should be enough to cook it all. After that, grab a bowl, put some steamed rice at the bottom, place gyudon on top and serve with a fried egg.