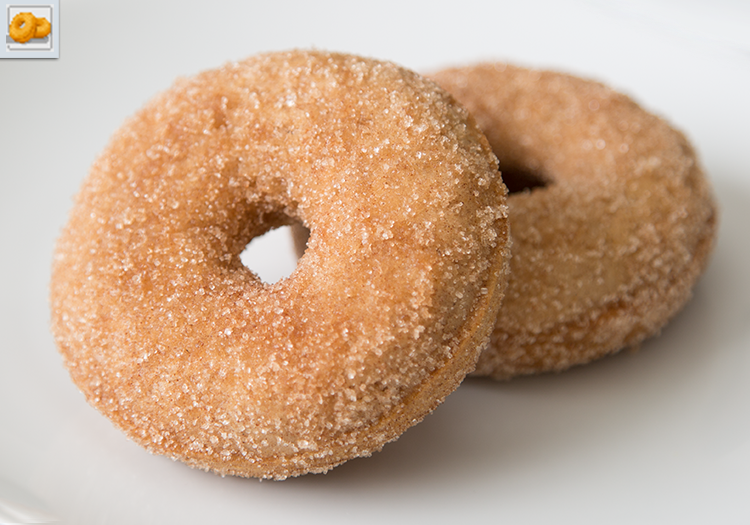 The World Ends With You is still one of my husband's favorite handheld games, so I figured I'd make another treat from the game's available food. About a year ago I completely cut out cereal from my diet. This lead me to experiment with different breakfast options in the morning. I will admit a lot of them moved to the healthier side but every once in a while I like something sweet. I really enjoy a good donut. Prior to this recipe, I had never tried making a baked donut. I can say these are very different from fried donuts but they are still really tasty. Rather than being light and crunchy these donuts are more cake-like. It isn't all that difficult of a recipe and could be made any day of the week. Time to get cooking!
Required Equipment: bowls, mixer (stand or hand), donut baking pan, ziplock bag
Servings: 12 donuts
Ingredients:
Cake
– 2 cups flour
– 1 cup sugar
– 2 tsp baking powder
– 1 ¼ tsp cinnamon
– ¼ tsp cardamom
– ½ tsp salt
– 1 egg
– 2 tsp vanilla
– 4 tbsp butter
– 1 cup milk
Topping
– ½ cup sugar
– 2 tsp cinnamon
– 2 tbsp melted butter

Preheat your oven to 350°F. In a small bowl combine the flour, baking powder, cinnamon, cardamom and salt. In a bowl of a stand mixer (or large bowl) mix the butter and sugar together.

Add the egg and vanilla. Next add half of the flour mixture and mix.

Add the cup of milk and then the last half of the flour and mix.

Place the batter in a ziplock bag. Cut one of the corners on the ziplock bag and fill the donut pan ¾ full. Bake for 10-15 minutes.

For the topping, combine the sugar and cinnamon on a small plate. Allow the donuts to cool. Brush each of the donuts with melted butter. Place the donut in the sugar mixture and cover completely.