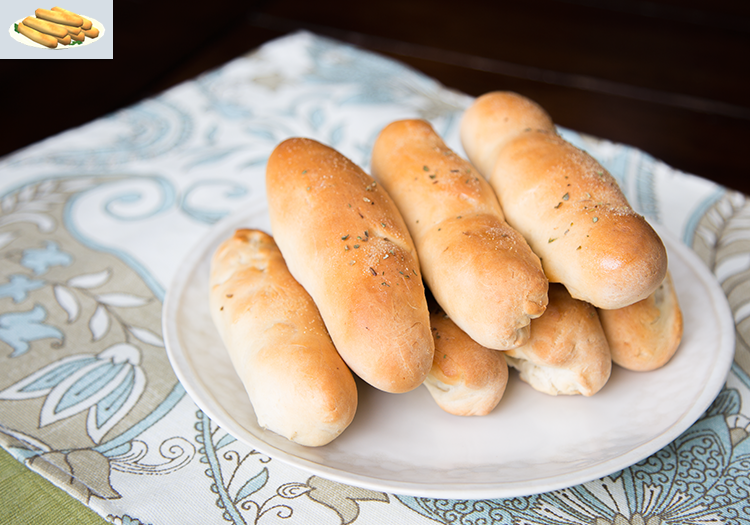 Over the years, my younger brother has played The Sims series more than anyone else in my family. He was very critical about The Sims 4 when it first released. He was disappointed that a lot of elements were missing from the previous games. I heard several times how he missed the alien sims the most. Eventually that expansion came out for The Sims 4 and he was ecstatic. He started several alien families and let them grow in his communities. He was surprised when his other sims would be abducted and then return to the world pregnant. Even the males came back pregnant! I spoke to him a lot about the expansion that I do not own and he fills me in with what I'm missing. This is for sure one of his favorite series and he just can't stop playing these games.
Since I'm talking about my brother, I decided to learn how to make one of his favorite snacks, the breadstick. My brother is a VERY picky eater. I think it is a combination of not liking many textures and not wanting to leave his comfort zone. He is certainly a man of habit. It is difficult to convince him to make my blog's recipes, so I figured it was time to make something that I knew he would enjoy. This recipe is actually very simple and compliments saucy dishes very well.
Results: 16 bread sticks
Ingredients:
1 cup warm water
1 ½ tsp (7 g) yeast
2 tbsp (28 g) sugar
4 tbsp melted butter
1 tsp (5 g) salt
3 ½ (560 g) cup bread flour
1 tsp (5 g) garlic powder
1 tbsp melted butter
oregano
garlic powder

In a bowl of a stand mixer combine the water, sugar and yeast. Wait for the yeast to become active. The yeast is ready when it begins to foams up.

Add half of the flour and mix. Next, add the melted butter, salt and garlic powder. Add the remaining flour and mix until combined. Knead the dough (either in the stand mixer or by hand) for five minutes.

Form the dough into a ball and place in a greased bowl. Cover and let it rest for 1-2 hours or until it doubles in size.

After the dough has risen, remove it from the bowl. Cut into 16 equal pieces and form into long logs. Place on a baking sheet and let it rest for a half hour.
Preheat your oven to 400℉. Bake the breadsticks for 12 minutes. After they have baked, brush each breadstick with some melted butter and sprinkle the oregano and garlic powder for some extra flavor.