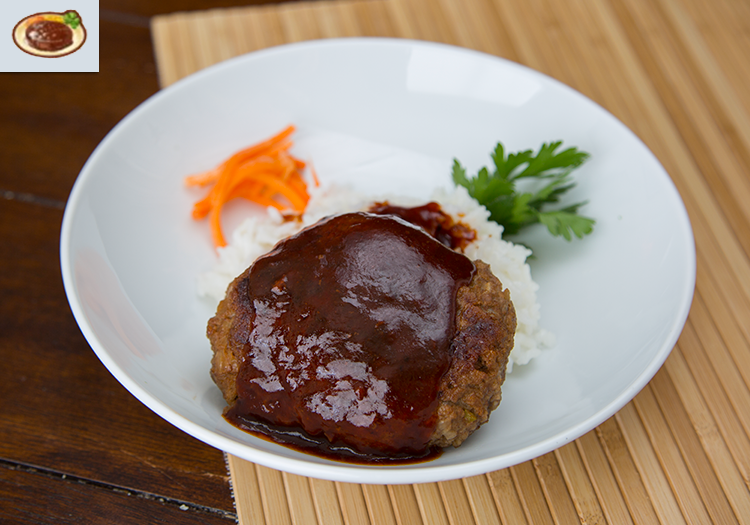 Got a delish meal to cook in Fantasy Life? You'll need to run around and make a few stops first! Run to the local farm and collect some eggs from the chicken. Stop by the fields and pick some tasty vegetables. Meat can be tricky to find, but local vendors should be carrying what you need. Once your list is complete, it's off to the cooking station! Cooking is as fun in this game as it is outside of it!
Many of the recipes in Fantasy Life sound mouth watering. Today we will be whipping up the juicy burger. When I made a few in game, I was quickly reminded of all the Japanese hamburger steak displays I saw while walking around Japan. A hamburger steak is pretty similar to salisbury steak but with a different sauce. It is typically served with rice and a delicious ketchup / tonkatsu sauce. This is for sure a Japanese recipe inspired by the west. I would consider it a baby step if you are interested in cooking more Japanese meals but are scared of all the ingredients you might not recognize. Gathered your ingredients? Then let's start cooking!
Results: 4 Hamburger Steaks
Ingredients:
Patties
1 lb ground beef
1 onion, finely diced
salt
pepper
nutmeg
1/2 cup panko
1 egg
3 tbsp red wine
¼ cup water (twice)
Sauce
¼ cup ketchup
¼ cup tonkatsu (this is what I use)
2 tbsp water
2 tbsp red wine

Place a pan over medium-high heat. Add a teaspoon of olive oil and the diced onions. Cook until they have slightly browned.

Remove the onion from the heat and place into a bowl. Allow the onion to fully cool. Mix together the onion and ground beef.

Add the salt, pepper, nutmeg and panko. In another bowl combine the egg, red wine and a ¼ cup of water. Mix the liquid with the beef until fully incorporated.

Shape the beef into four oval shaped patties. Place a pan over medium heat and add a tablespoon of olive oil. Carefully place the patties on the pan. Cook until the bottom side has browned. Flip and cook until this side has brown also.
Once both sides of the patties have browned pour the other ¼ cup of water into the pan and cover. Cook until most of the water has evaporated. To check if the patties have cooked completely, poke a toothpick through one of them and see if the juices that flow are clear (no blood). If not the patties need to cook a little longer.

Remove the patties from the pan but keep the heat on. Pour in all the sauce ingredients into the pan and cook until it slightly thickens. I'd recommend mixing them in a bowl beforehand.
Serve each patty with a portion of rice and the sauce drizzled on it. Enjoy!