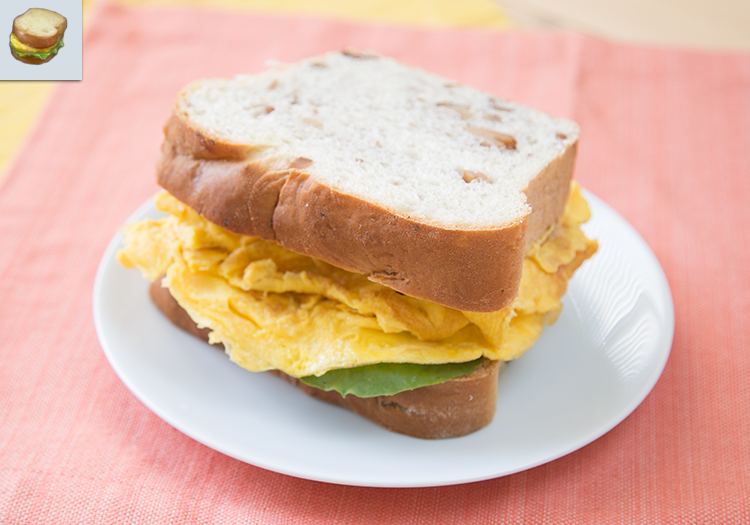 After a long, busy weekend, it is nice to come home to a quiet house. This past weekend my husband and I had many family members visiting. We did a lot of running around and eating out. It is nice to finally sit down and be able to cook a meal at home. That is until you realize you have the bare minimum of ingredients and you are exhausted. One of my easy recipes to make, perfect for when you don't want to go out and have to work with what you have lying around, is a hearty egg sandwich. There are many different approaches you can take with the egg sandwich. This week we will be looking at the finger sandwich from Final Fantasy XIV. The game describes the finger sandwich as a very common meal for dockworkers around Galadion Bay. Since these individuals are doing some heavy labor this sandwich needs to be packed! Rather than using normal white bread, I used walnut bread to add some extra needed protein. This little sandwich will keep you full for the long work day.

Ingredients:
walnut bread(recipe here)
2 eggs per serving
1 tbsp butter per serving
lettuce
salt
pepper
Japanese mayo

Crack and scramble two eggs per serving in a bowl. Heat a pan over medium-high heat with butter. Pour the scrambled egg into the pan and allow it to cook fully. Season with salt and pepper.
In the image above I allowed the egg to cook fully on the bottom and flipped to keep the egg as a solid piece rather than small scrambled pieces.

To assemble the sandwich, place a piece of walnut bread on a plate and add Japanese mayo. Next add a piece of lettuce and then the cooked egg. Top with another slice of walnut bread and enjoy!