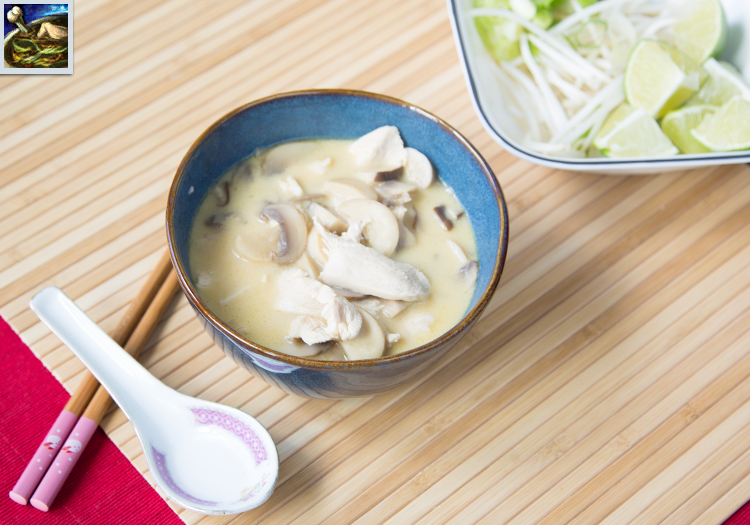 After weeks of not playing Guild Wars 2, I finally have a reason to log in. Last week, Arenanet released the first chapter of the third living world season, Out of the Shadows. We finally get to continue the story and see where our adventurers are off to next. I promise no spoilers. It was refreshing to play the game again. The new guild name, Dragon's Watch, made me laugh out loud. It is a bit cheesy but the name is accurate to what the guild does. I stopped playing around January, shortly after realizing my friends weren't really able to get our raid group together. I have yet to finish any of the raids. If someone wants to run me through the raid I would love it! For now I'll get my story from these living world seasons.
This week we will be taking a look at the bowl of lemongrass poultry soup from Guild Wars 2. Looking at the required ingredients in game make me feel the recipe would be Thai inspired. At first I took a look at Tom Kha Gai which is a chicken coconut soup flavored with lemongrass and galangal. Galangal is a root and is closely related to ginger. The two ingredients actually look very similar but galangal is a bit larger and harder than ginger. I found galangal to be a bit earthy with a hint of pine. You should be able to find some galangal at your local asian market. If you are unable to find any, you could replace it with ginger. The taste will not be the same but it'll be a little close. This recipe is pretty easy overall and I know I'll be making this a few more times in the near future!

Inspired by Serious Eats
Results: 4-5 bowls
Ingredients:
2-inch piece galangal, peeled and sliced
3 stalks lemongrass
3 cloves garlic, sliced
24 ounces chicken stock
2 tsp lime zest
13.5 ounces coconut milk
1 lb chicken breast, sliced
king oyster mushroom, sliced
button mushroom , sliced
2 tbsp fish sauce
2 tbsp lime juice
salt
pepper
pinch cayenne
rice
spring onion
sprouts
lime

Place the galangal, lemongrass and garlic in an oiled pan over medium-high heat. Cook until it becomes fragrant. Add the chicken stock and lime zest.

Bring to a simmer and allow it to cook for 10 minutes. Remove the lemongrass, galangal and garlic. Add the coconut milk and stir well.

Add the chicken and mushrooms. Cook until the chicken is cooked through. Finally, add the fish sauce and lime juice. Season with salt, pepper and cayenne to your liking.
To serve, place some rice in a bowl. Pour the soup on top of the rice and top with bean sprouts, spring onion and lime slices.