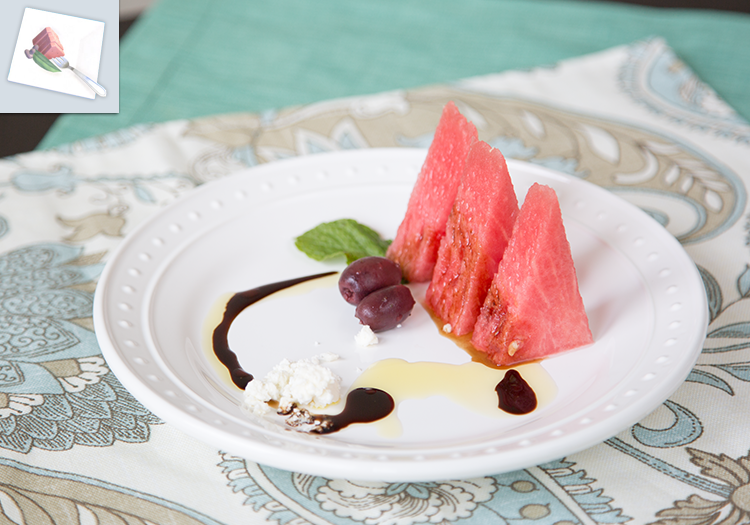 After weeks of debating, I've finally picked up Overwatch. I've been enjoying this game a lot. I find myself talking strategies with friends and reading tips about the characters I play the most, Mercy and Lucio. I find the support heroes are really fun to play, and it allows my friends to play more heroes they like since support is covered. Many of my friends are leveled decently high (near the 100 mark) and this has forced me into some pretty high skilled games.
I love playing as Lucio on Illios. There are so many little holes and areas to push people off. One evening my husband set up a few custom matches so we could roam around and look for food in the game. While roaming Illios, we noticed a few tables set up. On several of the tables there was a plate with watermelon, olives and a large leaf. At first I wasn't sure what to do with it. A quick search on greek meals pointed me in the direction of a watermelon salad. I was skeptical that this combination was going to work but after one bite I was in love. The sweetness of the watermelon and saltiness of the olives compliment each other so perfectly. My favorite piece of all this was the feta cheese. Usually I find feta a little boring but is absorbed all the flavor of each of the elements. The salad was so light, refreshing and perfect for the end of summer. This recipe is very easy and a sure crowd pleaser.

Ingredients:
¼ of a large watermelon
¼ cup kalamata olives, quartered
¼ red onion, sliced thinly
½ cup crumbled feta cheese
2 tsp olive oil
1 tsp balsamic vinegar
10 fresh mint leaves, sliced thinly
salt

In a bowl combine the olives, red onion, feta cheese and mint leaves.

Toss the watermelon in the bowl. Season with olive oil, balsamic vinegar and salt. I recommend mixing and tasting until you are happy with the flavor.