Recently, a few of my fellow nerdy food bloggers have discussed working on themed food months. For our first month, Fiction-Food Cafe hosted #RedwallAugust. There were many delicious treats from the book series and that can be found here.This month, The Gluttonous Geek is hosting #PokeNOM. There will be plenty of treats being made from the world of Pokemon during the month of September from several food blogs around the web. Please check out the post here. I am excited to participate in this month's theme and will be creating a few food items from the Pokemon series.
A friend pointed out a city in Pokemon Omega Ruby/ Alpha Sapphire called Mauville that has a battle food court. The way it works is you order food and while you wait for it to be cooked you participate in some Pokemon battles. There are three different counters with different food, rules and prizes to win. When you first start battling, the only option you have is the Village Sub Combo which the player must compete in Single Battles. If you are victorious you are rewarded with your meal and an extra random berry.
Of course after reading about this food court I knew I had to recreate a meal from there. This week we are going to focus on that first counter and make a Village Sub Combo. The image provided in the game is not the highest quality but I used some inspiration from meals I saw around Japan. This Village Sub Combo is a chicken katsu sandwich seasoned with tonkatsu sauce and Japanese mayo. The chicken is fried so it is extremely important that you prep everything for the chicken before you start warming the oil. You don't want to overwhelm yourself and have hot oil going while you have to prep. I highly recommend keeping an eye out during the frying process to be safe.
Ingredients:
3 chicken breast, cut into three equal portions
garlic powder
ginger powder
salt
pepper
1 c panko bread crumbs
2 eggs
½ c flour
peanut oil
cucumber, sliced
tomato, sliced
red onion, sliced
red leaf lettuce
Japanese mayo
tonkatsu sauce
bread roll

Prepare the chicken by placing it in between plastic wrap and using a mallet to thin it out. Thin all the pieces out evenly.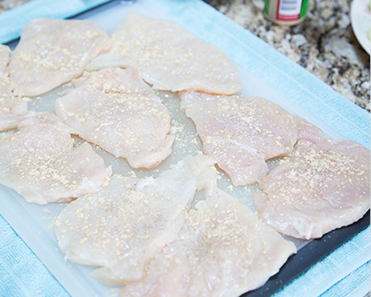 Season the chicken breast with garlic powder, ginger powder, salt and pepper.

Set up three stations to prepare the chicken for frying. A plate with flour, a bowl with eggs (whisked) and another plate with the panko bread crumbs. First, place the chicken in the flour and cover. Next place the chicken in the egg bowl and cover completely. Make sure to let excess egg drip off before moving to the next station.

Finally cover the chicken in panko.

Fill a pan with a half inch of peanut oil. To test when it is ready, simply toss a small piece of panko in the pan. If it begins to sizzle immediately it is ready to fry. Carefully place the chicken in the oil and fry for four minutes. Flip and cook for another 2 minutes.

To make the sandwich cut a roll open and squeeze some tonkatsu sauce and mayo onto the bread. Add the lettuce, cucumber, tomato and red onion. Finally add the chicken and enjoy.