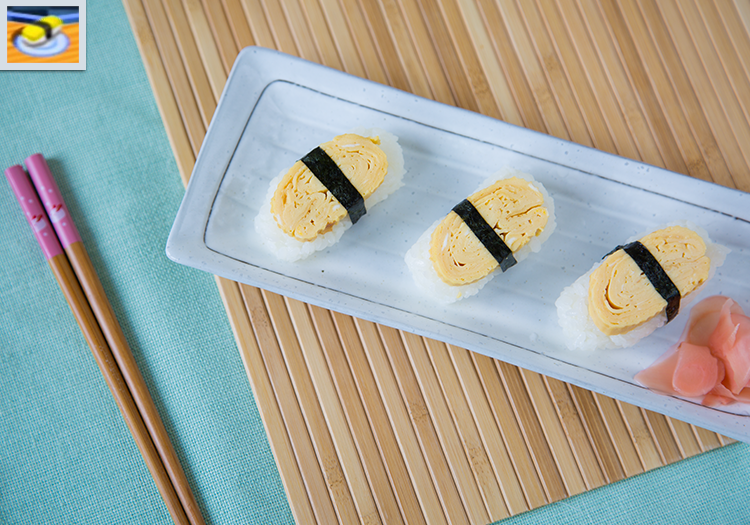 PokeNOM this month has been a bunch of fun. When this themed month was mentioned I knew immediately I would have to make something from the Sushi-Go-Round minigame in Pokemon Stadium. My sister wasn't really into video games when we were growing up, but there were a handful of games I was able to convince her to play: Mario Party, Pokemon Puzzle League and minigames in Pokemon Stadium. We would challenge each other to sets of minigames to see who could do the best. It was always a fun change of pace to play these minigames over battling Pokemon in the stadium. I appreciate her willingness to play with me; those moments are forever in my memory.
In the Sushi-Go-Round minigame, you play a Lickitung at a conveyor sushi restaurant. You have to eat as many delicious treats as you can and the player with the most points wins. There are a wide variety of options but the tamago (egg) sushi caught my attention. I have always loved going to sushi places and getting several pieces of tamago. The most important thing to do while making these is to take your time, pour a small amount of egg into the pan, allow it to cook enough and roll it up carefully.
Ingredients:
4 eggs
3 tsp sugar
1 tsp soy sauce
2 tsp mirin
pinch of salt
sushi rice
nori
wasabi

In a bowl, whisk together the eggs, sugar, soy sauce, mirin and salt.

Heat up a pan over medium high-heat. Spray with a non-stick spray. Pour a thin layer of egg into the pan. Let it cook until the bottom of the egg begins to set. These first few layers of rolling will not be the prettiest, but that is okay. Fold the outer area of the egg towards the middle, similar to the image above.

Carefully roll the egg up until it is completely rolled. Pour another thin layer of egg and cook until the bottom sets again.

Fold the outer area again and roll the egg up. Keep repeating this until you have used all the egg.

Once the egg has been completely rolled, place it on a sushi mat. Roll the mat up and shape the egg. This step is probably the most crucial to keep the egg together. Hold the egg in this position for at least five minutes.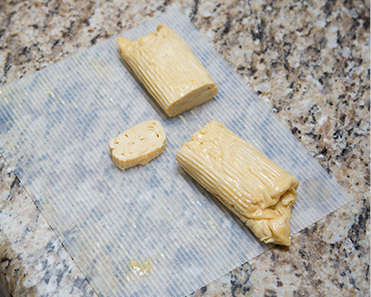 After the setting phase, cut the egg into ¼ – ½ inch thick pieces.

Take your cooked sushi rice and shape it into a small cylinder.

Place a small amount of wasabi on the rice and then press the egg into the sushi.

Wrap with a piece of nori. If you do not want to make the sushi, skip the previous few steps and make a simple rice bowl as pictured below. Both are delicious options!
Remember to check out all the delicious #PokeNOM entries this month here.