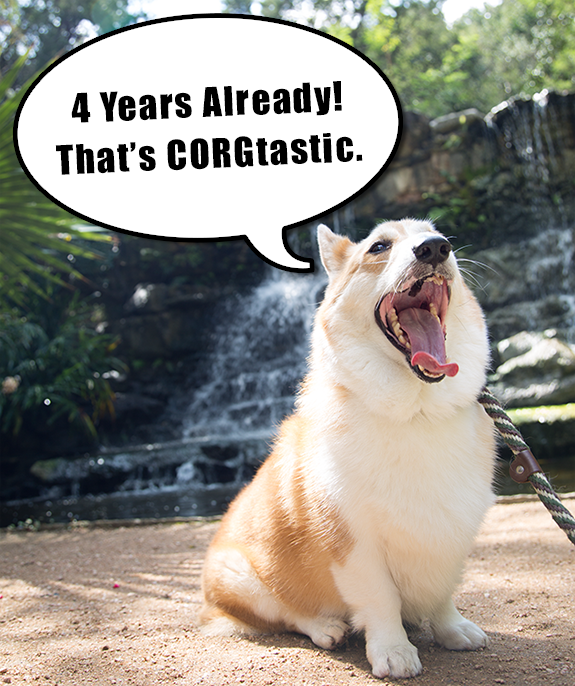 It is wild to think that four years ago this little food blog started up. I love when the weekend rolls around and I can start working on the recipes for Pixelated Provisions. I enjoy taking an image or recipe found in game and recreating it. I've always found cooking relaxing and very enjoyable. This blog has pushed me in many new directions and my love for both video games and cooking only continues to grow. As long as game companies continue to add food to their game worlds, I will continue creating recipes to show my appreciation to the industry. Time to take a small look back at the past four years and a few goals I've set for myself.
Blog and Personal Growth
When I first started blogging, I owned a point and shoot camera, no props for food photography, a very basic understanding of photo editing and very little writing practice. Over the years, this blog has helped me develop each of those skills. I thank my DLSR that I picked up a few years back for improving my photos a great deal. I am happy that I've begun to shoot in RAW and my knowledge of editing photos in Photoshop has gotten more practice each week. I've also started going shopping and purchasing random plates, tablecloths, and napkins to improve my plate presentation. My husband helps me edit a lot of the write ups and taste test new recipes. I am very grateful for his patience with me and he is grateful that he keeps getting to try delicious food. With all these new elements and constant practice I hope to continue growing as a home cook and photographer.
Goals for the Future
Let's take a look at a few plans I have for the upcoming blog year. A major goal is to go back and update each recipe. A lot of updating will involve retaking photos and minor adjustments on the recipes themselves. I am hoping with my work schedule to get at least two old recipes touched up each month. Priority, of course, will always come to new weekly recipes. At some point in the near future I'm hoping to figure out a new light setup so I don't have to rely on good sunlight for photos. This is something I've been dragging my feet about, but I believe it will elevate my photos even more (and will stop gloomy days from ruining my photograph!)
I'm also working on my social media skills and getting more involved with my fellow nerdy food bloggers. The community continues to grow and it is great to see so many people passionate about food and nerd culture. I'm happy that we started a group and are now working on monthly themed events. Last month we all participated in PokeNOM, which I had a ton of fun with. This month they are currently doing a spooky Tim Burtoween. There are many more video game specific ones coming over the next few months and I'm looking forward to participating.

Thank You
I want to thank everyone who has ever liked a post, made one of my recipes or even just checked out the blog. Without everyone, this blog would just be a recipe list for myself. Thank you all so much for helping me increase my cooking skills to new levels. I am always motivated to keep pushing forward. I'm so happy that I've kept up with this and don't think I'll be bored of making up video game recipes any time soon. I would also like to thank my husband for all the assistance he has given me during these four years. He has been a great help in many ways! Thanks, also to my friends and family who are willing to eat those extra piles of desserts when I make them. I know it can be a real "sacrifice" to eat the cinnamon rolls and cupcakes that I've made, but without you guys I'd be 50 pounds heavier! Finally, thanks to Kanji for being a derp of a dog and letting me post silly pictures of him on the site and on social media. I doubt he'll read this, but he'll get a few extra pets today to show my appreciation.
If you have any suggestions that you think would improve my blog or recipe request let me know. Feel free to email me or contact me on any social media outlets (links in the top menu bar). Here is to another four years!