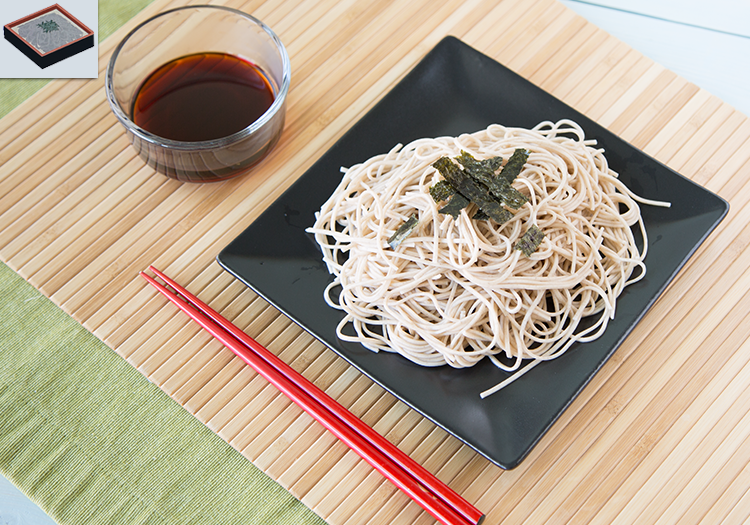 I listen to the music from the Katamari series on a weekly basis. The flash drive in my car has several of the tracks from the Katamari Forever OST since it is a great way to start my day. My personal favorite song is "Katamari on the Swing (SEXY-SYNTHESIZER ALL ABOUT Namco Mix)." Whenever that song comes on, I turn the volume up and start singing and dancing. While writing this I even have Katamari music playing in the background. My favorite song can be heard during the last level of the game. The intensity of the song works well while you are rolling up the largest Katamari possible.
Growing up my favorite meals always included noodles in some way. I still really love noodles! If a menu has a noodle dish I am most likely ordering that item before anything else. While visiting Japan I enjoyed the many way they used noodles in their dishes. One of my favorites was the simple dish zaru soba. Zaru soba is a cold noodle dish, garnished with nori and dipped in mentsuyu sauce. These elements come together to create a delish mouth adventure. The beauty of it is how simple this recipe is to make. The hardest part is probably finding the ingredients. It is best to make a trip out to your local Japanese market to get all the items that you will need.

Recipe Inspired by Just One Cookbook
Ingredients:
9.5 oz dried soba noodles
⅓ cup (80 ml) sake
½ cup (125 ml) mirin
½ cup (125 ml) soy sauce
1 small piece of kombu
5 grams bonito flakes
1 tbsp sugar
green onions
wasabi
nori

Begin by preparing the mentsuyu sauce. Place the sake in a saucepan over medium-high heat. Cook until the sake begins to boil. Add the mirin and soy sauce and cook until it comes to a slight boil.

Add the kombu, bonito flakes and sugar. Cook for 7 minutes. Pour the sauce through a fine mesh to remove the bonito flakes and kombu.

To prepare the soba noodles, bring a pot of water to a rolling boil. Add the noodles and cook for 4 minutes.

Once cooked, pour the noodles and water through a strainer. Rinse the noodles with cold water. Place the rinsed noodles in a boil with cold water and ice cubes. Leave in the ice water until the noodles are cold.
Place the noodles on a plate and add nori and green onions.