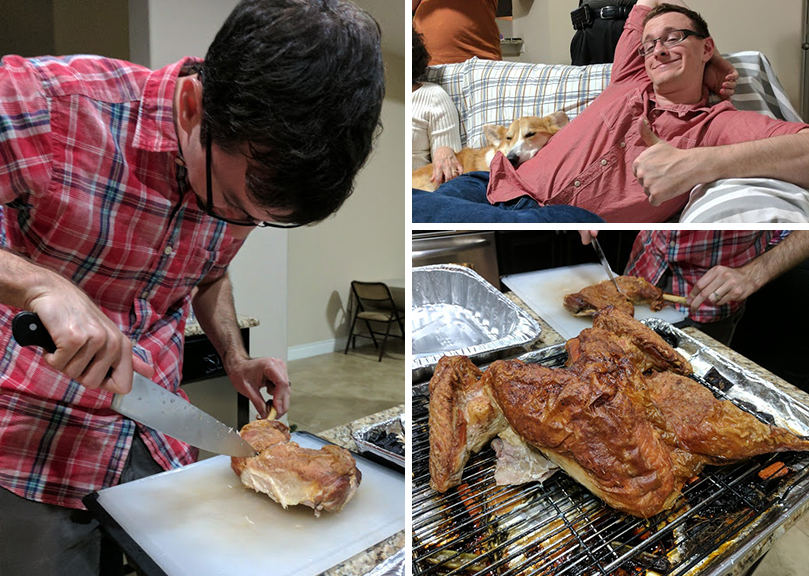 Thanksgiving is my favorite holiday because of all the delicious food that I get to eat. Growing up, I would try to help my mom out however I could. At first, she would just shoo me out of the kitchen because I would be in the way most of the time. As I got older she began to teach me how to handle things and let me help her out. A few weeks ago was my first Thanksgiving meal done mostly by myself. My mom was around and she kept my kitchen clean during the process. I was impressed there were no dishes in the sink after we finished. Now I want to take the time and reflect a little on my first experience of hosting Thanksgiving.
Thanksgiving Planning
My planning for Thanksgiving started in mid-September. I mentioned to friends and family that I would be hosting Thanksgiving for the first time at my home. This was something I've been dreaming of doing for a very long time and now I have the space to host a large number of people in one place. I slowly began doing my research and figuring out what would be needed based on the number of guest I might have.
It wasn't until November that I had a final headcount. I talked to the people I invited to figure out what they typically looked forward to and used that to formulate my list of must makes. After figuring out that list I started looking up recipes to compliment. Many recipes used were either ones I've created for the site or found on Serious Eats. Let's look at each of the items cooked and the recipes I used.

Light Appetizers
When planning I didn't really think much about appetizers. My mom on the other hand said we needed some, so the morning of she went out with my husband and bought stuff for guacamole and a cheese plate. In the end it was a great idea since it kept the group busy while the big cooking started.

The Turkey
Let's start off with the star of the show, the turkey. Two weekends before Thanksgiving my husband and I ventured to Costco to look for a turkey. The turkey was an interesting piece because it needed to be a kosher turkey since Jeff's parents both keep kosher. His mother said she had heard Costco carried fresh, kosher turkeys. To our disappointment, they only carried fresh, organic turkeys. At this point I began to get nervous, because I wanted a fresh turkey and wasn't sure if I would be able to find a kosher one that was fresh and not frozen. That was until my husband saved the day later that week and found out Trader Joe's had fresh, kosher turkeys that surprisingly were cheaper than buying a frozen kosher turkey. With the 12 pound fresh turkey in the refrigerator Thanksgiving dinner was ready to become a reality.
Cooking the turkey involved a lot of researching and debating the approach I was going to take. The end result was Serious Eats' dry brined, spatchcocked turkey recipe. The Monday before Thanksgving, I took the turkey out of its packaging to begin working on it. I was very surprised how easy it was to cut the back of the turkey. I had a pair of normal kitchen shears which worked perfectly for removing the spine. The spine and neck were placed in a ziplock bag because those would be used for making the gravy. Next, I placed the turkey on a baking rack and prepared it for the dry brine. With the turkey covered in salt and baking powder, I let it sit in the refrigerator until cooking time.
The main reason I went with the spatchcocked turkey was the quick cook time. Typically, I've seen a turkey put in the oven and left to cook all day. I only have one oven, so a turkey taking that space all day was not a viable option. To my surprise this turkey went into the oven and was done in an hour and fifteen minutes. Not only did it cook quickly but the skin was nice and crispy while the meat was extremely juicy. I was very happy with the end result and will probably always cook turkey this way.
On top of the turkey cooking Serious Eats also provides a nice gravy recipe which used the backbone I removed. The gravy was tasty and a nice compliment to the entire meal.

Rest of the Meal
Polish sausage is a traditional Thanksgiving food in my family. My parents drove down from Chicago with two Polish sausages (I haven't found a really good Polish sausage here in Houston). I simply boiled the sausage and then pan fried them with some sauerkraut. For the rest of the weekend I ate a ton of Polish sausages. They might have brought too much! I think I'll be good on eating Polish sausage for a few years.
Sides are my favorite part of Thanksgiving because I love variety! Cranberry sides have always been, in my opinion, a little lackluster. Typically people just use the canned cranberry and call it a day. While flipping through my copy of the official World of Warcraft cookbook, I noticed a cranberry chutney that sounded delicious. This is probably the best cranberry side I've had to date.
Sweet potatoes are great! I love them in all styles of cooking and was very happy to try out Serious Eats version of the sweet potato casserole. I had to make a few minor changes to make this work so everyone in the party could eat these. First, no dairy so I replaced the butter in the recipe with a vegan butter alternative and I replaced the buttermilk with coconut milk. I also really like making my own marshmallows, so I used my recipe for the marshmallow topping. One thing I probably will do differently next year is making only a half batch of the marshmallow. The ratio of sweet potato to marshmallow ended up being too skewed.
Stuffing was another interesting equation. With a whole turkey cooking people like to cook their stuffing in there. My turkey wasn't whole, so that was not an option. I started my recipe off with Serious Eats' classic sage stuffing. Again to keep it safe for the whole group I had to make some changes. No sausage, butter or chicken stock. Basically I took the rough idea and made adjustments to make it work. The end result was delicious but I cut the bread a little too big.
Finally I included brussel sprouts side and a mushroom side. The brussel sprouts were great but the mushrooms were a bit on the boring side. That was probably because I got very busy near the end that I couldn't make them the way I wanted to. Next year I'll probably pick a different vegetable to work with.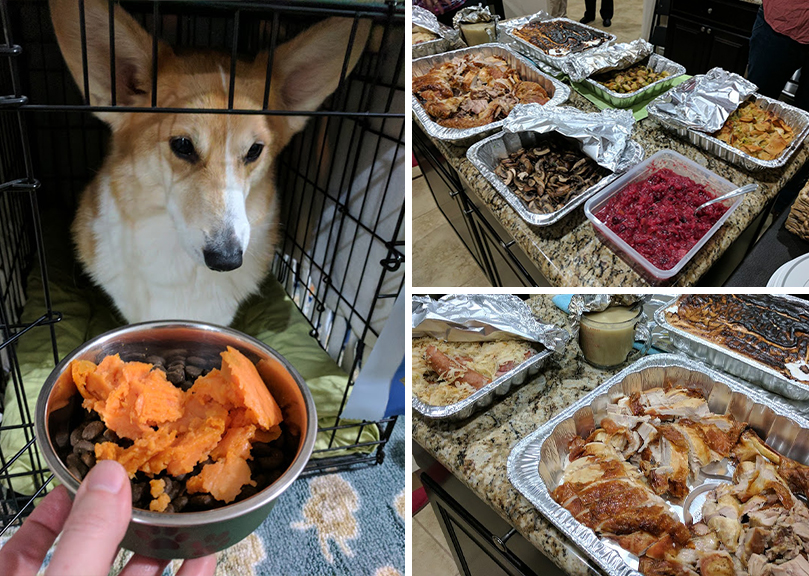 The Desserts
For desserts I decided to go a bit on the lighter side. First for my in-laws I made a non dairy option with homemade cherry and lemon flavored jello. These are both a lighter option and a good palate cleanser. Finally I made my apple pie and vanilla ice cream. All very delicious and not too bad to make before the big dinner!
I will be making some changes for next year but overall I was very happy with my end result. Might even invite a lot more people just because of how smooth this past one went. I hope you all had wonderful Thanksgivings also. Let me know in the comments what tasty treats you had!