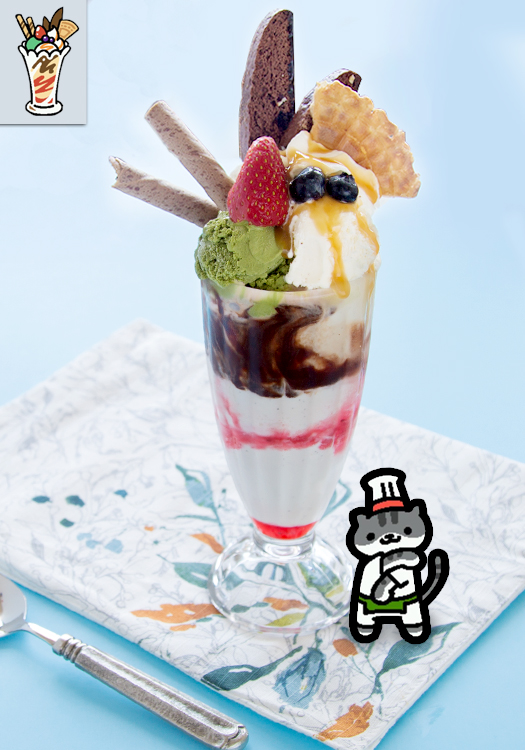 This month my fellow Fandom Foodies and I are celebrating Nyanuary where we make recipes inspired by cats in fiction. These adorable fuzzballs can be found in many games, from just roaming around in the open world to demanding the player cooks them the perfect meal. When I heard what the theme was, Neko Atsume immediately came to mind.
When Neko Atsume was released in Japan, I heard about it online and downloaded the game. I got addicted to the cat collectioneven though I could only read a small amount of the Japanese. My favorite cat is Bisutoro-san (in the English version he goes by Guy Furry). This little guy shows up to cook either a parfait or pizza depending on the items you have in your house.
This week we are going to take a look at his parfait recipe. You can decide how much work you want to put into this recipe. All of the elements can be made from scratch or purchased at your local grocery store. Either way, this parfait is a delicious combination of ice cream, syrups, and cookies. How can any of that be bad? The more I talk about the parfait, the longer it'll be until you can enjoy this treat.

Ingredients:
vanilla ice cream
matcha ice cream
strawberry sauce
caramel Sauce
hot fudge
wafers
chocolate biscotti
whipped cream
fresh strawberries
fresh blueberries

In a tall cup, pour a small amount of strawberry sauce on the bottom. Add a scoop of vanilla ice cream and push it in the cup.
Add another layer of strawberry sauce, then add another scoop of vanilla ice cream.

Add the hot fudge, followed by another scoop of vanilla ice cream. Top with the wafers, chocolate biscotti, caramel sauce and whipped cream.
Finally add a scoop of matcha ice cream, 1 strawberry and 2 blueberries. Serve immediately.