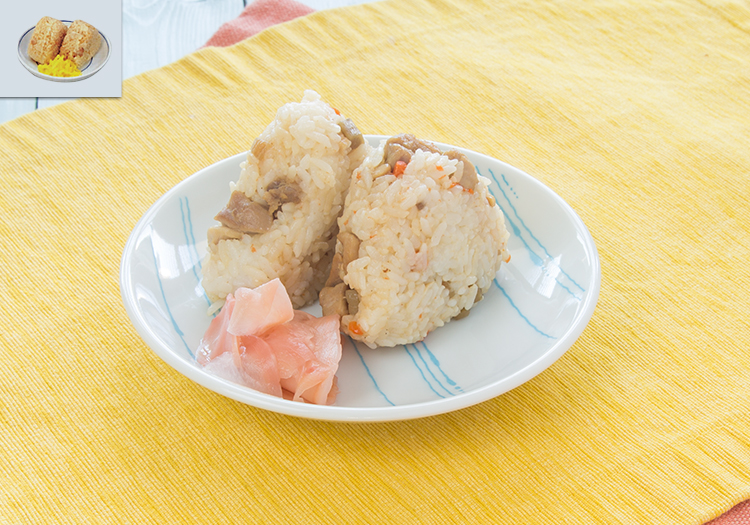 Today, Yakuza 0 is finally out here in the states. I have been looking forward to this game release the moment I finished Yakuza 5. The Yakuza series is the quickest way to teleport myself to the streets of Japan. From the bright lights to vending machines on every corner, these games are the most culturally Japanese games I have ever played. My husband has described the Yakuza series as the reason he didn't feel overly culture shocked when we traveled to Japan two years ago. I really enjoyed Yakuza 5 and loved visiting the different cities throughout the story. From the southern island of Fukuoka all the way to the snowy northern areas of Sapporo, you really get a feel for the different regions.
Not only do the regions look different but the cuisine is also unique. When Kazuma entered the local udon shop in Fukuoka I noticed these little onigiri and became intrigued. In the Fukuoka region there is a popular side entree kashiwa onigiri which is a chicken rice ball. I was very surprised to see chicken as the protein in a rice ball. Burdock root is an ingredient I have never worked with. I made a trip to my local Japanese market and picked up a set of these. Burdock root has a similar earthy flavor that you would find in mushrooms but with a crunchy texture. Overall these are pretty easy to make. The hardest part is probably the rice itself but practice will make it easier over time.

Ingredients:
cooked sushi rice, recipe here
2 cups of water
1 tbsp vinegar
1 burdock root, diced
1 carrot, diced
3 chicken thighs, diced
¼ cup soy sauce
1 tsp fish sauce
½ tsp salt
1 tbsp mirin, Japanese rice wine

In a bowl combine the water, vinegar and burdock root. Let it the burdock root sit in the water for about 10 minutes. Place a pan over medium-high heat and saute the burdock root and carrots for 5 minutes.

Add the chicken thighs and cook for 5 minutes, or until all the chicken has turned white.

In a small bowl combine the soy sauce, fish sauce, salt, and mirin. Pour into the pan with the chicken and mix together. Cook until the sauce is absorbed or until the chicken is thoroughly cooked.
Combine the chicken mixture with the sushi rice.

Time to shape the onigiri. Have a small bowl of water next to you because you are going to want to keep your hands moist. Wet your hands and then take a hand full of the rice mixture and begin forming triangle shapes. Put a moderate amount of pressure to make sure they are forming correctly.