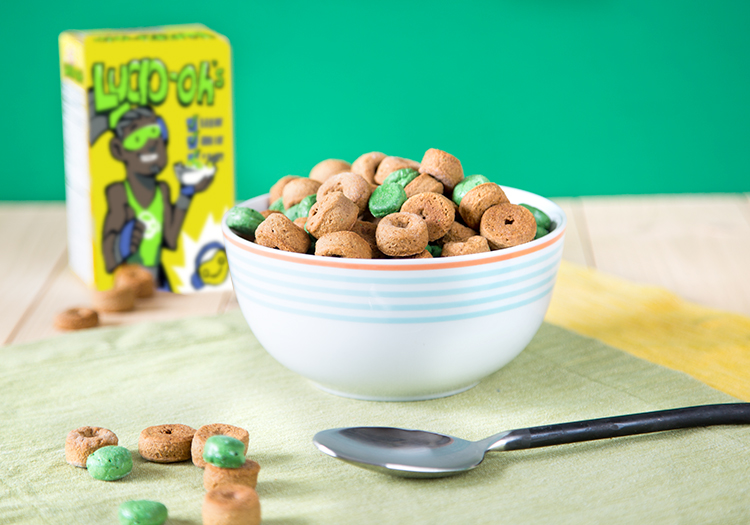 Lúcio is an international celebrity known for his hit songs "We Move Together As One" and "Rejuvenescência." Lúcio was born in Rio de Janeiro. The favela he grew up in had never truly recovered after the Omnic Crisis. Many people were scraping the bottom of the barrel to get by. He found the only way to bring his favela together was through his music. He performed wherever he could and brought joy to his community. Chaos loomed over the favela when the Vishkar Corporation showed up to help rebuild Rio de Janeiro. Rather than making things better, Vishkar took complete control of the nation from implementing curfews to enforcing cheap labor laws to benefit themselves. Lúcio was angered by the corporation and had to act. He stole Vishkar technology that lead to an uprising against them. He toppled a great corporation, freed his neighbors, and became a world renowned music legend. With his newfound fame, he even secured a sweet cereal licensing deal!
Lúcio is my favorite character to play in Overwatch. I love wall riding, booping my enemies off ledges, and stealing Ana's nanoboost to summon my inner boostio. I have had my eyes on Lúcio-oh's for a while. About two months ago I tried to make them, but my first attempt ended with doughy round balls that did not have the crunch I was looking for. I put the recipe in my backlog for later. Last week Blizzard began teasing a new hero. We were introduced to the young robotic genius Efi. While getting ready for travel, the Numbani airport was attacked. She reacted quickly, making preparations with a list of things she'd need to build her own defensive robot and protect the town. It had the weaponry and technology Efi needed to create her dream robot, but it also had the most important item of all to keep a young genius inventor alert and energized: Lúcio-oh's! It was that list that reignited my desire to make Lúcio-oh's. Efi needed Lúcio-oh's in order to get a boost to build a new savior for Numbani against the terror that is Doomfist.
I'm going to be very honest with you, this recipe takes a lot of work. I believe this cereal is more for show than convenience. The marshmallows takes about three days to set. They need 2 days to air rest so it is easier to cut the circle shapes. After you cut the marshmallows they need to go into the oven and then rest once more. After all that they will finally be at the consistency that you want them to be. Cutting out the cereal to be donut shaped will also take a bit of work and time. Time to break this recipe down!

Ingredients:
Inspired by Half Baked Harvest
Cinnamon/Chocolate O-Shaped Cereal
1 ¾ cup whole wheat pastry flour
1 ¾ cup all purpose flour
3 tsp baking soda
3 tsp cinnamon
1 tsp cocoa powder
⅓ cup brown sugar
¼ cup sugar
3 tbsp honey
1 ½ tbsp vanilla
½ cup butter
¾ cup almond milk
Marshmallow
3 tsp unflavored gelatin
½ cup water, divided
1 cup sugar
¼ cup light corn syrup
pinch of salt
¾ tsp vanilla extract
confectioners sugar
non-stick spray
green and yellow food dye

In a small bowl, combine the gelatin and half cup of water. In a saucepan, combine the remaining water, sugar, corn syrup and salt.
Place the saucepan over high heat. Lightly stir everything together. Cook until the mixture reaches 240℉. As you wait for the temperature to rise, pour the small bowl of gelatin and water into the bowl of a stand mixer. Once the sugar mixture has warmed up, turn the stand mixer onto low.

Slowly pour the sugar mixture into the stand mixer. Turn the mixer to high and mix for 10-12 minutes. Near the end of your timer, add the vanilla extract and food dye. Keep the marshmallows mixing as you add the food dye. Add enough until you are happy with the color.

While it is mixing, take a 9×13 inch pan and spray non-stick spray and cover with confectioners sugar. Once the marshmallows are done mixing, immediately pour it into the pan and spread evenly.
Sprinkle the top with confectioners sugar. Allow the marshmallows to rest, uncovered, overnight. The next day, move the marshmallows from the pan onto parchment paper. Carefully cut the marshmallows into ¼ inch thick slices. Let this rest for another night.

Preheat your oven (convection setting if possible) to 175℉. Using a ¼ inch round cookie cutter, carefully cut the marshmallows and place onto a baking sheet with parchment paper. I would recommend having a wet paper towel nearby. Keeping the cookie cutter clean will make it easier to cut.
Once everything is cut, bake for one hour. Turn off the heat and let it rest in the oven for at least four hours. The longer you leave it out the more crunch they will have. Store these in an open container. I've noticed if they are enclosed they begin to soften.
First part of the Lucio-oh's is done. Now to make the cereal portion. Preheat your oven (convection setting if possible) to 350℉.

Place the wheat pastry flour, all purpose flour, baking soda, cinnamon, cocoa powder, brown sugar, and sugar in a food processor. Pulse the ingredients together.
Add the honey, vanilla extract, and butter. Pulse until combined.

Add the almond milk and pulse until the mixture comes together.

Place the dough onto your counter top. Carefully roll out the dough, make sure it is no thicker than a ¼ inch.
To cut these o's I used a ½ inch cookie cutter and then three bamboo sticks taped together. I would cut the outside and then push the bamboo sticks in the center to remove the center. If you want to save yourself some time, you could cut squares out of the dough and use that instead.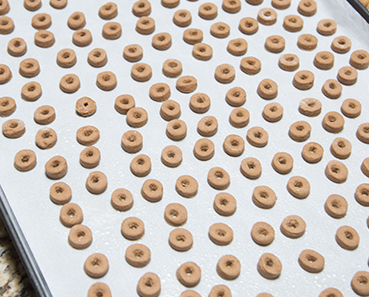 Place the cut o's on a baking sheet with parchment paper. Bake for 10-13 minutes or until they are crunchy.
You can store the cereal and the marshmallows into a ziplock bag but I would recommend against doing that. The marshmallows will lose their crunch if stored with the cereal. Keep the cereal in a sealed bag and the marshmallows in a not sealed container. To make a bowl just combine the two and enjoy.