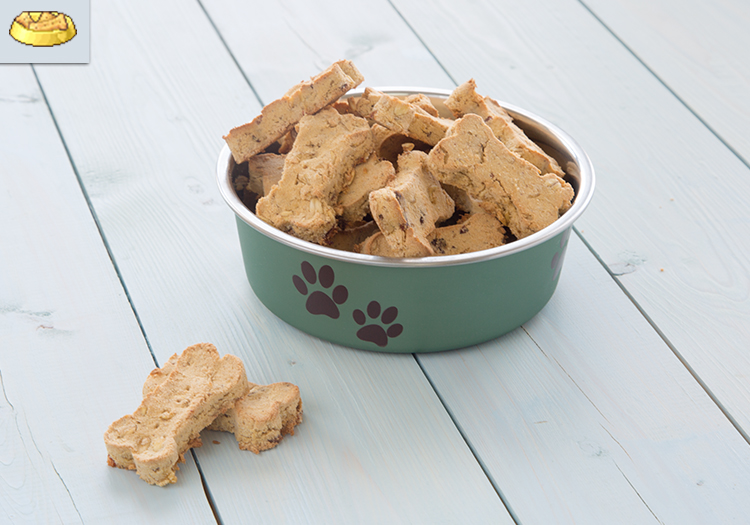 My brother has always been a great help with Pixelated Provisions. He calls me to inform me of food he found in games and I appreciate it every time. One of his favorite games of all times is Mabinogi. He has played Mabinogi on and off for several years now. It is the game he can always go back to and have a really fun time playing. He runs a small guild called Euphoric. His group of friends and him have accomplished many things in the game and he is excited to continue exploring the game with them.
For a few months now, I've wanted to make a recipe from his favorite game, Mabinogi, as a way of saying thank you. To my surprise, he wanted to make something for our family dog, Neptune. He requested the Bacon and Potato Dog Food which I then shaped to match the Dog Biscuits in game. This recipe is pretty easy and each dog I shared a piece with loved it. My little guy, Kanji, kept looking at the bag hoping to get a few more. I would not recommend these for human consumption. A friend's daughter took that challenge and was not too happy about the end result. These are human safe but it would be best to leave the enjoying to the pups.

Ingredients:
1 ⅓ cup coconut flour
1 cup rolled oats
8 oz sweet potato, baby food
4 oz banana, baby food
1 egg
1 ½ cup bacon, cooked
¼ cup bacon grease, from cooking it
2 tbsp coconut milk

Preheat an oven to 350°F. In a bowl combine the sweet potato, banana and egg. Add the coconut flour and rolled oats.

The mixture will be very crumbly as you combine it. Add the bacon grease and coconut milk to bring things together fully.

Fold the bacon into the dough.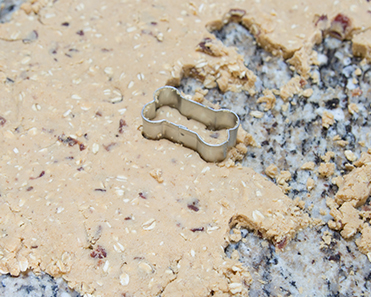 Roll the dough out and cut into bone shaped cookies. It will be pretty crumbly so carefully transfer the pieces to the baking sheet.

Bake for 25-30 minutes. Allow them to cool before serving to your pup.