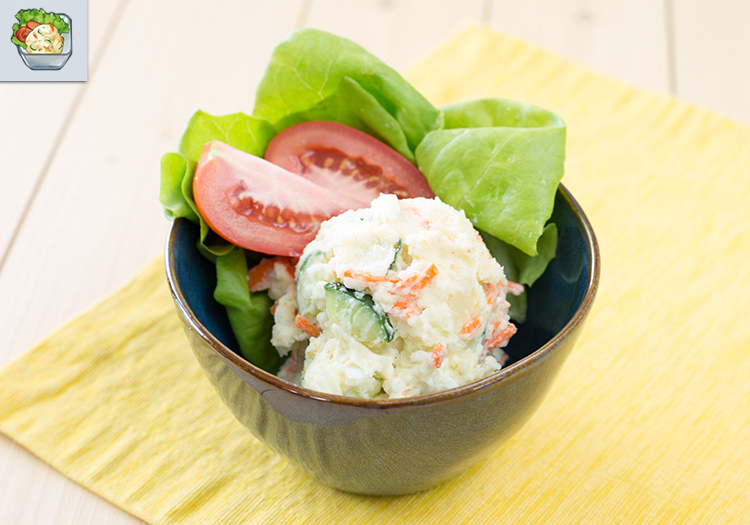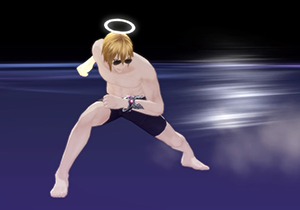 Eizen's crew is tasked with exploring the oceans while the party works towards their goal to take down Artorius. During these expeditions, the crew finds all sorts of helpful items to help Eizen's efforts. Occasionally, they will locate food ingredients and unlock new recipes to help aid the party. One of these recipes they can discover is Japanese style potato salad. My husband will typically avoid potato salad, but this recipe changed his opinion. I found him grabbing seconds and munching away happily. Some major characteristic of this potato salad are the potatoes are mashed and cucumber is one of the major ingredients used. My husband's favorite part of this potato salad is the little kick the shichimi togarashi adds. This recipe is very easy to put together and will be the perfect compliment to any potluck meal you will have this summer.

Ingredients:
2 (1100 g) russet potatoes, peeled and cubed
1 (50g) carrot, julienned
1 (200g) seedless cucumber, diced
2 hard boiled eggs, diced
2 (18g) scallions, white and light green part only
3 tsp rice vinegar
¼-½ cup Japanese mayo
shichimi togarashi, Japanese seven flavor spice (or cayenne pepper)
salt
pepper

Place the potatoes in a pot with cold water. Bring the water to a boil. Reduce heat and simmer for 10-15 minutes or until the potatoes can be easily pierced with a toothpick.

Strain the potatoes and place in a bowl. Lightly mash and season with salt and pepper. Allow the potatoes to cool.

Mix in the carrot, cucumber, eggs, and scallions.

Mix the vinegar, mayo and shichimi togarashi in, tasting and seasoning until it's delicious.