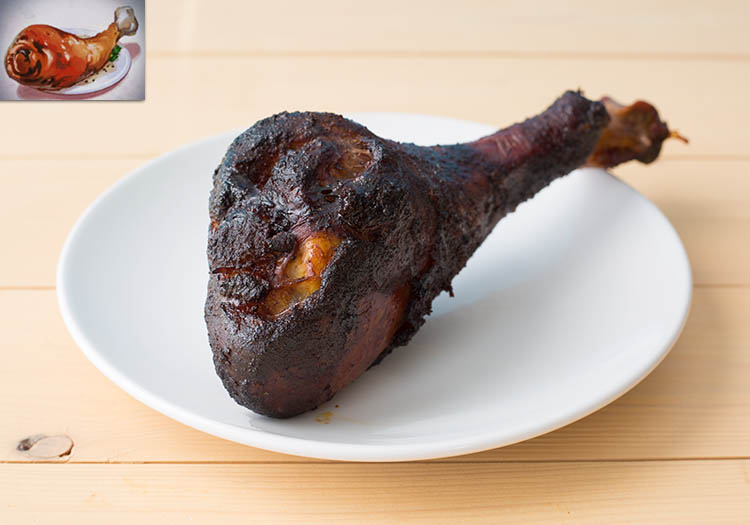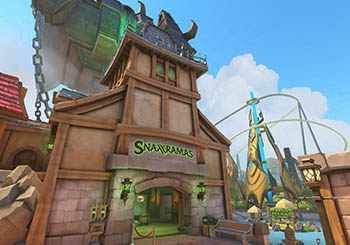 Thanks to my friend Nina, I've recently been dipping back into Overwatch. Each week, she hosts a variety of custom maps and streams them (check out her Twitch Channel). These games are a bit more carefree and everyone playing them is just having a good time. With my increase of play time, I have been exploring all the new content they have added from Moira to new maps. I am extremely excited for the new Overwatch map, Blizzard World. I had a really fun time just walking around the map and exploring a theoretical amusement park for all things Blizzard. Seriously, I would go to this park if it were real. Blizzard, please make this a thing in the future.
Of course you can't have an amusement park without food and this map delivers. There are several new food items found throughout the map. One of my favorite foods to get at an amusement park is a smoked turkey leg. I was happy to see Blizzard World serving these up. You might think you need a smoker but you can get similar results with a charcoal grill. I will explain what I did to achieve this but I do recommend watching a few videos as examples. Let's get smoking!

Ingredients:
6 turkey legs
10 cups water
¾ cup (200 g) salt
½ cup (110 g) sugar
¼ cup (47 g) brown sugar
1 tsp (2 g) black pepper
2 tbsp (20 g) garlic powder
1 tbsp (9 g) chili powder
1 tbsp (9 g) smoked paprika
2 tsp (6 g) allspice
4 bay leaves
2 cups ice
Dry Rub
1 tbsp (9 g) sweet paprika
½ tbsp (4.5 g) chili powder
1 tsp (3 g) cumin
1 tbsp (12 g) brown sugar
Combine the water, salt, sugar, brown sugar, black pepper, garlic powder, chili powder, smoked paprika, and allspice in a pot and heat over medium-high heat. Heat until the the the salt dissolves. Add ice cubes and allow to cool completely.
Split the turkey legs in two ziplock bags with 2 bay leaves in each. Once the spiced water has cooled, divide it between the two ziplock bags. Place in the refrigerator and allow to marinate for 24 hours.

The next day you will need to set up your grill (or smoker). In the morning, place four large handfuls of wood chips in water. I used a combination of apple and cherry wood chips. Wetting the chips helps increase the smoke while grilling.
Before setting up your smoking station, take the turkey legs out of the refrigerator and pat dry. Mix the spices for the dry rub in a bowl. Rub the spices on the turkey legs and set aside until your grill is ready.

I own a charcoal grill so I had to make it act like a smoker. Start by lighting charcoal briquettes in a chimney starter. I used the briquettes over the lump wood because they burn cooler and tend to hold up longer. Once the charcoal turn slightly white, tosse it out of the charcoal chimney to one side of the grill. On the other side, placeda deep aluminum pan filled halfway up with the brine you used for the turkey legs. This helps keep moisture in the grill.

Add a handful of the wood chips, making sure to remove as much water as possible, to the top of the charcoal. Place the grill rack and lid on the grill. At this point I played with adjusting the temperature for a bit. You want to aim for 200-240°F. I did have it spike up a few times to 300°F when I put the turkey on but that did not harm the end result.

Place the turkey legs on the side of the grill with the aluminum pan. Add more wood and charcoal as needed. Cook for 3-4 hours or until the turkey registers at 165°F on a thermometer.