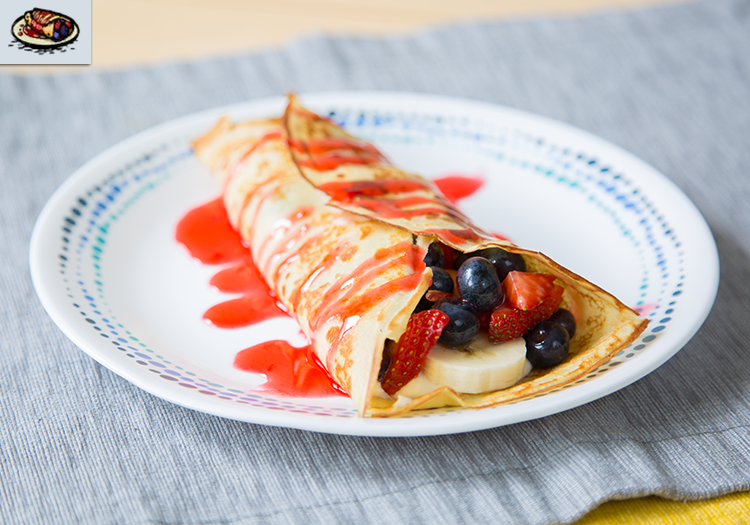 A new character, Warly, was added into Don't Starve by the Shipwrecked DLC. He is a cook who carries a handy portable crock pot around. Clearly, he came prepared in a world where you don't want to starve. Not only does he get this neat device, he also has access to unique recipes that only he can cook. Now this a character I can relate with! This week we are cooking up one of Warly's speciality recipes, the fresh fruit crepe. The key to a good crepe is to make sure they are thin and cooked properly. Make sure the pan that you are cooking them on is hot and oiled up. Do not flip the crepe too early! It can cause the crepe to tear and that is the last thing you want.

Results: 8 Crepes
Ingredients:
Crepe
1 cup flour
1 cup milk
½ cup lukewarm water
2 eggs
4 tbsp melted butter
1 tbsp honey
1 tsp vanilla extract
Cream Cheese FIlling
1/4 cup heavy whipping cream
1 cup powdered sugar
2 tsp vanilla extract
8 oz cream cheese
banana
raspberry
blueberry
strawberry syrup
whipped cream

Place the flour in a large bowl. Combine the milk, water, eggs, butter, honey and vanilla extract in a small bowl. Whisk the wet ingredients into the flour. If there are lumps, strain the mixture to make it smooth. Put the batter in the refrigerator to rest for at least one hour.

While the batter rests, take some time to make the cream cheese filling. Whip the cream cheese until smooth. Add the vanilla extract and powdered sugar.

Slowly add the heavy whipping cream. Prepare the berries by cutting the strawberries and mixing the berries together.

Remove the crepe batter from the refrigerator and give it a good mix. Begin heating a frying pan on high. Spray the pan with nonstick spray. Using a ladle, pour ¼-½ cup of batter into the heated pan. Make sure to spread the batter around the frying pan so that the crepe is nice and thin.
Cook the crepe on one side for 3-5 minutes or until it begins to brown. Carefully flip the crepe and allow it to brown on the other side.
To assemble the fruit crepe, place the cooked crepe on a plate and spread a layer of the cream cheese filling followed by a layer of sliced bananas.

Cover with mixed berries and then fold the crepe closed. Drizzle with strawberry syrup and enjoy.