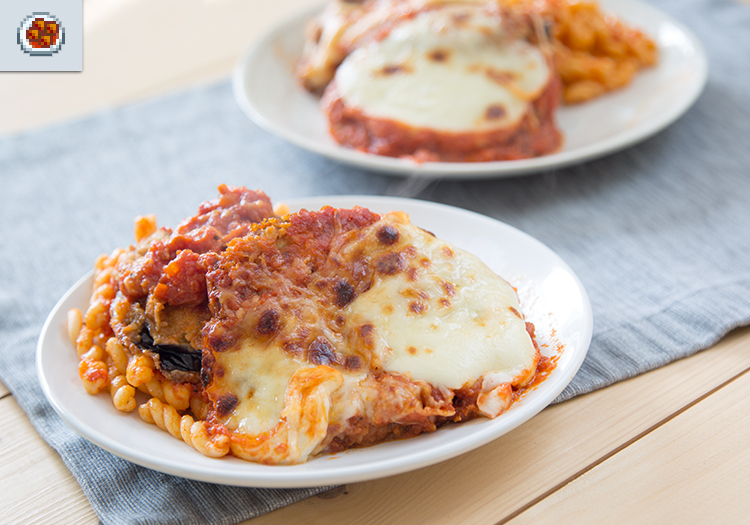 Managing your farm is one of the many aspects of Stardew Valley. Getting to know the residents of Pelican Town is essential to maxing out your true farming ability. All of the people you meet have a story you can experience by getting to know them. One of my favorite story moments is with Sebastian. You meet up with him and Sam playing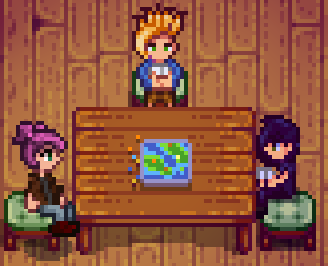 , a tabletop role playing game. You adventure with the two of them and need to make the right choices to carry them to victory. This moment is a nice distraction from farming by spending some quality time with your friends in Pelican Town.
After a long day, I sometimes want something fried but don't want to feel completely guilty about it. That is where eggplant parmesan comes to save the day. At least the thing I'm frying is a vegetable! This recipe covers so many of my loves – a deep fried crunch, hearty eggplant, and a lovely blanket of marinara and cheese. This is a meal I love to make when I want to be lazy for the rest of the week. It makes enough leftovers to last at least 3 days. There is a decent amount of prep work involved but once it is all put together the oven does a lot of the heavy lifting.

Ingredients:
2 eggplants
salt
1 cup all-purpose flour
1 tsp salt
1 tsp pepper
2 tsp garlic powder
pinch cayenne
3 eggs
2 tbsp milk
2 cups panko
½ cup regular bread crumbs
1 tsp oregano
1 tsp basil
½ tsp thyme
peanut oil
24 oz marinara sauce
1 lb fresh mozzarella
1 cup shredded mozzarella
½ cup parmesan cheese

Preheat an oven to 375°F. Place the cut eggplant into a strainer and cover generously with salt. Place a plate on top and add some weight. Let it sit for 15 minutes. This will remove some of the moisture from the eggplant.

On a plate, combine the flour, salt, pepper, garlic powder, and cayenne. In a bowl, combine the egg and milk. On another plate combine the panko, oregano, basil, and thyme.

Take a slice of eggplant and dip it in the flour mixture. Cover it well in flour. Dip it in the egg mixture.


Place the floured pieces of eggplant in the egg mixture. Cover it completely. When you pull it out, make sure to let any excess liquid drip off the eggplant and then place it in the panko mixture.

In a pan add a ½ inch of peanut oil and let the oil heat up. It is ready when you add a small piece of panko and the oil sizzles (roughly 360°F). Add the breaded eggplant and fry for 2 minutes per side (or until golden brown). Make sure to not overcrowd the pan.

In a baking dish, add a layer of marinara sauce. Place a layer of eggplant. Add mozzarella. Repeat this until your dish is full. On the top layer add the fresh mozzarella. Cover and bake for 35-40 minutes.

Uncover and set it under a broiler for 5-10 minutes (or until the cheese is bubbly). Let it rest for 10 minutes after cooking to allow for easy serving.