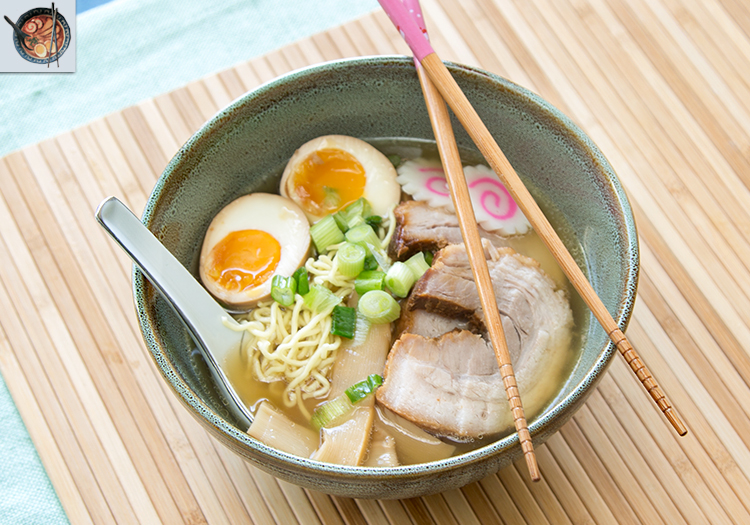 It's not easy being the youngest son of the most powerful man in Japan. Genji Shimada grew up around his father's organization, but all of the power, intrigue, and assassinations were of no interest to young Genji. He loved the training necessary to become an assassin, but he was far more interested in living a life of luxury. As concerns grew throughout the Shimada Clan that Genji was not just a spoiled kid but an actual threat to the organization, Genji's father suddenly passed away. Genji's older brother Hanzo was thrown into responsibility for the clan and was forced by the elders to get Genji in line. Hanzo failed to coerce his brother and, seeing no other option, ended his brother's life.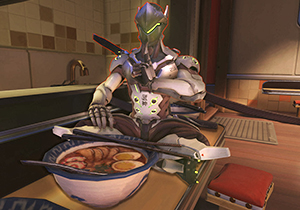 Hanzo thought he could live with his decisions, but the guilt crushed him until he suddenly got up and left the Shimada Clan. With no leader, no succession, and the constant threat of a new cybernetic ninja from Overwatch, the Shimada Clan was doomed. Mysteries surround the fall of the Shimada Clan, but perhaps the elders were right with their concerns. Was Genji the clan's downfall?
One year ago, Overwatch was officially released. It is wild to think a whole year has passed! Blizzard has done an amazing job at keeping the game fresh throughout the past year. They've added many skins for characters, maps, new heroes, lore, and many enjoyable events. The Uprising event has been my favorite so far. I really enjoyed playing the four player co-op mission. My friends and I were able to finish expert. We only tried legendary three times and got to the last section (killed two of the OR-14s). I hope Blizzard continues to add fun events like this and I cannot wait to see what they have in store for us next year!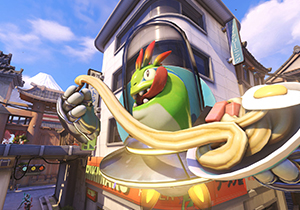 I love ramen as much as Genji, maybe even more. For a few years now I've wanted to make pork ramen from scratch. After weeks of research and self motivation I figured out a recipe that I enjoyed. This recipe takes a full day of cooking. The broth needs at least 6 hours to simmer. The longer you let it simmer, the stronger the pork flavor will be. The other elements also take a bit of time to get put together. My favorite piece of this whole recipe is the chashu (marinated pork belly). After eating it I've had dreams about it. This recipe makes a large amount of ramen. You can comfortably get at least 9 medium sized bowls. I invited a bunch of friends over to make sure this recipe would be enjoyed the day I made it. We were all slurping our noodles and talking about ridiculous Overwatch memories.

Ingredients:
Broth
5 lbs pork trotters
2 lbs chicken feet
2 lbs chicken wings
3 kombu
1 cup (55g) dried dashi anchovy
7 (30g) dried shiitake
½ lb bacon
15 (175g) scallions
1 (380 g) onion
2 (350g) leek
2 (180g) carrots
3-inch (55g) knob ginger
1 (60g) whole garlic, split
6 quarts water
Chashu (inspired by Serious Eats)
3 lbs pork belly
1 cup soy sauce
¾ cup sake
1 cup mirin
½ cup sugar
10 (180g) scallions
8 (30g) garlic cloves
2 (20g) inch knob ginger
Tare
1 cup dried anchovies
2 cup of broth from chashu
1 piece of kombu
Bacon fat
½ lb bacon, cooked and bacon fat set aside
For Serving:
Ajitsuke Tamago (Soy Sauce Soaked Egg) – Recipe here
ramen noodles
narutomaki (fish cake)
scallions

Place the pork trotters, chicken feet, and chicken wings in a stock pot and cover with cold water. Bring to a rapid boil. There will be a decent amount of scum.

Remove from the heat and pour into a strainer. Carefully wash all the pieces under cold water and remove any coagulated blood. Set aside for now.

Fill a large pot with kombu, dried anchovies, and 6 quarts of water. Bring to a low simmer and turn off the heat. Let this sit for 10 minutes.

Remove the kombu and dried anchovies. Turn the heat on and add the dried shiitake mushrooms and bacon to the pot. Make sure to keep an eye on the water level. You want to end up with 6 quarts of broth.
Bring to a boil and simmer for 1 hour. Make sure to keep an eye on the water level and to remove any foam that forms.

After it has simmered, remove the mushrooms and bacon pieces. Add the pork and chicken pieces to the pot.

Add the scallions, onion, leek, carrots, ginger, and garlic to the pot. Allow this to simmer for 6-8 hours. While it is simmering again, make sure to keep the water level the same and to remove any foam that appears at the top.
Once the broth is ready, strain all the pieces out and you have your broth. Make sure it is warm when you are ready to serve it.

To make the chashu, preheat an oven to 275°F. Take your pork belly and roll it up. Use butcher's twine to wrap the pork belly together (as pictured above).
In an oven safe pot, whisk together soy sauce, sake, mirin, and sugar. Place the pork belly, scallions, garlic, and ginger into the pan.

Place in the oven with a lid slightly off. Cook for 3-4 hours, turning the pork 45 degrees every 30 minutes.

Allow the chashu to completely cool. Refrigerate until ready to serve (this will make it easier to cut).
When you are ready to cut the chashu, remove the butcher's twine and cut into ¼ – ½ inch thick pieces. You can warm it up by placing each piece onto a frying pan and heat each side for two minutes.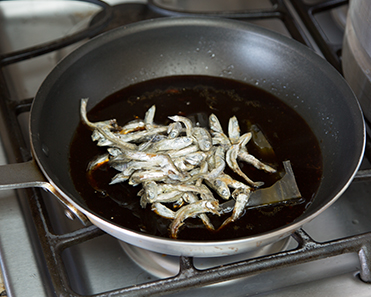 The final element to make is the tare. Take 2-3 cups of the sauce the chashu cooked in and place it, dried anchovies, and a piece of kombu into a pan. Heat for 5-10 minutes or until the sauce reduces by half. Strain and set the sauce aside.

Now to make a completed bowl of ramen. Place 2 tbsp of the tare and 1 tbsp of bacon fat at the bottom of the bowl. Next place cooked ramen noodles into the bowl.

Place two pieces of chashu, one cut in half ajitsuke tamago, two slices of fish cake, and as many scallions as you would like.
Carefully pour some hot broth over and serve immediately.