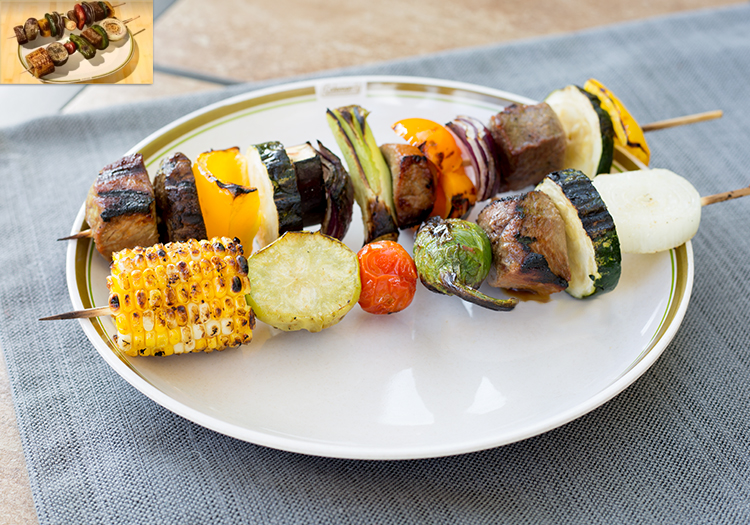 This past month "That's It! The Unofficial FFXV Community Cookbook" Volume 2 was released. There were plenty of new delicious recipes added and I recommend you check it out. After looking through all the updates, I got inspired to start cooking up more recipes from Final Fantasy XV. Every time I look at the recipes Ignis cooks up I am just stunned. The developers did an amazing job capturing the true essence of a delicious meal. Each plate looks like a dish I could find easily here in the real world.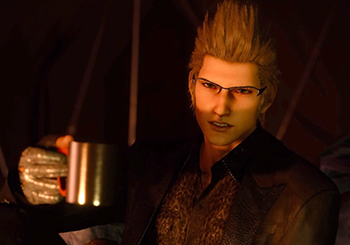 I promise I will continue to make many more recipes from Final Fantasy XV but today our focus is the Hunters' Krazy Kebabs. Ignis learns this recipe when you purchase a Meat and Onion Skewer at the Meldacio Hunter's HQ. Sure, these kebabs have the standard affair of meat and onion, but that is not all. Each kebab is loaded with many different vegetables of varying sizes which will cause some grilling issues. Due to the different sizes I found that the eggplant, zucchini, and white onion had a hard time cooking compared to the rest of the kebab. I would recommend slicing those slightly thinner than pictured above to get a nice even grill throughout.

Ingredients:
For 6 sets of kebabs
2 lb sirloin tip, cubed
6 shiitake mushrooms
1 yellow bell pepper, cut into large pieces
1 red (or orange) bell pepper, cut into large pieces
1 zucchini, sliced (not too thick)
1 chinese eggplant, sliced (not too thick)
¼ red onion, cut into large pieces
6 small leeks, remove the dark green part
2 corns, cut into thirds
6 cherry tomatoes
6 jalapeno
3 tomatillo, cut in half
1-2 whole white onion, ½ inch slices
Meat Sauce
1 tbsp olive oil
1 tbsp ginger powder
1 tbsp garlic powder
¼ cup soy sauce
2 tbsp sake
¼ cup mirin
1 tbsp worcestershire sauce
1 tsp sugar
1 tbsp miso
1 tsp lime juice
Skewer Sauce
¼ cup olive oil
2 tbsp lime juice
2 tsp ginger powder
2 tsp garlic powder
1 tsp worcestershire sauce

The morning before you are going to grill, place your pieces of sliced corn in a bowl of water and leave in the refrigerator. This will help keep the corn juicy as it grills.

In a bowl, combine all the ingredients for the meat sauce. Place in a ziplock bag with the cubed sirloin tips and allow it to marinate for at least 1 hour but no more than 5 hours. After that, the lime can start doing funky stuff to the meat.

This is probably the most time consuming part – putting the kebabs together. Take your wooden skewers and let them sit in water for 30 minutes. This will prevent them from burning on the grill.
For the first kebab of the set, start by piercing the onion. Follow that with a zucchini slice, a piece of meat, a whole jalapeno, a whole tomato, a tomatillo half and a piece of corn. The corn will be the most difficult part to skewer. I recommend skewering it separately with another skewer before attempting to add it to this finished one. Pre-making that hole will make your life easier.

For the second kebab, start by piercing the yellow bell pepper with the skewer. Continue with a zucchini slice, a piece of meat, 3 layers of red onion, a red (or orange) bell pepper, another piece of meat, the leek, and another 3 layers of red onion. Finally add the slice of eggplant, a slice of zucchini, a piece of yellow pepper, a shiitake mushroom, and a piece of meat.

In a bowl combine the ingredients for the skewer sauce. Careful brush each skewer with the sauce. Place the made skewers on a plate and in the refrigerator as you make the rest of the sets.

Preheat your grill. Once the grill is nice and hot, oil the grate to prevent the skewers from sticking. Cook directly over the heat and turn the skewers every 3-4 minutes until each side of the skewer has a nice char.